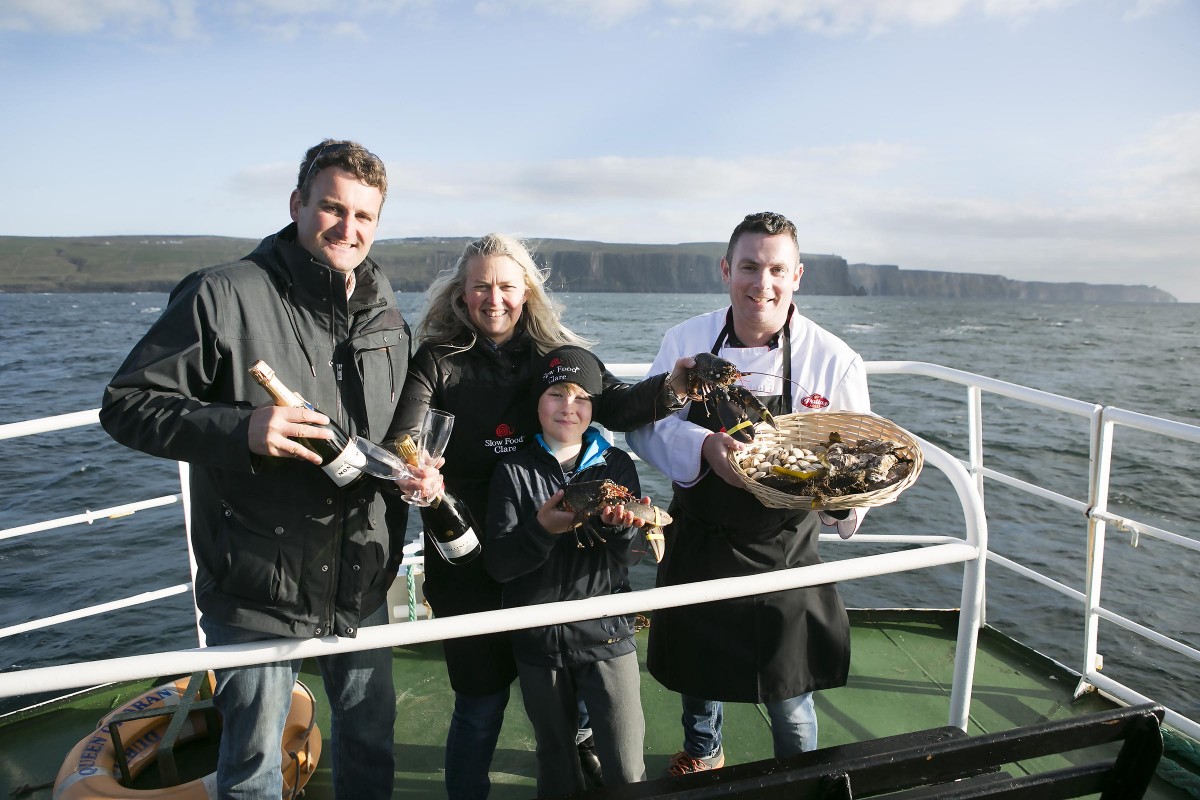 The rising popularity of the Slow Food movement in Ireland will be demonstrated in County Clare this May when Michelin Star chefs, food writers and food producers come together for the Burren Slow Food Week Festival 2016 taking place from May 27th to 29th.
Organised by Slow Food Clare, the 10th annual festival – the theme of which is 'Surf & Turf' – includes dozens of food events, ranging from workshops and demonstrations to food sampling and a charity cycle for Cystic Fibrosis Ireland featuring some of Ireland's best-known chefs as participants.
In the run-up to the Festival, a charity cycle organised by the YesChef magazine will take place from May 23rd-25th. Among the participants will be well-known chefs Derry Clarke of L'Ecrivain in Dublin, JP McMahon of Aniar in Galway and Bryan McCarthy of Greenes in Cork, who will be joined by Warren Gillen of Cistin Eile in Wexford, Johnny Garcia from Relish in Dundalk in addition to 80 other cyclists working in the hospitality industry.
The 300km, three-day cycle will begin and end at the Burren Storehouse in Lisdoonvarna, looping its way through Kinvara, Galway, Spiddal and all the way through Connemara with the turning point being Maam Cross, ending at the Burren Slow Food Festival. Organiser Shane Smith of YesChef Ireland hopes to raise between €12,000 and €15,000 for Cystic Fibrosis in the Republic of Ireland and Northern Ireland.
Friday May 27th will feature a picnic under the Cliffs of Moher on board the Doolin Ferry boat (departure from Doolin pier at 6.00pm), while food writer Leslie Williams will moderate a Whiskey and Chocolate Tasting event at Burren Storehouse at 7.00pm.
The Festival will be officially launched at midday at The Pavilion in Lisdoonvarna on Saturday 28th May by Dr. Brendan Dunford from Burrenbeo, followed by a talk on The Farmer and Farming for Conservation in the Burren Landscape. At 1.00pm in the same venue, Catherine Cleary – author of The Sheridan's Guide to Cheese, freelance food writer and journalist will host a Cheese Tasting session.
At midday, 1pm, 2pm, 3pm and 4pm on Sunday 29th May, members of the Burren Food Trail and the Ballyvaughan Farmers Market will give a food demonstration on the benefits of growing food for your health, preparing three easy foods for you, with ingredients you can grow yourself. Participants include Deborah Evers, Clareville House Kitchen Garden, soft fruit and vegetable grower and artisan food producer; Frank Benson from Burrenbees, a beekeeper and honey producer; and Piotr Matijczak, Wheatgrass grower and juice producer.
Other events taking place during the Festival include tastings, foraging, the traditional Burren Slow Food Banquet, Bushcraft and Cooking for Kids, and the annual Burren Slow Food Festival Farmers' Market.
"Slow Food is all about finding and enjoying the very best and freshest local food," said Birgitta Hedin-Curtin, founder member of Slow Food Clare and Chairperson of the Burren Slow Food Festival.
Ms. Hedin-Curtin, who is a past winner of the prestigious Irish Food Writers Guild Award for her 'notable contribution to Irish food', added: "Our festival aims to promote the Slow Food ethos enabling members of the public to rediscover the flavours and savours of regional cooking while at the same time banish the degrading effects of Fast Food. By doing so, we also hope to showcase the Burren's established local producer and supplier network and how it is utilised and promoted by local businesses."
Visit www.slowfoodclare.com of Facebook (slowfoodclare) for more on the Burren Slow Food Week Festival 2016.