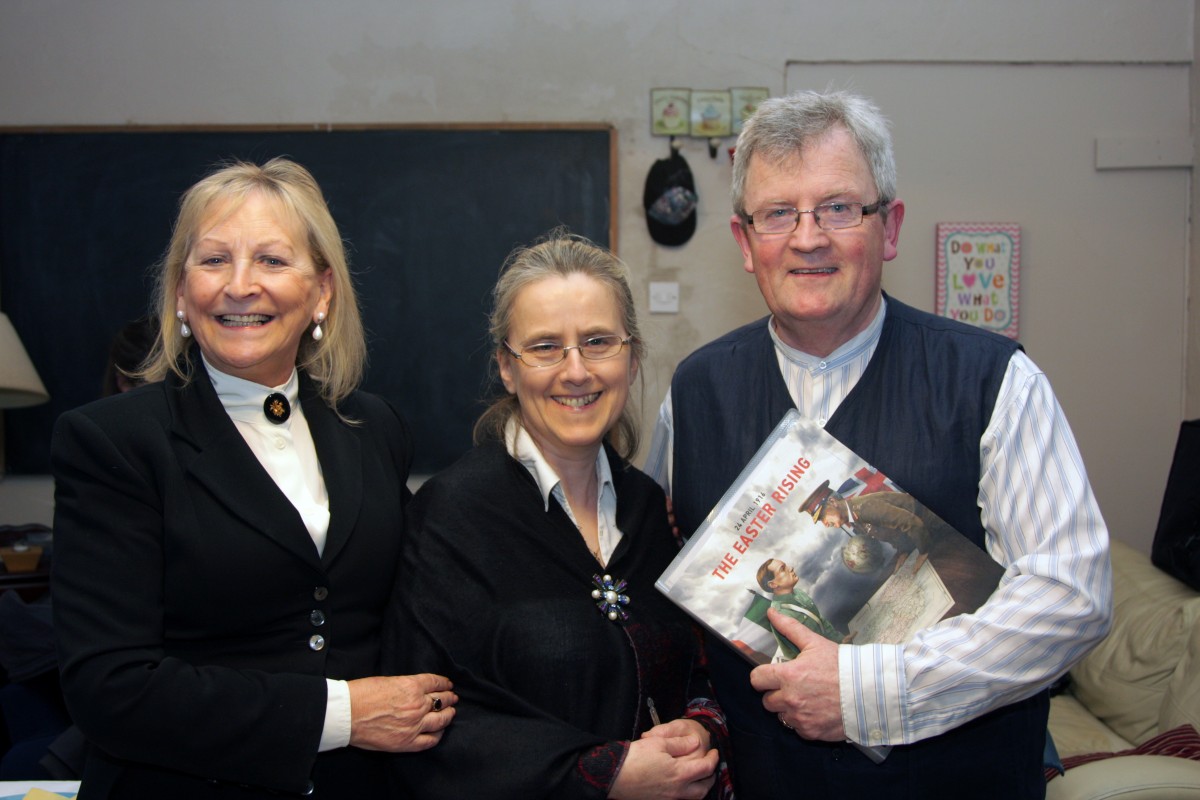 An East Clare interpretation of the 1916 Rising through music, song and poetry is set to be more than a one-off after becoming an instant hit on its first showing.
Such was the reaction to the show 'O'Gonnelloe Remembers – Ireland and her Risings' show on Saturday April 23rd that the organisers have bowed to pressure to put it on again next weekend.
The show essentially tells the story of not just the Rising itself but the key people's rebellions from 1798 up to the Rising through popular song, poetry and readings from those eras, all woven together by a seamless narrative penned by local journalist and dramatist Jim O'Brien.
The show has a cast of over 40 performers, including choir members, and includes popular favourites such as the Rising of the Moon, Dear Old Skibbereen, The Foggy Dew and the Ballad of James Connolly, as well as orations and poems including Robert Emmet's 'Speech from the Dock', Padraig Pearse's 'The Rebel' and W. B. Yeats great awakening, 'Easter 1916'. It also has a reading of Michael Mallin's touching letter to his pregnant wife and mother of his four children the night before his execution, as well the gripping poem (James) 'Connolly', written in the words of one of his executioners.
However, a centrepiece of the entire 90 minute performance is the reading of the diaries of local man Tim Lynch from the fateful days of the 1916 Rising. The beautifully written diaries, which effortlessly carry the listener right back to 100 years ago in the picturesque East Clare parish, recounts word filtering through from Dublin as Tim gives his day by day local account of events in the capital. In the show they are given a dramatic twist in O'Brien's rhythmic narrative as they dovetail on a day-by-day account with direct evidence from Dublin.
Said O'Brien of the decision to put the show on again, "We were really bowled over with happened on the first night as the reaction from the floor was remarkable for us, mostly I guess because we really did this on the hoof. This was local people coming together to sing songs and read poems that an awful lot of us know . But what was different, I guess, was that these songs, poems and readings were never put into a sequence for our audience that essentially told the history of Ireland and her Risings from 1798 up to 1916. It was a very mild, easy history lesson, by and large penned by some of the great Irish poets and songwriters.
"We had great fun doing it and I think that came across. It was all done by locals and everyone was privileged to be asked to play a part in remembering this historic event. There was a great community effort as we had our first organising meeting on the Wednesday before hand and by Saturday night we had the hall decorated with old memorabilia, a new stage built, professional lighting and sound installed and everyone involved was in costume.
"It was so on the hoof that we were literally handing parts to people hours before the show during our one and only rehearsal. We were scripting the show right up to an hour or so before it started. But it miraculously fell into place."
But, O'Brien continued, the high point was undoubtedly the local diaries. "Tim Lynch's diaries really rooted it in Clare. The sense of excitement in his writings regarding what was filtering through from Dublin 100 years ago was palpable. And it very much came across when we got into the surrender stage of the Rising that he remained tremendously proud of the fallen heroes.
"The diary really grounded the show locally but it might as well have been written for any rural area outside of Dublin. News travelled slowly back then and people in every area were dependent on the likes of Tim Lynch to gather news and impart it. He certainly did that with great passion, pride and with a wonderful turn of phrase. He was a remarkable man of his time and locality.
"We were particularly pleased that his daughter Teresa O'Dwyer (O'Callaghan's Mills) was present. She was understandably emotional and very, very proud. A lot of people were and we're not taking credit for that. It was the men and women of 1916 and those who went before them, as well as those who wrote for us those great pieces."
The impromptu success, however, has inevitably led to another showing on Saturday night next, May 7th. "Over 130 people saw and they came from Ogonnelloe, the Mills, Bodyke, Scarriff and even Nenagh. But many others who wanted to be there couldn't for one reason or another. And we're a bit flattered and surprised that word has spread as we've had calls and messages from an awful lot of people asking if we were going to put it on again.
"We had a meeting last night (Thursday) and made contact quickly with the cast and they were up for it. So, we're back on Saturday night next for a ticket only event. We have a 130 capacity and expect most if not all of those tickets to be gone over the bank holiday weekend so we'd recommend people make contact quickly."
Tickets cost €10 each and include a complimentary cheese and wine reception before the event. All proceeds go to the Community Hall Fund. Doors open at 8:30p.m., with curtains up at 9p.m. sharp. For ticket enquiries, contact office@ogonnelloeparish.ie, Fr. Donagh at O87 2322140, Kate at 087 9850780, Eleanor at 087 1265762 or Jim at 086 8240104.