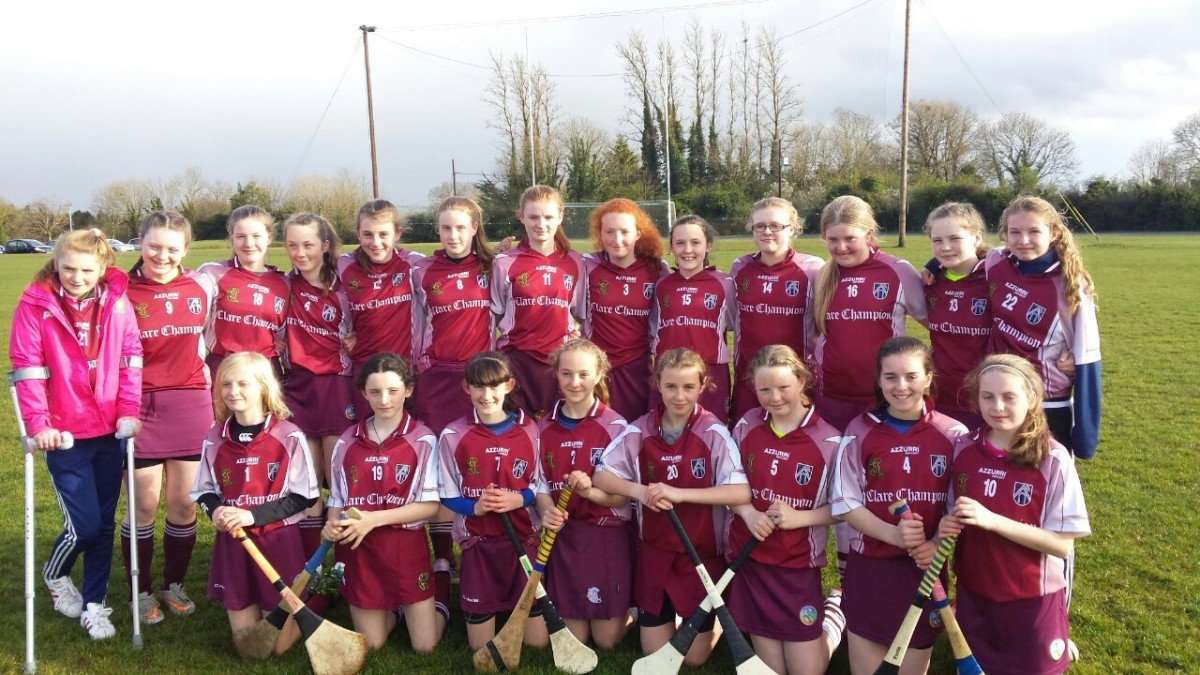 Brid McNamara reviews the weekend's underage camogie action in Clare.
U14 Championship
U14A
Scariff Ogonnelloe 4-4 Inagh Kilnamona 2-5
The Round 3 U14A Championship match on Wednesday April 27th between Scarriff Ogonnelloe and Inagh Kilnamona got off to a cracking start. In the opening minutes Cliona McNamara seized her opportunity and put Scarriff Ogonnelloe's first goal in the net. It didn't take long for Inagh Kilnamona to respond by adding a point to the scoreboard. Then Inagh Kilnamona's Orla Vaughan went on to score their first goal. Before half time Inagh Kilnamona had added a further 2 points to their tally but Cliona McNamara kept Scarriff Ogonnelloe in close contention with another point. The second half saw Scarriff Ogonnelloe turn up the heat and they pushed ahead with goals from Alva Rodgers, Aoife Kelly and Maria Scanlan, another 2 points from Alva Rodgers from frees and a point from Cliona McNamara. Inagh Kilnamona's number 9, Aoibhin Ryan was on target when she scored their 2nd goal from a free. They went on to put away a further 2 points.
It was lively encounter with both teams displaying some great camogie throughout. There was no quarter given by either team as both sides battled strongly but it was to be Scarriff Ogonnelloe's day with a welcome return to winning form. Without doubt the outstanding goalkeeping displayed by Laura McGrath for Scarriff Ogonnelloe underpinned the victory.
Scarriff Ogonnelloe: Alison McGee; Lisa O'Grady; Aoife Minogue; Cliona McNamara 1-2; Jennifer Daly; Yolanda Ramirez; Maria Scanlan 1-0; Kate O'Mahony; Laura McGrath; Anna Hogan; Aoife Lynch; Kate Walsh; Alva Rodgers 1-2; Aoife Kelly 1-0; Caoimhe O'Donnell Subs: Kathy Dinan, Orla Crotty, Sadhbh Giblin, Maeve O'Brien, Eibhlis Coleman, Aine Scanlan for A Hogan 10 mins, Emma O'Mahony
Inagh Kilnamona: Niamh Hegarty; Amy Shannon; Roisin Mahony; Ella Leyden; Tierna Hegarty; Patricia Coote; Caoimhe Whelan; Hazel O Connor; Muireann Daffy; Orla Vaughan; Aoibhin Ryan; Caoimhe Longe; Rachel Cotter; Danielle Griffin; Lauren Fitzgerald; Hannah Shannon; Sarah Coote; Elyse Rynne; Aoife McMahon; Emma Keane; Meg Coote; Sinead Tuttle; Caoimhe De Brun; Caoimhe Davitt; Siobhan Hegarty; Karlene McGerr; Cara McInerney; Leah Scanlon; Elisha Twomey; Emily Woods
Tulla/Bodyke 4-6 Truagh Clonlara 2-3
Three out of three for the East Clare side of Tulla/Bodyke. On a very cold but bright evening in Bodyke the TB girls wasted no time in securing a goal in the first 5 minutes with a great shot in front of the goals from Alex O'Sullivan to see Nessa Flynn raise the green flag. This was followed with a 45′ for TB which saw Orla O'Brien slot over the free. From the puck out the Truagh girls were let run loose and Eva Larkin brought the score back to within a point. With great work from Leah Minogue, Hannah Minogue and Jennifer Nicholas Tulla/Bodyke's Orla O'Brien scored another 1-1 but all was not over as Truagh/Clonlara continued to put the pressure on and scored 3 more points in reply Tulla/Bodyke s once again hit the back of the net with a goal from Aoife Halpin leaving the score 3-2 to 1-3 at half time.
The second half saw Tulla/Bodyke keep the pressure on and Shauna Doyle at full back with Aoife Dooley in goals kept the Turagh/Clonlara girls at bay. Becky Foley did manage to get 1 goal in but not before TB had added a further 2 points with another 2-2 added after the Truagh/Clonlara goal. The final score sheet read 4-6 in favour of Tulla/Bodyke and 2-3 to Truagh/Clonlara. Next week Tulla/Bodyke face Feakle/Killnanena neither have lost a game yet so this will be a curtail encounter.
Tulla/Bodykye: Aoife Dooley; Eabha McInerney, Shauna Doyle, Tara McCarthy; Hannah Minogue, Rachel Murray, Leah Minogue, Jennifer Nicholas, Leah Molloy; Alex O'Sullivan, Orla O'Brien (1-4), Nessa Flynn (1-0), Aoife Halpin (1-0), Leagh Hunt (1-2), Aoife Moroney Subs: Aoife Murphy for Moroney, Chloe O'Brien for Nicholas, Fiona O'Brien for McInerney,
Truagh Clonlara: C McKeon; R Reilly, A Gleeson, Alex Condron; M Byrne, F Dilmac, L Kavanagh; E Larkin, C Galvin; R Foley, M Walsh, A Hannon; J Egan, E McMahon, A Hogan
Kilmaley 1-0 Killanena/Feakle 2-8
U14B
St Josephs 4-0 Sixmilebridge 2-2
The 4th round of U14B championship started in Sixmilebridge's favour on Wednesday evening but was to be a game of two halves as the girls from St. Joseph's rectified things in the second half to give themselves a well earned victory over the Sixmilebridge side on a crisp spring evening in Gurteen.
Sixmilebridge looked the keenest in the opening half as they opened the score, hitting the net twice, first by Sinéad Cahill & then Ailise Roche before Roche popped over a point to make it look like they would sail through this round.
But St. Joseph's held their composure and when Múirne Ní Chonaill caught a badly hit free she ran through to punish the Sixmilebridge defence and bury the sliotar in the back of the net, swiftly followed by yet another goal from midfielder Alannah Meaney leaving half time score 2-1 to 2-0.
The second half was to be the complete opposite of the first where this time St. Joseph's dominated all areas of the field & let their defenders & young outstanding goalie Katie Callaghan have an easier time compared to the pressure of the first half. Nothing went past the sweeper Emma Towey at centre back & when Alannah Meaney barged through the Sixmilebridge defence to bang home her second goal of the evening it was followed with a strong Naoise Slattery goal leaving the Sixmilebridge team in despair as to how and where the turn around came from.
They did however get themselves on the score sheet when they won a free inside the 21 yard line and Áine Healy promptly popped the sliotar high between the posts but it was too close to the final whistle and the home side ran out victors 4-0 to 2-2.
St Josephs: Katie Callaghan, Anna Cosgrove, Sinéad Clancy, Sinéad O'Connor, Róisín Cahill, Emma Towey, Shauna Moloney, Alannah Meaney, Saidhbh O'Brien (Captain), Ellen Doyle, Múirne Ní Chonaill, Kate Montwill, Róisín Dillon, Naoise Slattery, Aoibhinn Feighery, Áine Barry, Ava Lenihan, Niamh Meaney, Emma O'Dwyer, Grace Kennedy, Caoilfhionn Ní Chonaill, Emer Hanrahan
Sixmilebridge: Ailise Roche, Áine Healy, Alana Swire, Aoife Keegan, Ciara Whyte, Cliona Donnellan, Caoilfhionn Nic Giolla Cearra, Emma Stanley, Gillian Donnellan, Jade Twomey, Jessica Williams, Josette Hogan, Maeve Egan, Megan Gaule, Miriam Quinn, Rebecca Grady, Rosie Young, Sinéad Cahill, Zoe Merriman, Aoibhinn McNamara, Aisling Morey, Lily McMahon, Kate Fitzgerald, Aimee Quinn
Kilkishen 6-5 Newmarket on Fergus 5-4
U14C
Parteen 3-3 Cratloe 2-0
The hosts took home the spoils on this occasion, with the final score Parteen 3.3 Cratloe 2.0
Parteen were on the offensive from the start, with the visitors failing to make an impact on the scoreboard by half time, with a score of 1.3 to nil. Parteen goaled soon after the resumption, but then Cratloe got more dominant, with excellent play from half back Ava Gardner clearing the ball back up the field, to Lucy Earls, who netted Cratloe's first goal. Cratloe had a lot of possession but only managed one more score, a goal from Eimear Flannagan. Parteen scored again before the final whistle to make the second half a draw, full time score Parteen 3.3 Cratloe 2.0.
Parteen: Sinead Barry, Sinead Fitzgerald, Aoife Guckian, Eva McMahon, Sarah Hanley, Isobel Hanrahan, Sarah Hall, Meabh Nolan, Sarah Connelly, Laura Craughan, Ellie Williamson, Colette McCarthy, Aisling Cooney, Ruth Kelly, Lauren O'Driscoll
Cratloe: Maria Healy, Orla Gallagher, sadbh Foley, Aoife Marie Costello, Ava Gardner, Caoimhe Healy, Cliona Murphy, Lucy Earls, Eimear Flanagan, Roisin McGonagle, Orla O'Connell, Emma O'Connell, Fiona Cummins, Subs Sarah Brennan, Kayla McMahon, Chloe Casey Reidy, Kate O'Donoghue.
Ballyea 8-3 Corofin 0-1
Ballyea came out on top when they played Corofin on a cold Wednesday evening last in Corofin. Ballyea had four goals and three points in the first half coming from Jillian Sweeney 1st goal in the 2nd min, Laura Carmody two points in the 5th and 10th min, Stella Quinlivan 1 goal in the 15th min, 1goal from Rachel Costelloe in the 19th min and another goal from Laura Carmody in the 24th min.
Ballyea continued to be very strong in the second half scoring four goals and one point to Corofin's one point. These came from Stella Quinlivan, Rachel Costelloe and Moya Sheehan. Corofin's point came from Maria Cahill in the 21st min. This match was very much one sided but Corofin never gave up, there was great performances by Eimer Kenny, Aine Corbett, Eva Carey and Danielle Organ throughout the match for Corofin.
Ballyea: Laura Carmody, Moya Sheehan, Rachel Costello, Rachel O'Dea, Luisne Corey, Kaylah Kelly, Stella Quinlivan, Hazel Collins, Sorcha Donnellan, Shauna McCarthy, Lilly McMahon, Hannah Mai Neylon, Rebecca Carmond, Aisling Costelloe, Riana Power and Jillian Sweeney.
Corofin: Eimer Kenny, Orla Burke, Grainne Henry, Rachel Fitzpatrick, Eva Carey, Danielle Organ, Aine Corbett, Labhaoise Mullins, Laoise Galvin Byrne, Tammy Griffin, Kelly Flanagan, Aine Cleary and Maria Cahill.
Referee: Martin Leahy
Ruan 2-5 Whitegate 9-3
Div 3 & 4 League
Tulla 7-13 St Josephs 1-1
FIXTURES
Mon 02nd May
Div 2 Semi Final
Clooney GAA: Feakle/Kilanena v Corofin, 10am, Ref Kevin Walsh
Shannon Camogie: St Josephs v Clarecastle/Ballyea Ref Aidan Ryan
(extra time in the event of a draw)
Wed 04th May
U14 Championship
U14A
Killanenna/Feakle v Tulla/Bodyke
Kilmaley v Scariff Ogonnelloe
Truagh Clonlara v Inagh Kilnamona
U14B
Newmarket on Fergus v St Josephs
Eire Og GAA: Eire Og v Broadford, 7.00pm
Clarecastle v Clooney Quin
Sixmilebridge v Kilkishen
U14C
Corofin v Banner
Cratloe v Ruan
Whitegate v Parteen