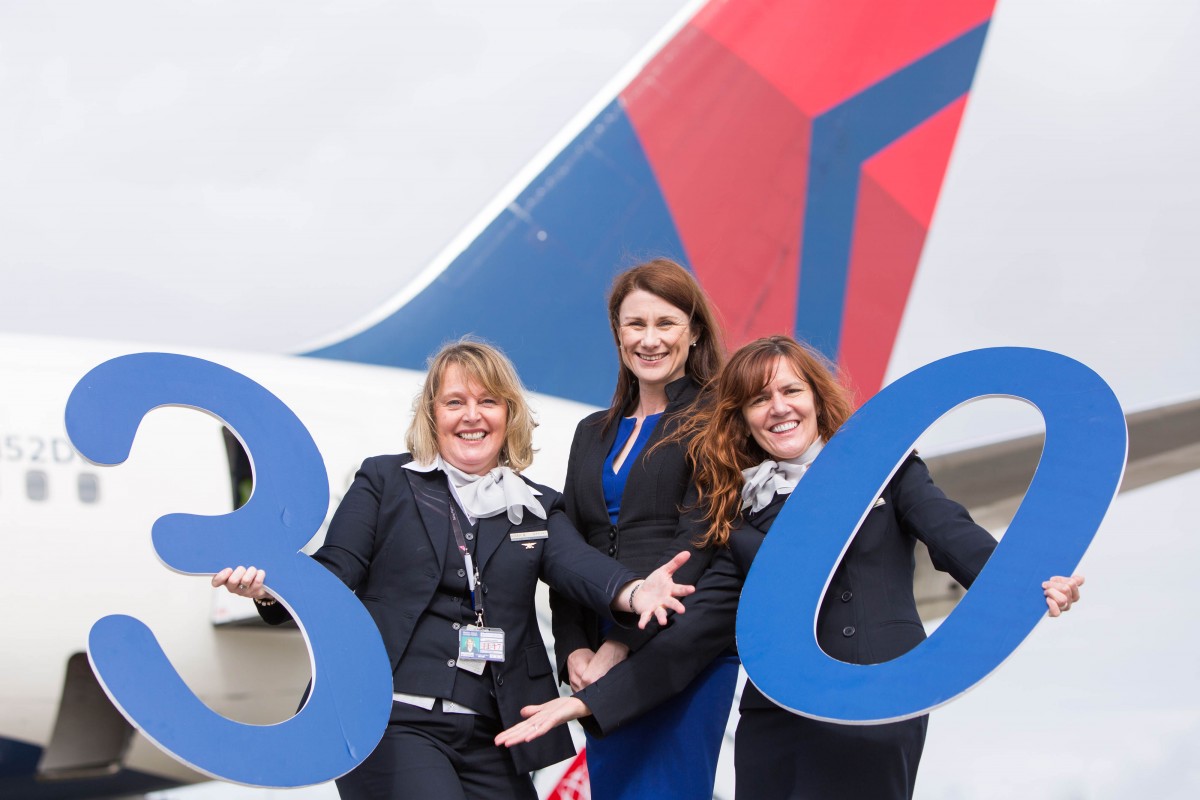 Summer was very much in the air today at Shannon as Delta Air Lines' flights to New York resumed with champagne corks popping to celebrate 30 years of the service.
The flight departure gates hosted an early morning party as the new service got back into full swing as passengers and crew celebrated the 30th anniversary appropriately.
Since it began, on May 8th, 1986, the Shannon to JFK service, which was Delta's first Irish flight, has carried almost 1.7million passengers and will in 2015 carry even more passengers thanks to increased capacity, Delta's senior vice president, Europe, Middle East and Africa Nat Pieper said.
"We are proud to mark our 30th anniversary of service to Shannon, which remains a popular destination for our customers, with around 43,000 flying on our Shannon-New York flights in 2015," said Nat Pieper, Delta's senior vice president, Europe, Middle East and Africa.
"This year we will be offering over 3,000 weekly seats on our Shannon-New York route, an increase of 38 percent over last year, and we look forward to flying thousands more U.S. tourists to this region of Ireland, helping to support the local economy."
Congratulating Delta on their 30th anniversary of operations at Shannon, Mary Considine, Acting Chief Executive, Shannon Group said that the airport is hugely proud that it was the first Irish airport that Delta operated out of and that it continues to operate with success from here to date.
"The connectivity to the U.S. provided by Delta over the past 30 years has been, and continues to be, pivotal for business and in-bound tourism. Delta's New York-JFK service provides us with a vital gateway to reach global export markets, attract Foreign Direct Investment and bring international visitors to the West of Ireland – all of which help drive economic activity.
"We are proud that Shannon was the first Irish airport that the airline chose to operate to in 1986. The fact that they have increased their capacity by 38% this year is testament to the strong demand for Delta's service to and from this region. I thank and congratulate Delta for providing that connectivity and reaching this important milestone and as a valued partner for us, we look forward to continuing to work with the airline to assist them grow further."
Delta has scheduled a Boeing 767-300ER aircraft with 225 seats on the route, which is Wi-Fi equipped so customers can stay connected at 30,000 feet.
From New York-JFK customers can conveniently transfer onto more than 60 destinations, including Los Angeles, Orlando and San Francisco. Customers wishing to spend more time in the Big Apple, or are connecting at New York-JFK from other Delta destinations, benefit from a late evening departure to Shannon. Delta's flight is operated in conjunction with joint venture partners, Air France KLM and Alitalia.
The flight operates daily from 11:55, landing in JFK at 13:54 local time. The return flight leaves at 23:01, arriving in Shannon at 10:10 the following day.
Delta's Shannon flights feature high-speed Wi-Fi and on-demand flight entertainment throughout the aircraft. The Delta One cabin features full flat-bed seats with individual aisle access, with Westin Heavenly Inflight Bedding from Westin Hotels & Resorts and TUMI amenity kits. Plus there are a range of regionally inspired dining options in the Delta One cabin, produced using seasonal ingredients and paired with wines selected for Delta by Master Sommelier, Andrea Robinson.
Customers flying in Delta Comfort+, Delta's premium economy service, benefit from up to four additional inches of legroom and 50 percent more recline than Main Cabin seats, as well as priority boarding. Customers wishing to book travel on Delta's services from Ireland can call Delta's dedicated reservations team on +353 (0) 659 0298, see their travel agent or visit delta.com.