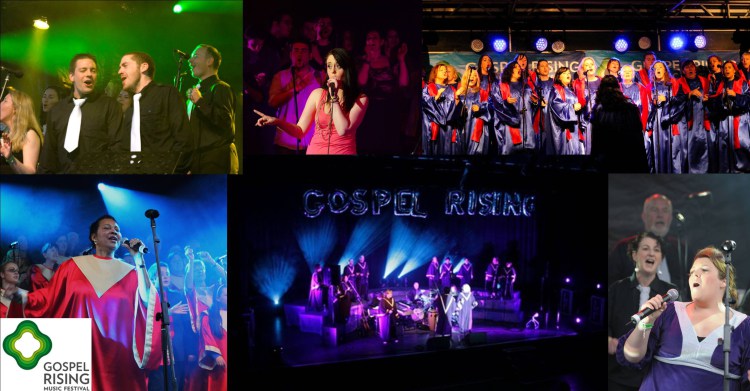 The seventh annual Gospel Rising Music Festival – Ireland's biggest gospel music festival – returns to Ennis next weekend (13th to 15th May 2016) with choirs from all over Ireland and beyond performing in venues throughout the Clare County Capital.
Leading Irish and international choral experts will facilitate workshops in gospel music, performance and singing for choir and non-choir members throughout the Festival. The festival also will feature a Sunday morning church service that will be broadcast live on RTE Radio at 11am on Sunday 15th May.
This year's workshop facilitators are drawn from all over Ireland and abroad and include Ruth Waldron, an internationally renowned Gospel Vocal instructor and Choir Director; and Shelley Bukspan, an American/Israeli singer, songwriter and performer.
Irish contributors include Kathleen Turner (singer/songwriter and vocal tutor at the Irish World Academy of Music and Dance), Carmel Reilly (Musical Director of Virginia Gospel Choir), Eimear Crehan (music facilitator, singer and choral director) and Claire Crehan (music teacher, composer and musical director)
This year's Gospel Rising Music Festival is hosted by The Really Truly Joyful Ennis Gospel Choir, and is supported Failte Ireland and the Shannon Region Conference and Sports Bureau.
"We are expecting a large gathering of gospel choirs and music lovers who are interested in this growing genre of music in Ennis next month," said Lindsay Rountree of the Gospel Rising Music Festival.
"One of the most popular elements of our festival is the workshops for big and small groups, covering choir harmony singing in gospel styles, different solo singing styles and levels, choreography and big group singing. The gospel choirs in attendance also will be participating in impromptu performances and in organised gigs throughout the town," he added.
Fiona Walsh of The Really Truly Joyful Ennis Gospel Choir described the Gospel Rising Music Festival as a "social, educational and fun event which brings together lovers of gospel music from all over the country to learn from each other and form networks and friendships."
"With more than over 350 people attending every year, the Festival brings new workshop facilitators to the fore and offers choirs a wonderful opportunity to come together and share their music with each other and the wider public," said Ms. Walsh.
Karen Brosnahan, General Manager of the Shannon Region Conference and Sports Bureau called on gospel music enthusiasts to visit Ennis and to celebrate the continued "rising" of gospel music in Ireland.
She continued, "The increasing popularity of gospel music is reflected in the number of new choral groups being established throughout the country. Importantly, the festival also gives non-choir members the opportunity to get that inside look and feel of what happens when they are part of a choir."
The three-day festival will feature daily workshops including a series of master-class style workshops on Saturday focusing on a range of themes including Choral Choreography, Vocal Percussion, Being Your Best Soloist Self, Harmonising, Acapella, and Praise & Worship. Spaces are limited and advance booking is advisable.
Tickets and booking of workshops are available through the Gospel Rising Music Festival website, www.gospelrising.com.