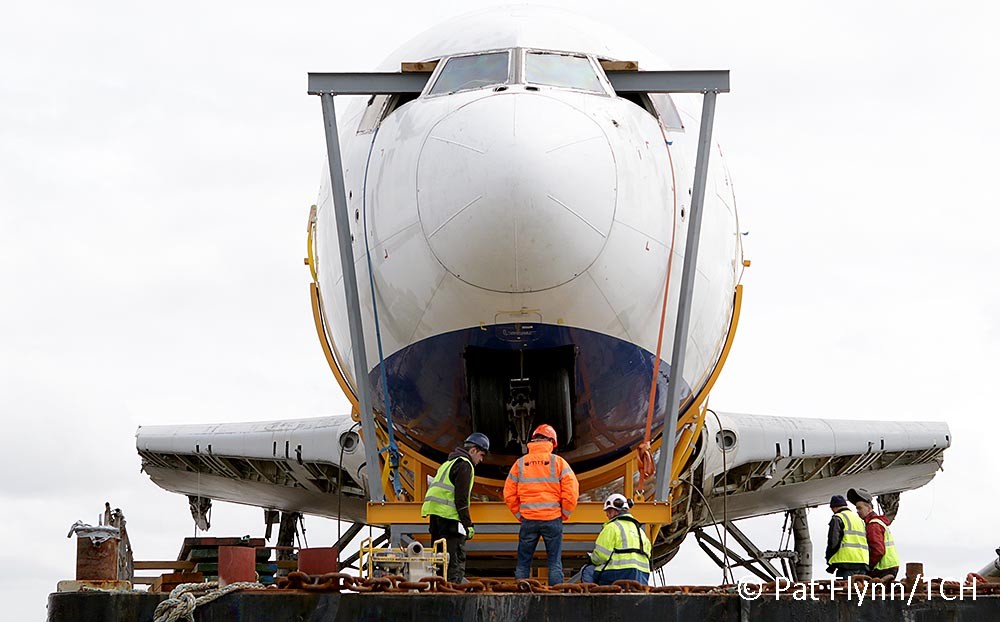 A Sligo entrepreneur is only hours from completing the mammoth task of transporting a former passenger jet from Shannon Airport to Co Sligo by sea.
David McGowan has invested tens of thousands of Euro on a massive operation to move the Boeing plane to his 'Quirky Nights Glamping Village' in the seaside town of Enniscrone.
The Boeing 767-216(ER) jet was previously flown by the now defunct Transaero, which was Russia's second largest airline, and was purchased from by Mr McGowan last year.
The popular businessman expects to be able to 'beach' the barge in Sligo on Saturday morning where, he said, "There will now be a part of Clare in Enniscrone, Co Sligo."
The jet will form a spectacular centrepiece for McGowan's glamorous camping (glamping) village that will also feature train carriages, boats and London black cabs.
The plane, train and automobiles will will be refitted to accommodate those seeking the beauty of the outdoors but with the comforts of hotels.
Mr. McGowan, an undertaker by profession and based in Ballina, has been planning and coordinating the transportation of the jet for the past year.
Late last Sunday night, a carefully planned operation got underway to move the plane from where it was parked at Shannon Airport to nearby Knockbeg Point.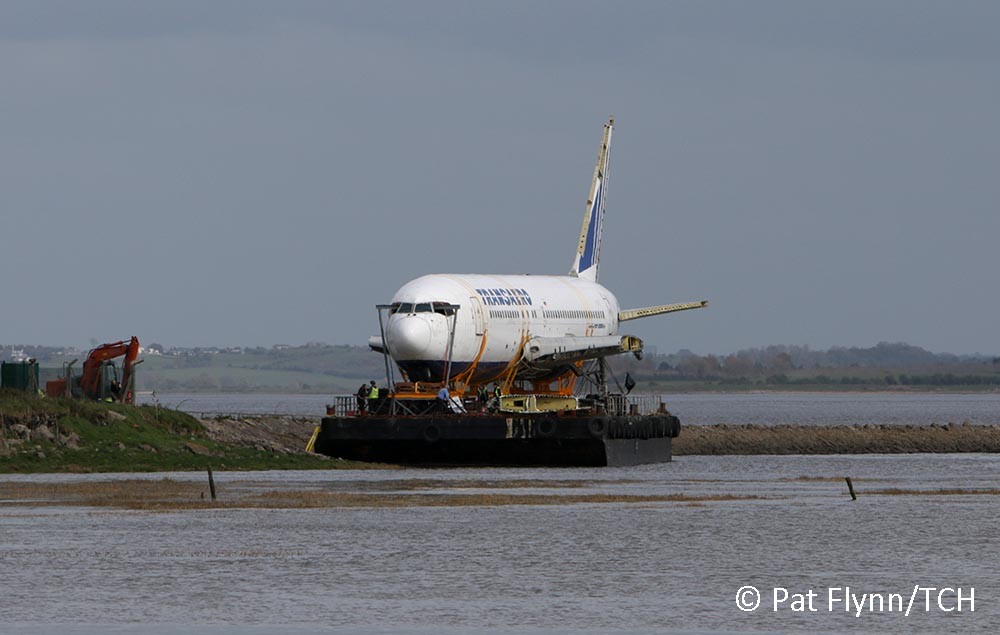 Winds and sea conditions however prevented the jet from being loaded onto a barge which was brought in from Southampton. A powerful sea tug also travelled from the England to haul the barge and its cargo up along the Atlantic coast.
The big move finally got underway last night (Thursday) with the jet being successfully loaded onto a barge early yesterday ahead of the high tide at 5.00pm.
The barge was intentionally beached at Knockbeg Point on Wednesday evening where the area had been levelled to facilitate the operation.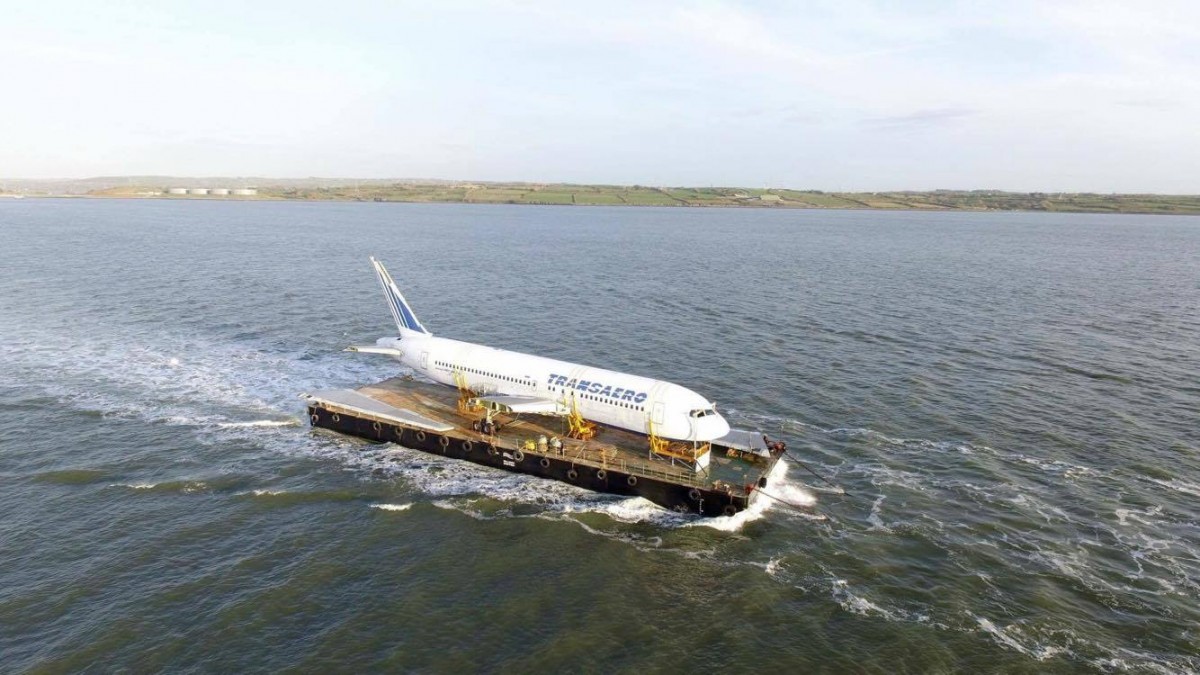 Getting the 159-foot long aircraft, which weights 50 tonnes, onto the barge was a mammoth task for a team comprising Shannon Airport employees – drawn from its engineering, security and operations divisions – in conjunction with contractors for Mr. McGowan.
David McGowan said: "There was no way I was going to miss that tide. I had to be out of here by 5.00pm and that was that. We were well organised and ready well ahead of the tide. It was a major operation."
"This is one of the biggest moves in the world but it isn't over yet. We hope to reach the bay in Enniscrone at 3.00am on Saturday. Then we will beach the barge and begin the job of transporting the jet to its final home," he said.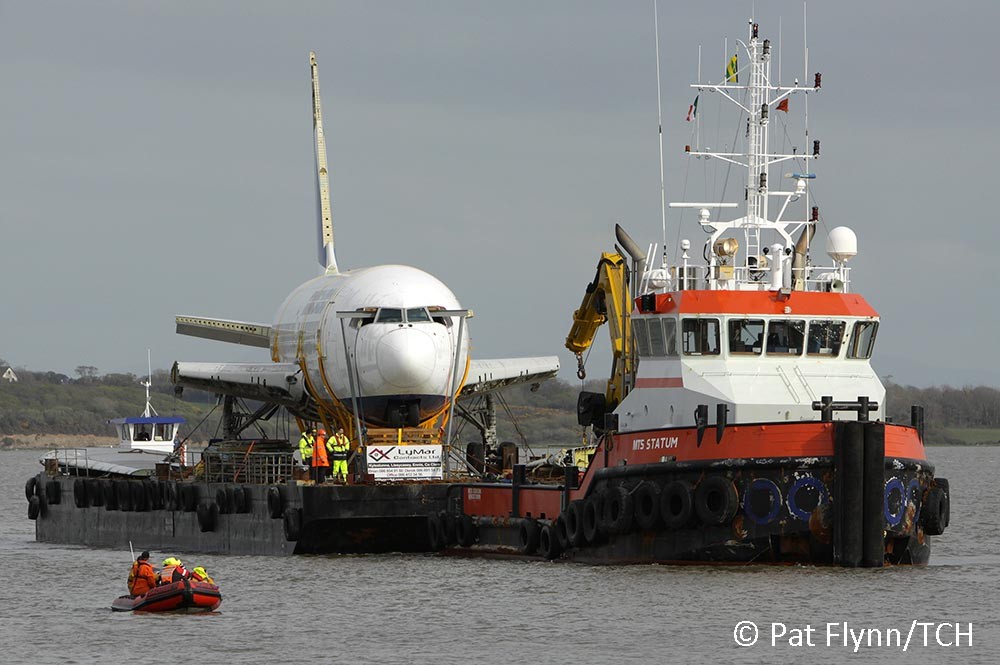 Mr McGowan thanked staff at Shannon Airport and the dozens of Clare people who came out to help and support him.
"We brought a tug and barge from Southampton and to see all the people who came out to help us get it to Knockbeg Point, it was unbelievable, and they are an absolute credit to the Clare people," Mr McGowan added.
Deirdre Whitney, Property Manager at Shannon Airport said: "David McGowan's enthusiasm was infectious and we were delighted to be on hand to support him every step of the way with this unique project.
We pulled out all the stops to assist, with safety and minimizing disruption to airport customers our key priority. I certainly never thought I would see the day when an aircraft would be put on a barge and set sail out the estuary."
It will have a new lease of life which will boost not only the local economy in Enniscrone, but right along the Wild Atlantic Way. We wish David and his crew a bon voyage and every success with this venture," Ms Whitney added.
Hundreds of people turned to last Sunday night to see the jet being moved from the airport while thousands more visited Knockbeg Point in recent days just to see the jet.
The months of preparation was rewarded as the barge finally began to float on last evening's high tide and the jet began its maiden sea voyage.