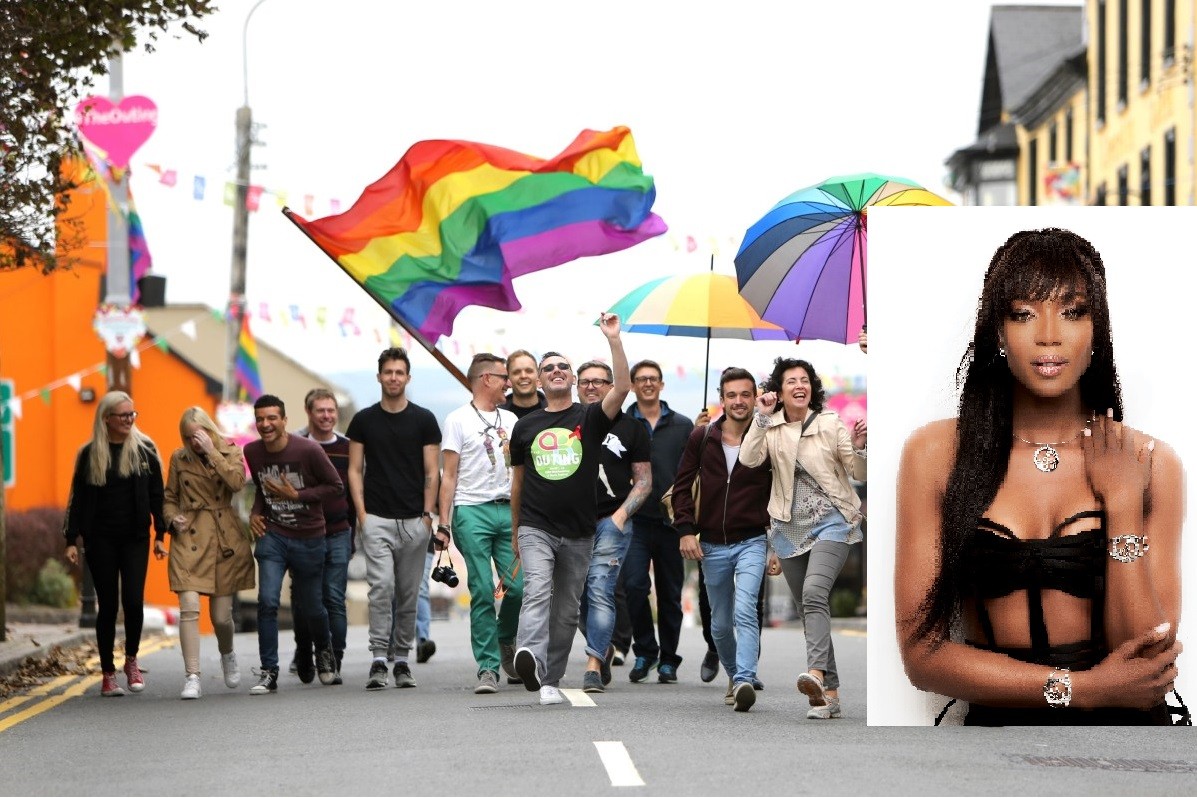 A limited edition signed book on the life of one of the world's most iconic supermodels is to go on display in a hotel in County Clare.
'Naomi', the exclusive two volume edition published by Taschen features famous photos chronicling the life of Naomi Campbell and is one of only 1200 copies published, worldwide. It also includes a 3-D cover shaped like her famous bust designed by Pop Art legend Allen Jones.
The book has been purchased by Clare hotelier Marcus White, following his invite to the model to launch 'The Outing' LGBT festival in October.
Marcus White, director of the White Hotel Group said: "We bought book no: 0443 of 1200 printed with a personal message from Naomi saying; "Love and respect, Naomi xxx"
"Naomi Campbell is one of the world's original supermodels and at 45 she is still at the height of her career. In the past she has been controversial but she has now reinvented herself and has become a global icon.
"We have been in contact with Naomi Campbell's agent and asked him to invite her to launch 'The Outing' LGBT festival in Lisdoonvarna in October.
"The agent recently told us that the invitation is still being considered and we should know soon if she will come to the festival.
"If she came to Lisdoonvarna, it would really capture the attention of the worlds' press and give us a level of publicity that has never been seen here before. We have had celebrities at the Lisdoonvarna Matchmaking Festival in the past, but Naomi Campbell is really on a different level.
"She has established herself as one of the top three most recognisable models of her generation and I have huge amount of respect for the lady.
The new book includes an image of Naomi's historic 1989 Vogue US cover that was the first September issue under the editorship of Anna Wintour.
Julie Carr, Press officer for the Lisdoonvarna festival said: "Naomi Campbell has worked hard in her life to overcome prejudices especially in the modelling world and is an inspiration.
We would be honoured to have her launch 'The Outing LGBT" festival which is now in its 4th year and is going from strength to strength."
The Lisdoonvarna matchmaking festival, now in its 160th year is being launched by Ireland's top country music stars Nathan Carter and Derek Ryan on the 2nd-4th September. Tickets for this event are selling fast and available on Ticketmaster.ie, the Hydro Hotel and in the Spar shop in Lisdoonvarna.
For more information on the event go to www.matchmakerireland.com.