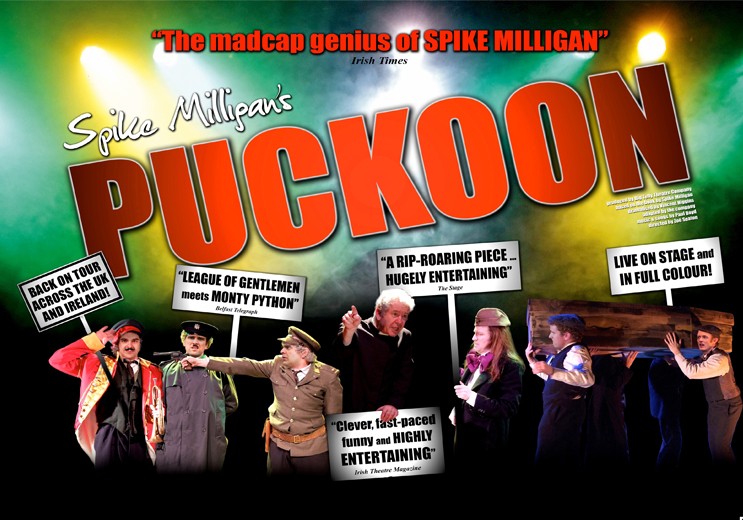 glór welcomes Big Telly's smash hit stage production of Spike Milligan's Puckoon to Ennis for its debut performance on Saturday 4th June at 8pm.
Ireland 1922 and the Ulster Boundary Commission has drawn the new border straight through the small town of Puckoon. With the church separated from its own graveyard and drink now thirty percent cheaper in one corner of the pub, life in the newly divided village will never be the same again. Based on the book by Spike Milligan, this comic masterpiece is an irreverent and hilarious story which takes the mick, celebrates the absurd, and paints a picture of a simple life that borders on the ridiculous.
Staring an all-star cast; Paddy Jenkins (Game of Thrones, Dancing Shoes; the George Best Story), Patrick J O' Reilly (Gulliver, Cabaret), Keith Singleton (Hatch, One Sandwich Short of a Genius), John O Mahony (As you like it, Mrs Browns Boys, Fr.Ted), Giles Stoakley (A midsummer night's Dream, A tale of two Cities) and Paul Alexander Boyd (multi award-nominated writer, composer, and theatre director), Puckoon is set to have audiences across the UK screaming with laughter at its Goonish blend of theatrical anarchy, musical wit, and impossible plot.
Big Telly is a professional theatre company formed in 1987 and based in Portstewart, Northern Ireland. The company designs and delivers theatre productions, interactive workshop programmes and community creativity projects, which it mainly tours throughout Northern and Southern Ireland but also internationally. Their performance work concentrates on the visual potential of theatre through fusion with other art forms such as dance, music, circus, magic and film to create a unique sense of spectacle.
________________________________________
SATURDAY 4TH JUNE │GLÓR │TICKETS €18/€16 CONC.
GLÓR BOX OFFICE 065-6843103
OR WWW.GLOR.IE