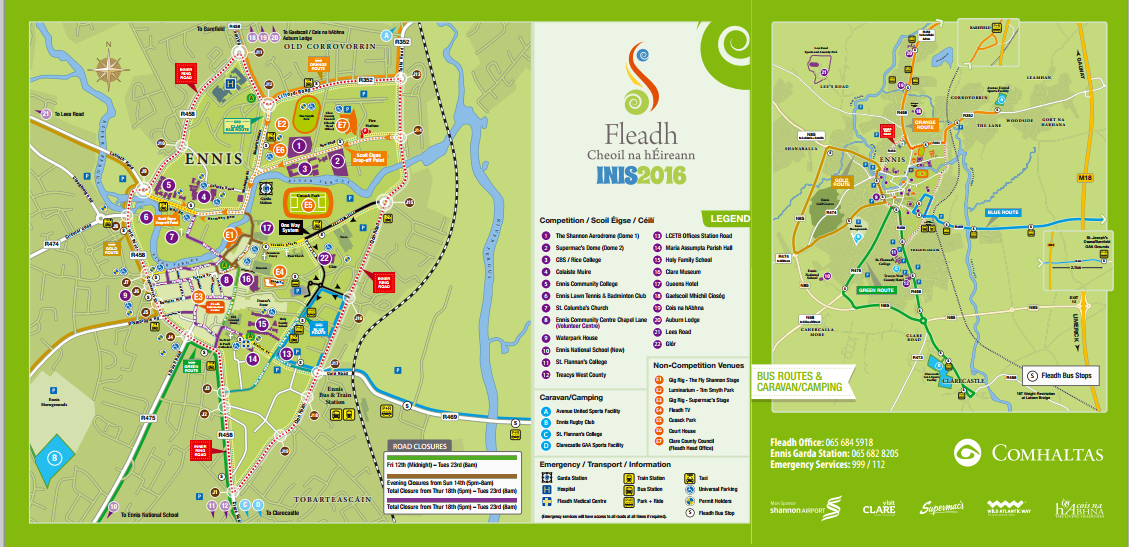 Locals and customers of Ennis are reminded that the town is very much open for business during Fleadh Cheoil 2016, particularly in the first half of the week up to Thursday evening.
All areas of Ennis town, except O'Connell Street, will be accessible during the day up until Thursday evening for shoppers and for people to get business done. From Thursday evening onwards there will be pedestrian access in the town centre with extensive park and ride facilities available with four different bus routes to cater for people coming into town for the weekend.
Retailers in Ennis have come together to offer extended opening hours to cater for visitors and locals alike. This will see many town centre businesses open from 9am or 9.30am to 8pm Monday to Friday, 9am or 9.30am to 7pm Saturday and 12 noon to 6pm on Sunday.
Jean McCabe, President of Ennis Chamber said "The extension of our opening hours is not just about making sales, but sending out a unified positive message about Ennis, about our great retail offering and highlighting to our visitors that we are here and we want you back to visit us again. The positive impact of the Fleadh will really come to fruition when visitors return for weekend breaks or during school holidays to shop in Ennis. Therefore we welcome the competitors, participants and families of Fleadh Cheoil 2016 and put Ennis back on the map as a really fantastic shopping & leisure destination."
The offices of Ennis Chamber itself will also have extended opening hours and additional opening hours at the weekend to offer information and assistance from 9am to 7pm Monday to Friday and 12pm to 5pm on Saturday and Sunday. Ennis Chamber is also providing a satellite base for accredited press people and journalists to use the Chamber offices on O'Connell Street for completing their work on reporting from Ennis.
Volunteers will form a major element of Fleadh Cheoil 2016 and Ennis Chamber is working with Volunteer Centre Clare to provide a special Discount Card to volunteers as a way to recognise the vital and valuable contribution being made by the over 1,500 individuals whose participation will ensure the success of Fleadh week. If any business wishes to participate in rewarding the 1,500 volunteers by being part of the Discount Card, they can contact Ennis Chamber on 065 684 2988.
Ennis Chamber would encourage everyone to come into Ennis during Fleadh Cheoil 2016 to attend the many fantastic traditional Irish cultural events taking place for the week. It will be a celebration of the best of Irish talent and a huge opportunity for the people of Clare to experience this showcase first-hand. Ennis Chamber would also encourage people to come in to experience the atmosphere which will be created and enjoy our capital town looking its best, particularly as a result of over 70 businesses availing of the Clare County Council Improvement Scheme.
Ennis Chamber congratulated Comhaltas in Clare on bringing this world class event to Ennis and to all of the public and private organisations who have assisted in making Fleadh Cheoil 2016 a reality.