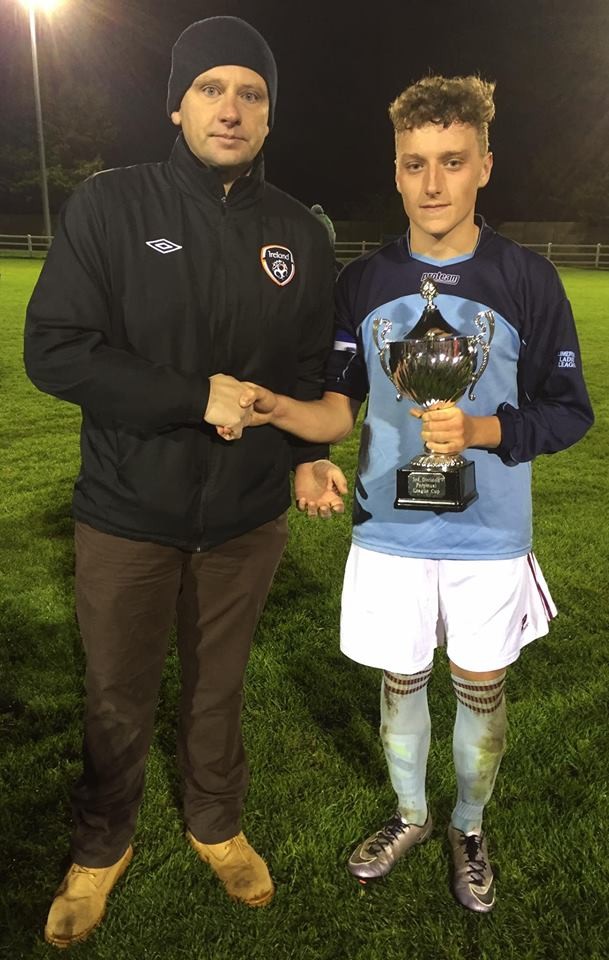 Shannon Olympic exited the FAI Junior Cup while there was better news for Avenue Utd and Bridge Utd in the Premier Division as Lifford B collected some silverware this weekend.
Third Division League Cup Final
Lifford B 5-1 Shannon Hibs
Lifford B turned in an excellent second half performance to win the Third Division League Cup after defeating Shannon Hibs at the County Grounds on Saturday night.
Shannon Hibs had the better of the first half and Jamie O'Shea had an effort saved by Sean O'Reilly on twelve minutes. A good run from Jimmy Houlihan on 20 minutes earned his side a penalty after he was taken down in the box by O'Reilly. Houlihan took the penalty and made no mistake to give Hibs a deserved lead.
Darragh McDade went close for Hibs on 35 minutes with a shot that was deflected narrowly wide of the target. Lifford had their first shot on target on 37 minutes when Dean Coughlan had a shot from the edge of the box saved by Damien Casey. It remained 1-0 to Shannon Hibs at the break.
Hibs had the first chance of the second half when a free kick from Houlihan was saved by O'Reilly. As the half went on the more youthful Lifford side looked threatening on the break. A good ball in from Keith Downes found Jack Devitt at the back post and his shot narrowly missed the target.
Coughlan had a shot from the edge of the box go the wrong side of the post on 67 minutes. It was a level game on 72 minutes when Lifford captain Jack Devitt made a great run and finished well with a shot to the corner.
Coughlan put Lifford in front on 74 minutes with a fine header from a free a kick from Downes. Hibs chances of a comeback were dealt a big blow on 76 minutes when they lost Andy Fitzgerald to a red card for a second bookable offence.
It was 3-1 to Lifford on 80 minutes when Devitt scored his second after getting on the end of a great ball in from Coughlan. Ray Fahy went close with an effort for Hibs on 85 minutes that hit the post and went wide.
Lifford made it 4-1 on 87 minutes when Downes got in on the scoring with a good effort from the edge of the box. Hibs were down to 9 men on 92 minutes when Darragh Leahy picked up a second yellow card. Lifford wrapped up the victory on 94 minutes when Coughlan scored his second despite the best efforts of Hibs keeper Damien Casey to stop him on the edge of the box.
After the game Clare League Munster delegate Thomas Leahy presented the cup to Lifford captain Jack Devitt.
Lifford B: Sean O'Reilly, Greg Howard, Richie Neylon, Joe Lynch, Michael Sullivan, Eoghan Ryan, Jack Devitt, Niall McNevin, Mikey Whyte, Dean Coughlan, Sean Hayes. Subs: Fergus Lyons for Neylon, Keith Shea for McNevin, Keith Downes for Hayes, Mikie Daly for Ryan, Josh Costin for Whyte
Shannon Hibs: Damien Casey, David Egan, Thomas McDade, Pa Devaney, Cathal McCoy, Mikey Wall, Liam Delaney, Andy Fitzgerald, John Keogh, Jamie O'Shea, Darragh McDade. Subs: Jimmy Houlihan for Keogh (inj), Gavin McPhillips for Darragh McDade, Darragh Leahy for O'Shea, Jamie Egan, Ray Fahy
FAI Junior Cup Round 3
Shannon Olympic 3-3 Ballingarry FC (AET) – Ballingarry won 3-2 on penalties
Shannon Olympic made the journey to Ballingarry on Sunday for the third round of the FAI Junior Cup and were unlucky to go out of the competition after the home side earned a victory in a penalty shootout.
From the first whistle Olympic piled on the pressure on the home side with early chances by Ray Quigley and Sean Burke but to no avail. In the 30th minute a great pass by Sean Burke found Ray Quigley who has been in great form lately and he beat the defender and stuck it in the net.
Disaster struck for the visitors on 44 minutes when Ballingarry equalised. A direct free was saved by Jason Carmody and pushed out wide but their striker reacted quicker to the ball and made it 1-1.
Second half and Olympic still reeling from the goal given away were punished on the 47th minute when a ball from the left wing found the Ballingarry striker at the back post and he finished well. From there the game continued like the first half with 50 50 possession but Olympic looking the more likely to score with numerous chance but could not find the net.
Ballingarry had a great chance to wrap up the victory on 83 minutes when they were awarded a penalty but were denied by a great save from Jason Carmody who not only saved it but held onto the ball. Olympic piled on looking for equaliser and when the ball found its way to Sean Burke in Ballingarry box he was brought down.
Ray Quigley the captain stepped up and under pressure in the 88th minute fired the shot home to send the tie to extra time.
Extra time was packed full of end to end attacks but unfortunately for the visitors a break down the left side from Ballinagary found a man free at the back post and he made no mistake.
Olympic kept the pressure on in the second half of extra time in search of an equaliser and got it in the 112th minute when from a corner David O'Flaherty used his height and strength to finish well and make it 3-3. With no more goals the match was decided by the lottery of penalties and the home side had the better of it to earn a place in round 4.
Shannon Olympic: Jason Carmody, BJ Cantillon, Dean Power, David O'Flaherty, Rory O'Connell, Adrian Carew, Derek Maxwell, Ryan Kelly, Sean Burke, Ray Quigley, Jason Regan. Subs: Wayne Ryan for Jason Regan, Stephen Dolan for Ryan Kelly, Dean Courtney for Derek Maxwell
Maloney Garden Machinery Premier Division
Avenue Utd 1-0 Ennis Town
In a tough morning for playing football at Roslevan on Sunday Avenue Utd claimed all 3 points when Mark Roche scored from the penalty spot in the final minute of injury time.
It was a tight affair from the very beginning which chances at a premium. Both teams were a threat on the break with Avenue's Mark Roche and Davy O'Halloran were causing the Ennis Town defence problems while David Reidy and Joe Collins were always a threat for Town.
Ennis Town had the first chance of the match but were denied first by an excellent sliding tackle from Conor Mullen and then by a great save from Barry Ryan on the follow up. Avenue had a penalty shout waved away before half time when a shot deflected off the hand of an Ennis Town defender.
Avenue pushed hard in the second half and looked the more likely side to break the deadlock. Mark Roche went close with an effort that narrowly missed the target and O'Halloran was denied by a good tackle from Gerry Dullaghan.
Conor O'Brien had a good strike for Ennis Town from the edge of the box that Barry Ryan did well to save in the wet conditions.
With the game deep in injury time Davy O'Halloran made a good run into the box and went past 3 defenders, Adrian Walsh got back to make a last ditch clearance but referee James Ferns who was in a good position saw O'Halloran getting fouled by another defender and awarded the home side a penalty.
A cool Mark Roche slotted into the corner and there was no time left for Ennis Town to mount a comeback.
Avenue Utd A: Barry Ryan, David Herlihy, Shaun O'Flanagan, Conor Mullen, Kaylan O'Loughlin, Pa McDaid, Jamie Roche, Gary Flynn, Ronan Kerin, Mark Roche, Davy O'Halloran. Subs: Aaron Greene for Flynn
Ennis Town A: Ethan Kelly, Steven Horgan, Gerry Dullaghan, Shane O'Connor, Eoin Keenan, Conor O'Brien, Joe Collins, John Mulcahy, Ciaran MacMathuna, David Reidy, Nicky Ryan. Subs: Gary Greene for MacMathuna, Adrian Walsh for Mulcahy, Rory Brennan for Ryan
Tulla Utd A 2-4 Bridge Utd A
Two goals in the opening quarter set the Bridge on their way to a solid victory against Tulla in miserable weather conditions on Sunday morning.
Despite the heavy rain the home pitch was in good condition and a credit to the hard working Tulla groundsmen. The opener came on 11 minutes when Gavin Whyte turned in Darren Murphys cross from the left. Christy Griffen made it 2 on 13 minutes when he rifled home Kieran Quinlan's cut back from a free from the right.
The visitors were guilty of not putting the game to bed with O'Connor, Fahy and Golden all unlucky not to extend the lead. Tulla were right back in it on 31 minutes when Niall Whelan picked up a loose pass 35 yards from goal and fired an unstoppable shot over Brennan in the Bridge goal.
Bridge however responded immediately when Fahy got away from Whelan from a long Brennan punt and his shot from edge of the box was deflected over the Tulla keeper. Tulla started much the brighter in second half and their spirited efforts were rewarded on 62 minutes when Niall Whelan got his second following a goalmouth scramble. Bridge secured the victory on 82 minutes when Fahy was put through on goal by substitute Maxwell to finish from 8 yards.
Bridge Utd A: Kieran Brennan, Christy Griffen, Eoin Guinan, Darren Murphy, Gavin Whyte, Eoghan Pewter, Shane Golden, Darragh Fitzgerald, Kieran Quinlan, Brian O'Connor, Derek Fahy. Subs: Jon Okoro for Pewter, Alan Mulready for Guinan, Trevor Maxwell for O'Connor, Lee Wall for Fahy, Jay Whyte for Quinlan