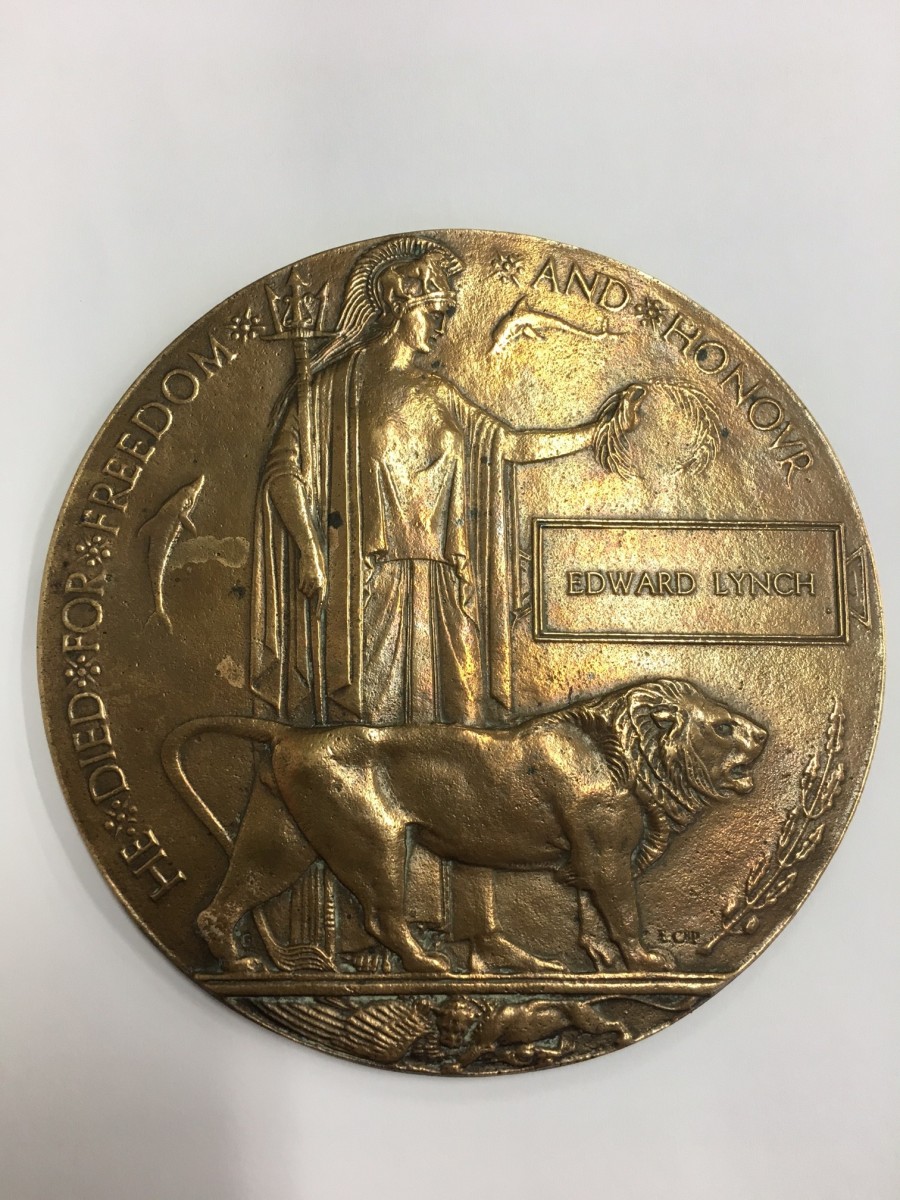 Sixth class pupils in Parteen N.S. are undertaking a challenging history project and they're appealing for the public's help.
They are trying to reunite the family of a Cork soldier who died in the First World War with his death plaque that has been missing for years. The soldier in question, Edward Lynch, was killed on December 21st 1914, just a few short days before Christmas, in a war where most people believed their loved ones in the trenches would be 'home by Christmas'.
Their teacher Cathal Crowe who has a huge passion for history, recently bought the World War 1 death plaque on eBay. The bronze plaque, more commonly known as a 'Widow's Penny' is about 5 inches in diameter and has the name 'Edward Lynch' engraved on it. The children are working hard to try to learn more about who Edward Lynch was, where he fought, where he died and, perhaps more importantly, what his life was like before he went to war. Ultimately, they hope to reunite his family with this long-lost family relic.
Since undertaking their research the children have sadly discovered that the Lynch family endured more than their share of tragedy during the war years (1914-1918). Edward's half brother, Frank O'Sullivan (a Private with the Royal Munster Fusiliers) was killed on the very same day as him. Edward's older brother Michael, a sergeant with the Royal Irish Regiment, also died in 1918 whilst posted at Bere Island, Cork.
The children are using books, photographs, old census records, maps, wills, medical records and the internet to help piece together Edward's life story. It is like a jigsaw puzzle and some pieces are proving hard to find but they are loving the project. Letters have also been written to the Mayor of Cork, The British National Archives and Shandon Historical Society among others. Historians, such as Jean Prendergast from Cork and Sean Collopy from Clare have also been hugely helpful to the cause.
Searching for Edward's descendants is not easy because the surnames Lynch and O'Sullivan are so common in Cork. Anybody who has information to help advance the project can send it via email to edwardlynchproject@gmail.com or post it to Parteen NS, Parteen, Co. Clare.