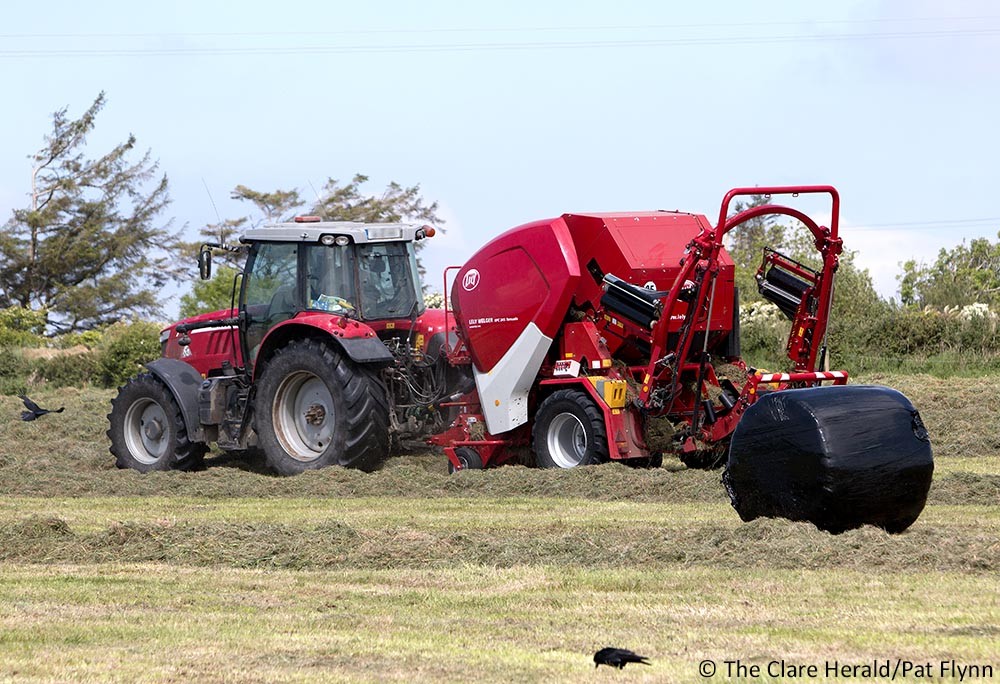 Hundreds of tonnes of waste farm plastics are expected to be collected for recycling at temporary bring collection sites throughout County Clare during the coming weeks.
The first of a series of 13 waste farm plastic collection days commenced this week with further one-day bring centres located at Scarriff, Sixmilebridge, Tulla, Kilfenora, Ennistymon, Lissycasey, Ennis, Carron, Inagh, Quilty, Kilrush and Labasheeda over the next fortnight.  The Irish Farm Film Producers Group (IFFPG), which operates national compliance schemes for farm plastics, has organised the initiative.
Significant quantities of waste farm plastics have built up on farms during winter and spring.  The waste farm plastics include silage bale wraps; silage pit covers; bale netting and twines; plastic packaging for fertiliser and meal ration; and agricultural chemical containers.
Temporary collections will take place at the following locations during June:
Sixmilebridge Mart, Feenagh, Sixmilebridge – 12th June
Tulla GAA – 13th June
Kilfenora Mart, Caherminnaun, Kilfenora – 14th June
Ennistymon GAA – 15th June
Frure GAA, Frure, Lissycasey – 16th June
Ennis Mart, Quin Road,  Ennis – 17th June
Deelin, Michael Ciosog GAA – 19th June
Central Waste Management Facility, Ballyduffbeg, Inagh – 20th June*
Quilty GAA, Quilty West, Quilty – 21st June
Kilrush Mart, Cappagh Road, Kilrush – 22nd June
Labasheeda GAA, Ballygeery East, Labasheeda – 23rd June.
Bring centres will be operated within the hours of 9.00 a.m. and 5.00 p.m., with the exception of the bring centre at the *CWMF, Ballyduffbeg, Inagh, which will operate within the hours of 8.30 a.m. and 4.00 p.m.
Further information on the bring site locations, dates and times of operation and charges that apply for the collection of waste farm plastics may be obtained from the IFFPG website, www.farmplastics.ie.  Further information on the recycling of WEEE and waste batteries is available on the ERP Ireland website, www.erp-recycling.ie.