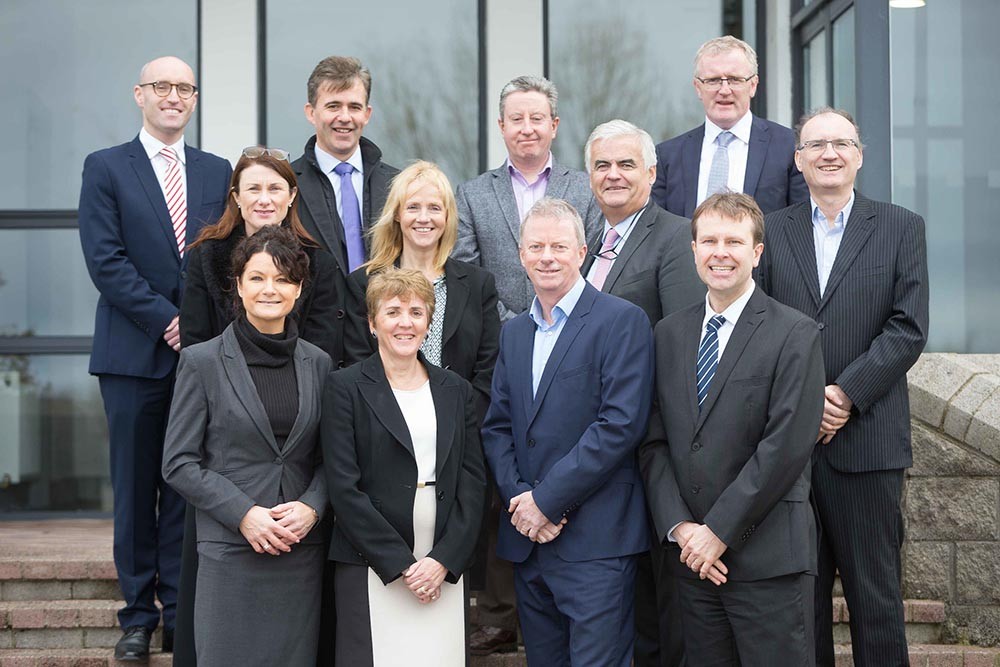 In the twenty-one years since it first opened its doors, Shannon Chamber has become an intrinsic part of the business community in the greater Shannon area and has expanded both its membership base and its staff complement.
To cater for the needs of this growing membership, which now stands at over 300 companies with an extended reach to their 10,000 employees, and to give its staff of 6 greater space in which to work, the Chamber has opened a second office in the newly refurbished Shannon Airport House at Shannon Free Zone. Its former head office in SkyCourt will remain open and be used more extensively by Shannon Chamber Skillnet to provide a range of training programmes to member companies.
Announcing the expansion in Shannon today, Chamber CEO Helen Downes said: "This is an exciting time for the Chamber. When I took over the helm of the Chamber in 2008, with myself and one part-time staff occupying our singular office in SkyCourt, never did I envisage that by 2017, we would have expanded our membership by 140%; have 6 staff, be delivering in excess of 30 events per annum; running a Skillnet training network that delivers over 40 training programmes per annum; have developed a number of industry forums for CEOs, HR professionals, and Lean practitioners; have representation on a wide range of public committees including the developing Atlantic Economic Corridor (AEC); be on the board of Chambers Ireland, and leading its CEO Forum.
"The Chamber has an expansive remit and an exceptionally heavy workload, which required us to look at expanding to larger premises to accommodate our increasing staff numbers. We were exceptionally fortunate that our search coincided with the refurbishment of Shannon Airport House where we now occupy Suite 14 on the ground floor. Having a presence on the Free Zone also brings us closer to our membership, which is, in the main, from the wide sectoral representation located in the Zone and the wider Shannon area. Retaining our office in SkyCourt means that we can maintain the link with the retail community, the commercial heart of Shannon.
"It's a new era for the Chamber; a time to plan for bigger and greater in the next decade. Our founding board set the foundations for what we are and where we are today and it's at a time like this that I get the opportunity, on behalf of the board, to thank our founders, most especially, Michael Guinee, chairman, CEO and founder of Ei Electronics and Paddy Purcell, chairman and founder of Mincon, for their entrepreneurial foresight; both continue to take a great interest in what we do and were very supportive of this expansion," added Ms Downes.
Complimenting Shannon Chamber on its expansion, SkyCourt manager Pat Kelly said: "In the time Shannon Chamber has been in SkyCourt, we have witnessed its growth in terms of business and staff numbers. Operating from a dual location will ensure that the link with retail is maintained and we certainly look forward to working on some new joint initiatives with the Chamber in 2018."
Welcoming the Chamber to Shannon Airport House, Ray O'Driscoll, managing director, Commercial Properties, Shannon Group plc said: "We are delighted to welcome Shannon Chamber to Shannon Free Zone. With a dynamic team and an entrepreneurial approach that make things happen, the Chamber is a great asset to the business community. They arrive at an exciting time in Shannon Commercial Properties' journey as we regenerate the Free Zone and rebrand our €25 million first phase redevelopment as Gateway West in the Shannon Free Zone. We look forward to working with them to promote all that is great about Shannon for FDI, SMEs and entrepreneurs. Their strategic positioning, as the first point of contact in our newly established Gateway Hub at Shannon Airport House and at the heart of the Free Zone, will serve as a beacon to new and expanding enterprise."