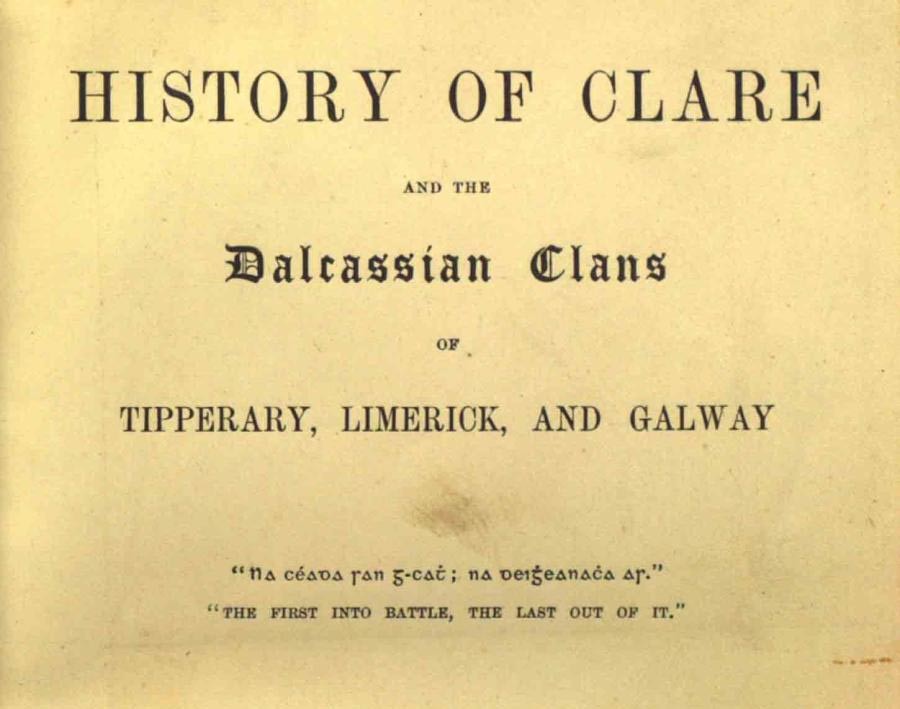 To mark the 125th anniversary of the publication of 'The History of Clare and the Dalcassian Clans' by Tulla native Dean Patrick White, Tulla History Group will host a talk in Tulla tonight (Tuesday).
The History of Clare and the Dalcassian Clans is one of the foremost histories dealing with Clare and the surrounding areas from earliest times. Written by Dean Patrick White it was published 125 years ago in 1893.
The speaker at the event, which will be held in Tulla Courthouse at 8.30pm, will be Mr Nicholas Canny
A member of a well-known Tulla business family, Patrick White was Dean of the Roman Catholic Diocese of Killaloe. Having served as Parish Priest in both, Miltown Malbay and Kilrush he was transferred to Nenagh on his appointment as Dean in 1892.
He had already been working on his great history and it was published the following year in 1893. Within months of his arrival in Nenagh the foundation stone of the Church of St Mary of The Rosary was laid and it was blessed and opened in less than four years. He lived to see his great work consecrated in August 1896 with all its costs cleared, four months before his death.
Retired Professor of History at NUIG Nicholas Canny is one of Ireland's most distinguished historians. His professional research and writing has revolutionised our understanding of Early Modern Ireland and his authority acknowledged in a whole range of areas, from politics, economy and society to the patterns of settlement and rebellion in the seventeenth century.
He developed a worldwide expertise and reputation on the nature of population movement in early modern times, especially from Europe to the America
He was born in Kilfenora, where his parents were primary teachers, and he is a past pupil of St Flannan's College, Ennis, as well as U.C.G. Author of a bewildering variety of papers, articles, reviews and full length monographs, in retirement he has been President of the Royal Irish Academy, and continues to write with distinction on many historical topics.