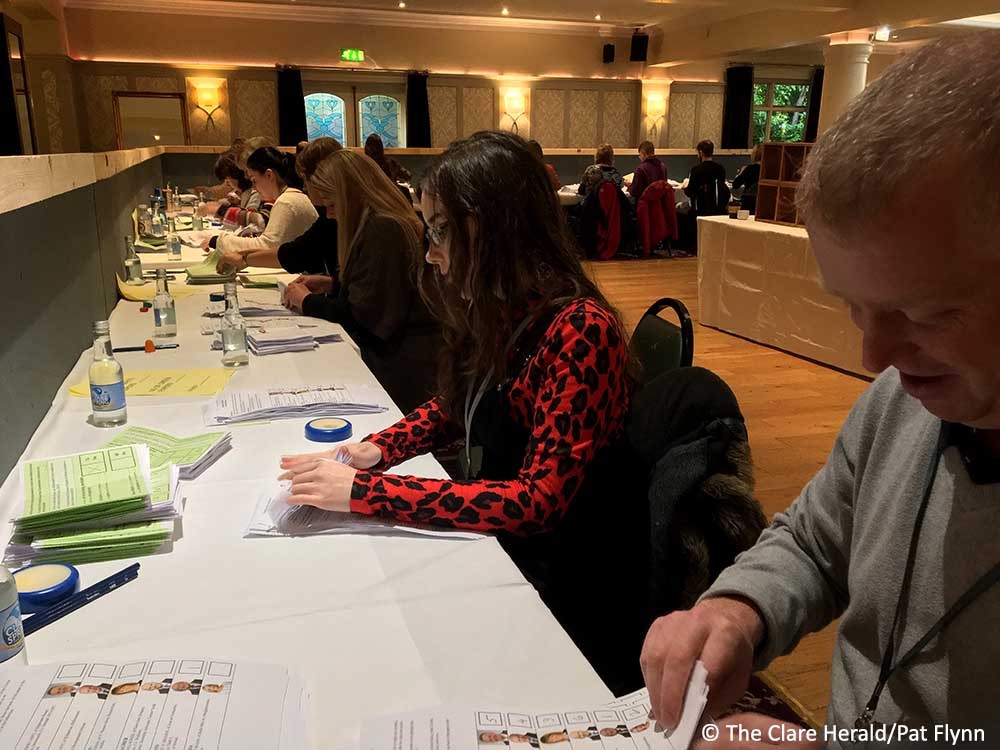 President Michael D Higgins will serve a second term in the Phoenix Park following his comprehensive win in the 2018 Presidential Election while he also topped the poll in Co Clare.
Counting got underway at the Auburn Lodge Hotel in Ennis at 9.00am today with the first task for the 50 counters being to separate the Presidential Election and Blasphemy Referendum ballot papers.
While there were no official tallies, a random sample of boxes indicated early on that the current President was set to top the poll while fellow candidate Peter Casey polled very strongly in many areas.
In one box from Connolly, Mr Casey received 42% of the 223 votes cast while President Higgins took 47.5% of the first preference votes.
Clare

152 boxes – 30% Open at 10.45am

Box: Connolly, West Clare

Casey 42%
Duffy 0.4%
Freeman 1.7%
Gallagher 3.5%
Higgins 47.5%
Ni Riada 4.5%

— Pat Flynn (@patsyflynn) October 27, 2018
Given his own strong links with Clare, having been raised in Ballycar and educated in Ballycar and Ennis, Michael D Higgins polled well in many parts of the county.
In one box from Sixmilebridge, the incumbent secured 66.2% of the vote with Peter Casey taking 21.5%. From the same box, Gavin Duffy received 2%; Joan Freeman (3.3%); Seán Gallagher (3.6%) and Liadh Ní Riada (3.3%).
In another box from the Drumbiggle area of Ennis, Michael D Higgins received 55.1% first preference votes.
By 2.00pm, separation of the ballot papers was completed allowing sorting of the Presidential ballots to commence. Counting of the papers for the Presidential Election commenced at around 2.30pm.
Returning Officer for the Clare Constituency, Patrick Wallace, confirmed the results of the vote at 5.15pm. He confirmed:
Electorate 83,044
Total Poll 41,871
Spoiled Votes 449
Total Valid Poll 41,422
First Count
Casey, Peter – 11722 – 28.3%
Duffy, Gavin – 617 – 1.5%
Freeman, Joan – 1969 – 4.75%
Gallagher, Seán – 2289 – 5.52%
Higgins, Michael D. – 22639 – 54.65%
Ní Riada, Liadh – 2186 – 5.3%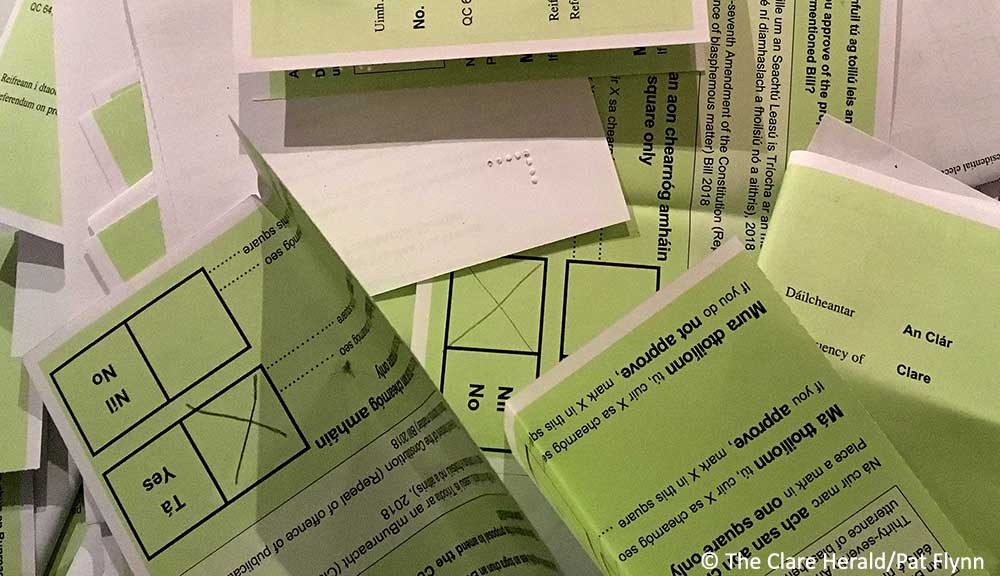 Meanwhile, the result of the Blasphemy Referendum, although completed several hours ago, was only confirmed and announced at 9.35pm.
The final result was:
Electorate 83,044
Total Poll 41,776
Spoiled Votes 755
Valid Poll 41,021
Yes – 25386 – 61.89%
No – 15635 – 38.11%