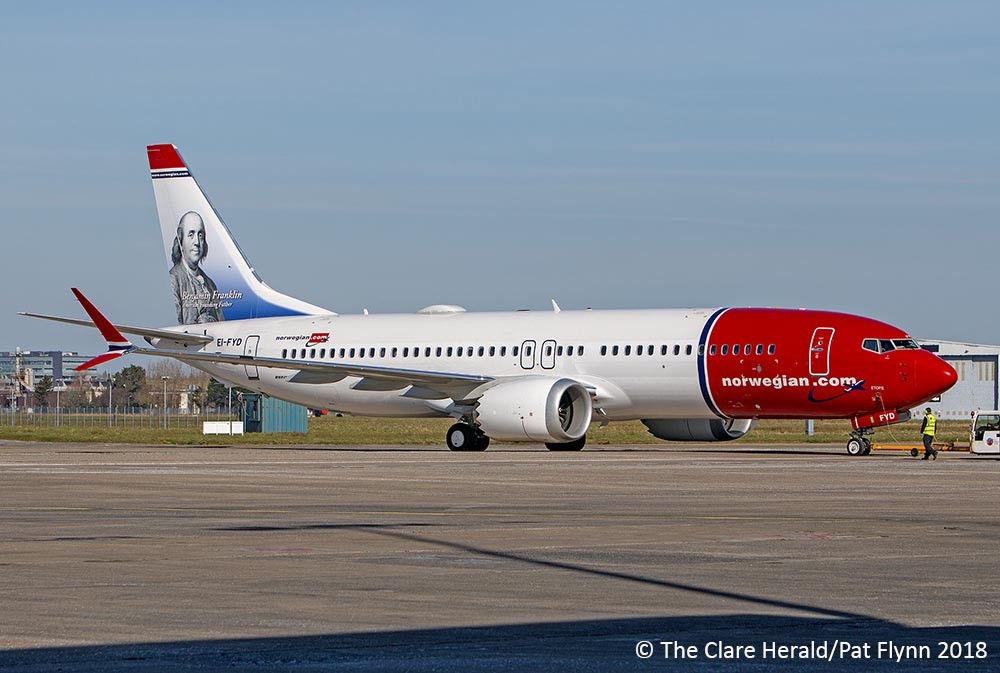 Transatlantic carrier Norwegian has put a plan in place for passengers due to fly on services from Shannon.
The airline was due to resume operations from Shannon to New York (Stewart) and Providence from March 31st.
However, since the grounding the Boeing's 737 MAX aircraft, Norwegian has had to make alternative arrangements.
Now, customers booked to travel to the US from Shannon from March 31st, will be transported to Dublin by coach and flown to their destination on a larger Boeing 787 Dreamliner jet.
In a statement this afternoon, the company said: "In response to the suspension of Boeing 737 MAX operations by European aviation authorities, Norwegian would like to provide further information to customers booked to travel from Cork, Shannon and its new route from Dublin to Hamilton from 31 March.
Norwegian has worked continuously since the grounding of the Boeing 737 MAX to ensure that customers travel plans can continue with minimal disruption. The airline has re-routed customers and offered passengers the chance to rebook or receive a full refund free of charge if they no longer wish to travel.The airline is also combining flights and reallocating aircraft within its own network to keep cancellations to a minimum and minimise inconvenience for its customers."
"Norwegian has temporarily deployed a Boeing 787-9 Dreamliner to operate daily flights between Dublin Airport and New York (Stewart). The service combines the Dublin to New York and Providence flights and bus transportation has been arranged for passengers travelling onward to Providence.
Travel information for Shannon customers – Travel period 1-10 April
Shannon-New York (Stewart) and Providence:
Customers travelling from Shannon to New York (Stewart) and Providence have been transferred to flight D8 1763 on Norwegian's Dublin to New York (Stewart) service using the Boeing 787-9 Dreamliner.
New York (Stewart) and Providence-Shannon:
Passengers travelling from New York (Stewart) and Providence to Shannon have been re-accommodated on flight D8 1762 from New York (Stewart) to Dublin on the Boeing 787-9 Dreamliner.
Norwegian has arranged bus transportation, departing at 9:30am, for customers at Shannon Airport to arrive at Dublin Airport Terminal 2 at 12:30pm to meet their flight. Customers travelling on 31 March can also benefit from the bus service. Buses will also meet arriving passengers at Dublin Airport's coach park at 8:30am for those travelling to Shannon.