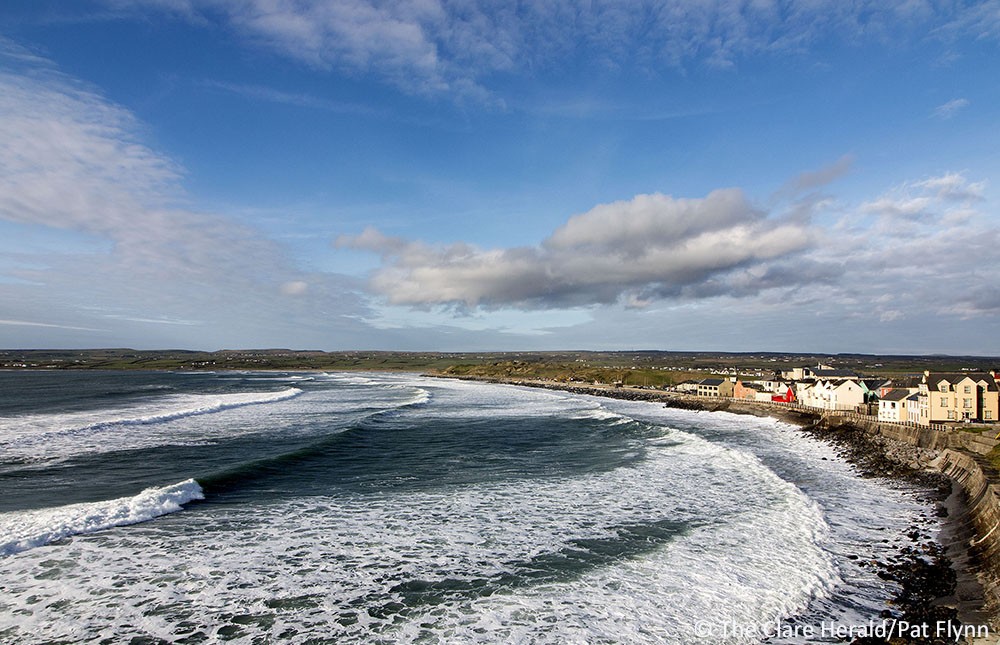 A swimming ban has been imposed at one of the county's most popular beaches following confirmation of contamination of the water by run-off from the Inagh River.
Clare County Council has confirmed: "On the advice of the HSE, Clare County Council has today raised Red Flags at Lahinch beach indicating a bathing prohibition until further notice. The restrictions have been introduced after the results of routine water samples taken at Lahinch showed elevated levels of bacteria in the water."
"Runoff from the catchment area of the Inagh River after exceptionally heavy rainfall has resulted in elevated levels of bacteria being identified in the water. The Inagh River enters Liscannor Bay at the northern end of Lahinch beach.
In accordance with An Taisce's Blue Flag programme, the Blue Flag at Lahinch has been removed until such time as the water quality improves. An improvement in water quality is expected over the coming days as drier weather is forecast," the council added.
Meanwhile, Fianna Fail General Election candidate for Clare, Rita McInerney is calling on Irish Water to work with Clare County Council to invest in the coastal areas of the county affected by the recent beach closures.
"It is imperative that work commences immediately to bring the public water and waste water systems in these coastal towns to the standard required to serve their communities.  Kilkee and Lahinch both rely heavily on tourism for survival and these closures have had detrimental effects on trade in recent weeks.  However the danger is that this will all be forgotten about as the season comes to an end until the same issue raises it's ugly head again next summer without being solved." Ms McInerney said.
"Such closures puts locals, visitors and business people at risk for both in terms of their health and their livelihoods.  It is very difficult for business people to highlight the issues and speak out as they have to in order to fight for the proper systems to be put in place and at the same time adversely affect their businesses as a result of the negative publicity such incidents bring." she added.