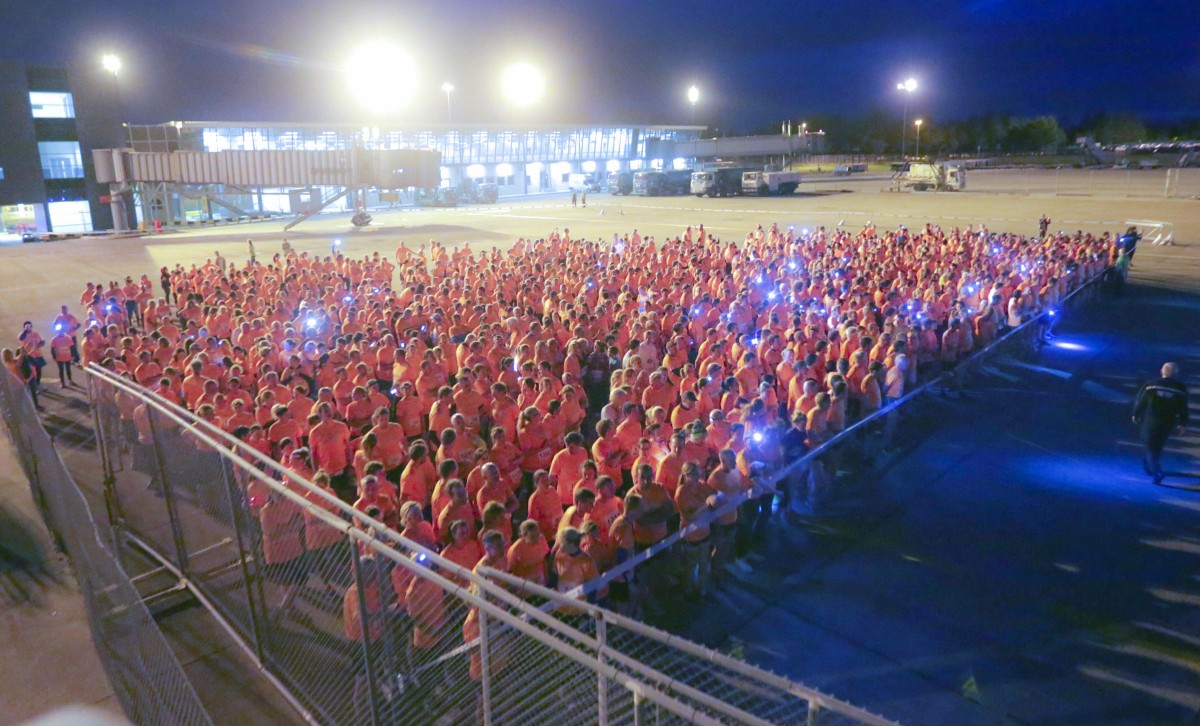 Shannon Airport says it will almost double last year's numbers for one of the most novel mass participation events of the year as 2,000 get ready for take-off in the Bank of Ireland Runway Night Run on Friday.
The airport had already put on an additional 500 places for this year's event when it opened for booking last month but was fully subscribed within 36 hours.  However, given the demand, a further 300 places – taking the overall numbers to 2,000 – were made available on a lottery system and were oversubscribed seven fold.
Final preparations are being put in place this week for what promises to repeat the success of last year's inaugural hosting of the event.
All confirmed participants will receive a specially branded T-Shirt to wear during the race which they can pick up at the event register desk at the Airport Arrivals area on Wednesday 17th and Thursday 18th  from 4-8pm and on the night (Friday 19th) from 9.00pm. The run is scheduled to begin at midnight, but the start time may be slightly delayed in the event of the late arrival of the last scheduled flight of the night ahead of the run.
Participants – only people who have signed up for the event will be able to participate – are advised to come early to enjoy the warm up session in the airport terminal building with motivator Richie Clifford. There will also be a 'bag-drop' for participants to store items not worn in the event itself.
The course, which will be lit up by runway lights and other lighting brought in especially for the event, and will have marker signs every kilometre to keep participants updated on their progress.
All proceeds from the event are going to Shannon Group plc's chosen charities for 2015 –TLC4CF (Tipperary Limerick Clare for Cystic Fibrosis) and Milford Care Centre, Limerick.
Looking ahead to the event, Shannon Group CEO Neil Pakey said, "The weekend before last we had our 120km cycle for charity and this weekend the distance is a lot shorter but the buzz will be even bigger.  Just under 12 months ago we had our first Midnight Run, which was a resounding success, and we had so many people enquiring afterwards about whether or not we were going to stage it again that we were left with no choice.  We are delighted this year also to have Bank of Ireland back as sponsors.  Without them 2,000 people would not be getting out on our runway on Friday night."
Liam Sheedy, who is also Area Manager for the Mid-West Region for Bank of Ireland, said "I have heard so many good things about the event that I'm really looking forward to it.  The airport deserves great credit for coming up with the concept and making it such a success."