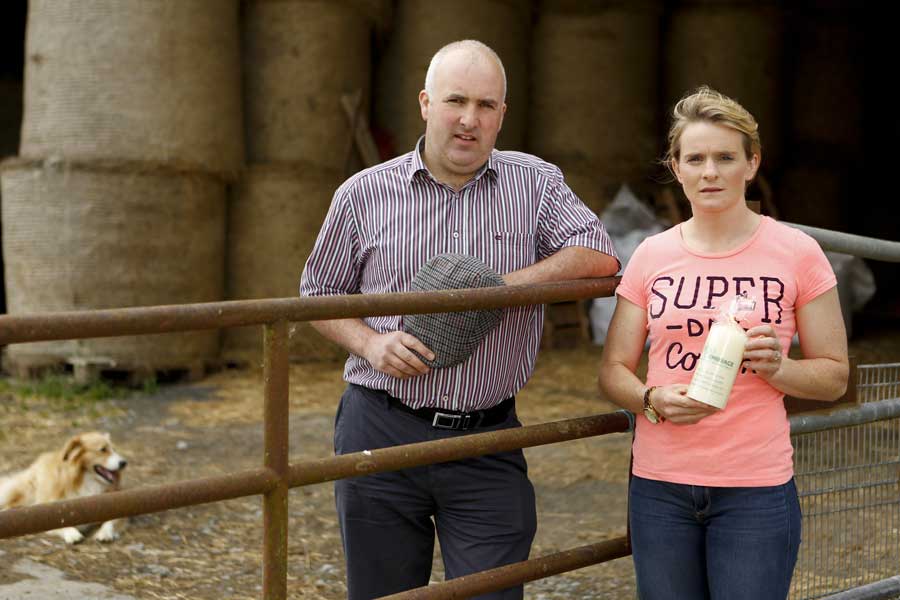 The men, women, and children who lost their lives in Ireland's most dangerous working environment will be remembered this Sunday, June 28th in a special Embrace FARM Remembrance Service.
The Most Holy Rosary Catholic Church in Abbeyleix, Co. Laois will be the venue for the ecumenical service that will pay the deepest respects to the many, including those killed in Co. Clare farming accidents, who have been lost the length and breadth of the country to farm accidents.
The second annual Remembrance Service organised by Embrace FARM – an organisation established by Brian Rohan and his wife Norma to honour the memory of those who died and suffered serious injury in farm accidents and to support their next of kin – is expected to draw close on 800 parents, children, relations and friends of victims of tragic accidents from across the country.
Clare was among the 15 counties affected in what was a dreadful year for farm fatalities last year, with two people tragically losing their lives. Latest statistics available show that in the period 1993 to 2011, some 14 Clare people were killed in farm related accidents.
And as we approach an extremely busy period for farmers nationwide, organisations such as Embrace FARM and the HSA have urged Co. Clare farmers to take extra care, especially, when using machinery. Last year alone 18 lives across Ireland were lost due to accidents involving machinery, tractors and other farm vehicles.
Among those attending the service in support of the bereaved will be Simon Coveney Minister for Agriculture, Food and the Marine, rugby legend and farmer John Hayes, current Irish rugby international Sean O'Brien, industry representatives and clergy.
The event, which takes place at 2p.m., is led by Embrace FARM founders Brian Rohan and his wife Norma, who launched the voluntary organisation last year in memory of Brian's late father Liam who was killed following an accident on the family farm in Co. Laois in 2012.
This year's event comes following a dreadful year in 2014 for fatal farm accidents. Some 30 people lost their lives in farm accidents during the year, an 87% increase on 2013, and a toll that triggered a major safety awareness campaign from Embrace FARM by way of its viral video campaign 'What's Left Behind'.
Regrettably, the death toll continues with 7 people having lost their lives so far this year in farm accidents.
Announcing this year's Remembrance Service, Embrace FARM founder Brian Rohan said, "When we were here last year we were hoping that we would see a major fall off in farm accidents but unfortunately the death toll continues. It's a terrible emotional impact as well as a practical one.
"We founded the organisation principally to provide support to families, like ours, who find themselves trying to deal with the death of a loved one on a family farm. The Remembrance Service is the biggest opportunity of the year for us to do that as it enables people who have that tragic common experience to come together and share their sense of loss and, indeed, memory of their loved ones.
"People get to discuss their own particular experience and last year so many got great comfort from just getting to talk to others who have experienced their pain."
Also speaking at the launch, Cork camogie and ladies football star and Embrace FARM ambassador Briege Corkery, who milks 500 cows twice daily with her boyfriend Diarmuid, said, "When you hear of an accident or, much worse, a fatality on a farm, it does stop you in your tracks. It is a dangerous working environment and we all need to be so careful because of that. So many Irish families have paid a terrible toll due to farm accidents and the Remembrance Service is an opportunity for them to come together and have the support of each other as they think of their loved ones. Embrace FARM deserve huge credit for what they have done and I am delighted to support them."
One of the high points of the service will be the reading out of names of people who died in farm accidents and the organisers have asked that those who want their loved one's names read out to contact them on 085 7709966 or to email them at embrace.farm@gmail.com