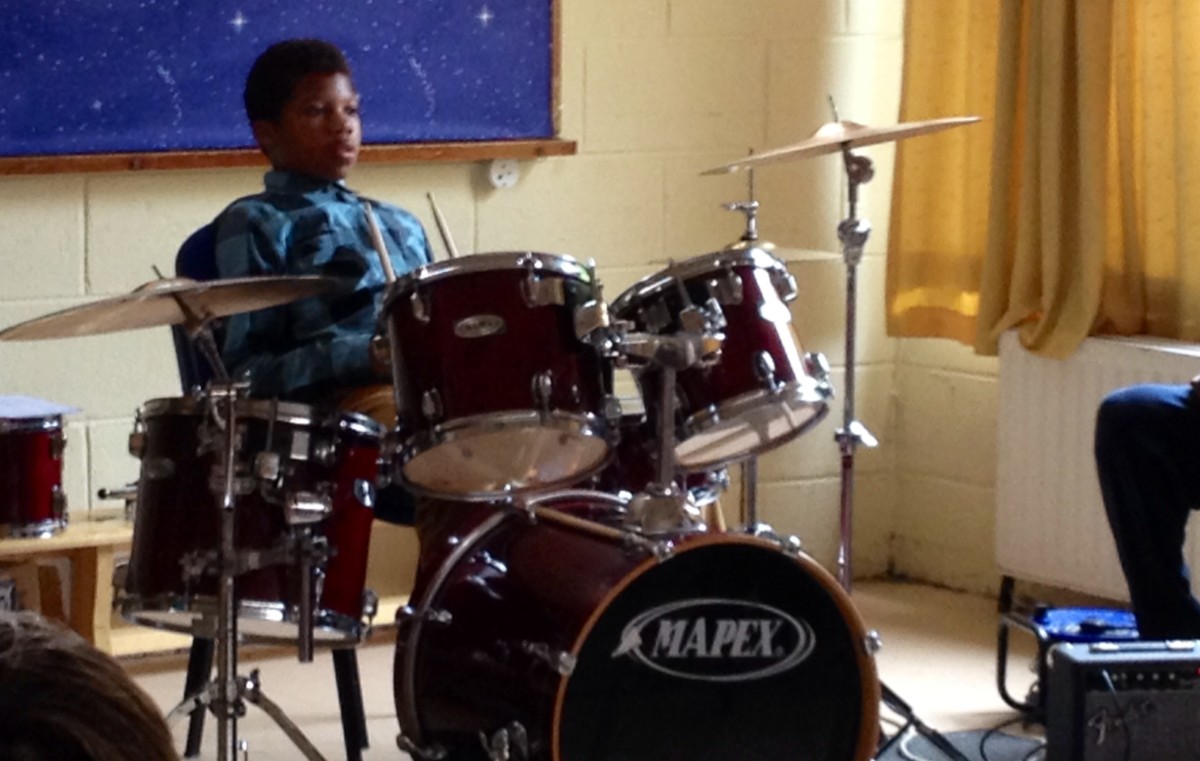 June 29th to July 3rd is a very exciting week in Scoil Chríost Rí, Cloughleigh Ennis, as it holds the second Trad Rock Summer Camp under artistic direction of Karen Vaughan.
The camp is built on the vision of wanting to see what when you mix the six genres of music together – the six different musical genres Percussion classes with djembe, bodhrán an samba drumming, Rock Classes with drums, electric and Bass Guitars, Acoustic and all the different Traditional Irish Music Instruments – Fiddles, concertinas, banjos, accordions, mandolins, whistles, timber flutes and bodhráin as well as the additions of music technology and song writing this year.
There has been a very vibrant music team in operation at Scoil Chríost Rí in Cloughleigh in Ennis which has been steadily built up over the last ten years in particular. Traditional Irish Music has been the bed rock of all of the schools musical achievements and are probably the first primary school in Ireland to have their own in-house Student Rock band which is well established.
'Scoil Chríost Rí are very proud of their musical endeavours and believe in the power of music to develop a child's confidence, wellbeing an feel good factor when playing music in whatever genre they like' said Karen Vaughan of Scoil Chríost Rí.  She added that "Music crosses all boundaries and is a gift for life, which is why we are passionate about the teaching of music of all genres, in particular traditional Irish music which instils in a child a strong sense of cultural identity which is at the heart of musical ethos for this camp'.
Music Generation Clare (MGCE) led by the Limerick and Clare Education and Training Board, part of Music Generation, Ireland's national music education programme, initiated by Music Network co-funded by U2, The Ireland Funds, The Department of Education & Skills and Local Music Education Partnerships is delighted to partner with the music team of Scoil Chríost Rí to provide the tuition for the camp, and the wide variety of instruments being learned is thanks to the generous support of Clare Local Development Company in 2014.
.Accessible music education for children and young people in its broadest meaning and to encourage their sense of self expression, creativity and confidence are at the core of the aims of Music Generation Clare, and we are delighted to support Scoil Chríost Rí in the provision of this unique summer camp' Emer O'Flaherty, Development Officer, Music Generation Clare.
The camp will culminate in two performances on Friday, July 3rd – the first of which will take place in Scoil Chríost Rí itself.  The second performance is part of the MGCE showcase of programmes and partnerships, to be staged in Place St. Paul de Fenouillet, near Clare Museum, Ennis, on Friday July 3rd between 3 and 4p.m.  'The performance will also showcase three programmes of MGCE, namely the Ennistymon guitar jam students, in partnership with North West Clare Family Resource Centre, writers and performers of the Songstories songwriting programme, in partnership with Ennis CDP Primary Healthcare Programme for Travellers, and 20 young singers from across the county who partook in the Escalation singing programme 2014-5'.  This is a free event not to be missed.
Music Generation Clare has also partnered with The Clare Memory Orchestra to provide a summer school to young musicians of violin, fiddle, viola, double bass, percussion, bodhrán, guitar, oboe, flute, and whistle to take place in Ballyvaughan between July 20th and 24th.  This school provides performance opportunities in both Ballyvaughan Church and glór Ennis, and places are available to be booked.
Media enquiries may be addressed to: Emer O'Flaherty, Music Generation Clare, 065-6866743;  087-2359111; emer.oflaherty@lcetb.ie