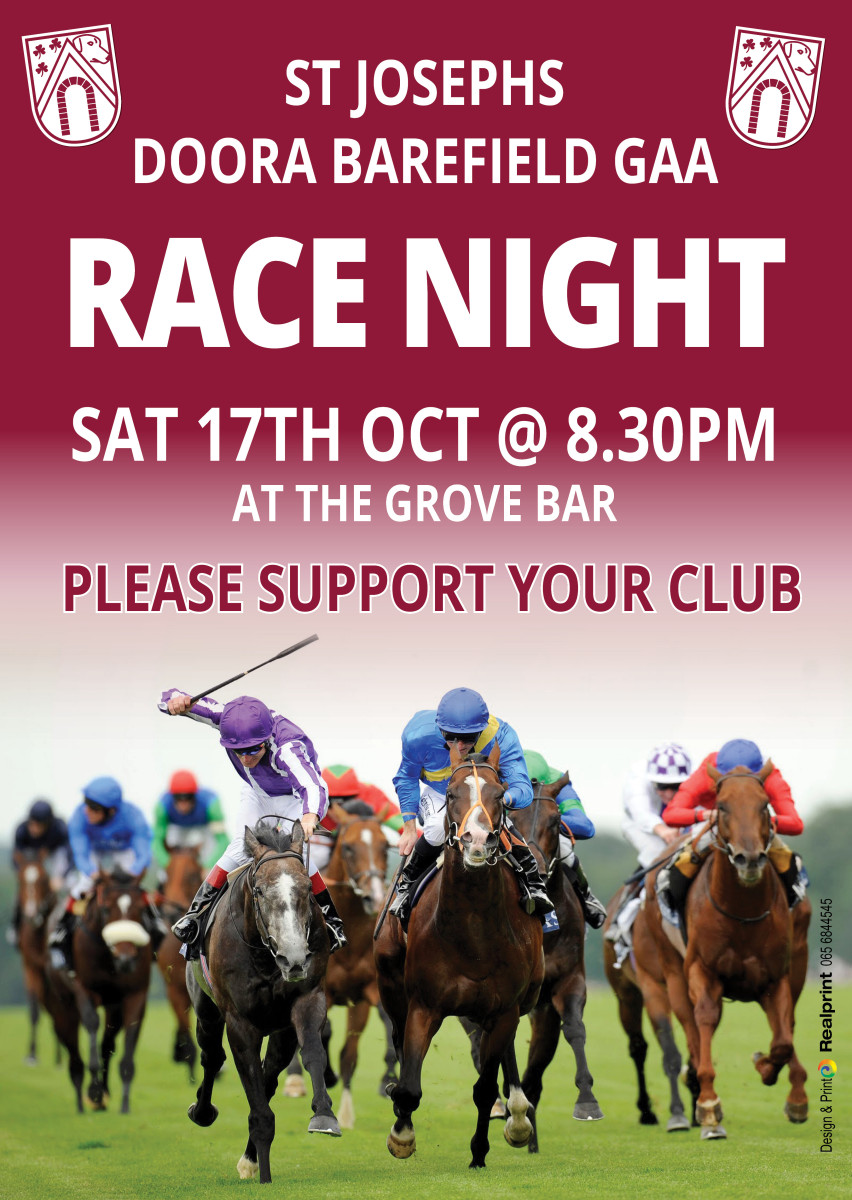 St. Joseph's Doora/Barefield GAA Club will host a fundraising Race Night on Saturday 17th October 2015 at the Grove Bar, Roslevan, to help finance the continuing development of facilities at Gurteen.
The Club now caters for 53 teams in Hurling, Football, Camogie and Ladies Football. The age's catered for range from under 6's to adults. In addition to servicing the needs of our own membership all facilities are made available to a diverse group of activities, some far beyond the parish boundary.
Speaking ahead of the Race night, Chairman of St. Joseph's Doora Barefield GAA Club, Martin Coffey said "We are proud of our state of the art facilities at Gurteen but are conscious of the necessity to enhance and upgrade to ensure that the facility remains fit for purpose and continues to be a 'centre of excellence' into the future."
There are a number of ways to contribute from being a race sponsor, taking out a race programme advert or fill out a sponsorship card and sell a few horses.
Chairman of the Organising committee, David Frawley stated that 'The Club continues to recognise the depth of goodwill towards the Club within the community in general and the business community in particular. This goodwill has consistently manifested itself through the financial support received over the past decade."
Speaking ahead of this major fundraising drive Club PRO of St. Joseph's Doora/Barefield GAA, Cillian Griffey said that "We are continuing to strive for excellence in delivering for our members and providing facilities for the wider community. I'm proud to say our Club committee's are a forward thinking and progressive group of committed volunteers. We intend to continue to develop our facilities at Gurteen to ensure we promote more active lifestyles for young people in our Parish. Your support on the night will be appreciated".
Events on the night kick off at 8.30pm and people wanting to support the Club are asked to contact David Frawley on 086 409 1438 or visit www.doorabarefieldgaa.com for further details.