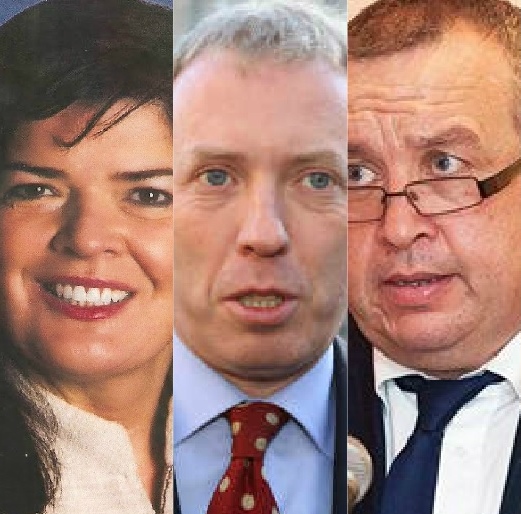 In a surprising move, Clare Colleran Molloy has decided to accept a nomination from the Fianna Fáil to run in the 2016 General Election, 11 days after rejecting an offer from the party.
Speaking exclusively to The Clare Herald, Ms Colleran Molloy revealed it was "a groundswell support" at a Fianna Fáil Comhairle Dáil Ceantar meeting last Monday coupled with the reaction of interactions with people on the streets of Ennis that prompted her to rethink her decision.
"A groundspell of support from the members at a meeting last Monday night, it was the Fianna Fáil Comhairle Dáil Ceantar meeting. There was a very big number in attendance, I believe in or about eighty maybe upwards on ninety. They were encouraging me to reconsider. Moreover, I would have met a lot of people on the streets in Ennis and my husband Tony the same, disappointed that I wasn't going and asking me to reconsider," she said.
The sitting Clare County Councillor from Quin continued: "I decided I had to extricate myself from the commitment I had made and give this one-hundred percent."
In the aftermath of her previous decision to reject their offer, Clare said she would have campaigned to ease the burden on the most vulnerable in society. Now that she is on the election trail, it is something she will highlight.
"Absolutely, I even mentioned it in the Council today, there was a motion there and hopefully we'll have good news there tomorrow to restore the special teaching assistance that are needed for children with disabilities in primary schools. As I said in the Chamber today, there is an example of where the vulnerable have been hit who can't really speak up for themselves, from one of the spectrum the children all the way to the elderly, that is a concern to me, there seems to be a lack of social conscience with the decisions and choices that have been made in these austere times which are thankfully we're exiting from".
Similarly Clare also voiced concerns that Fianna Fáil had forgotten the grassroots. In the past, she and her family did benefit from their socially progressive policies. "I came from a family that benefited greatly from really progressive social policies that Fianna Fáil had in place that benefited me, be it education, social housing and what happened I think was they forgot the importance of keeping connected to the people on the ground. We mustn't forget there were forces at play in the world stage of things that dictated a lot of what happened in Ireland, I believe there was an overriding macro environment that wasn't helpful but they also hadn't made sure that they stayed close to the core values that I want to now reassure the electorate that I would represent".
Colleran-Molloy is assured that the party is now in tune with the grassroots. "It's very difficult for organisations to change but there is such an incredible willingness to change that I say absolutely to that quickly".
Síle de Valera is the last woman to be elected to the Oireachtas in Clare which was thirteen years ago. The only Clare female Fianna Fáil candidate in a General Election since de Valera's 2006 retirement says hard work will get her a seat in Dáil Eireann.
"Work-hard, really really work-hard and do on a County level what we did in the Ennis Municipal District where we don't leave any door un-knocked, even if those doors are not a door that will give me a top vote I would ask for any remembrance at the ballot box, if I've any effect on you at the door, please consider me for a preference so if we adopt that strategy and work really hard throughout the whole County then yeah I'm going to win that seat"
The timing of the forthcoming Election appears to have been put to rest on Sunday by Taoiseach Enda Kenny who stated it is his intention to hold an election in spring 2016 despite growing expectation that a snap election in November was on the cards. Speaking on RTE's The Week in Politics, he said: "I see no reason to change my mind. The important thing is both parties – Fine Gael and Labour – go into this election on a joint electoral pact platform. Yes, we will have different programmes."
This announcement was welcomed by Ms Colleran-Molloy. "There could have been a situation when all I had was eight weeks that would have been troublesome because I'm not well known, I'm a new Councillor and eight weeks isn't going to give me a lot of time to get to every corner in the County but thankfully it's going to be 2016 so there will be ample opportunity please God to get to as many houses as possible in the County. You can only do so much, I'll make every effort and then I'll wait to see how the people have received me and if they wish me to be their representative then I'll be there".
One of the key reasons for her election to Clare County Council in May 2014 was her transfer-friendly nature. Clare pinpoints this as being key in the General Election and is a result of a changing political landscape.
"The whole political environment has changed so much, Fianna Fáil is no longer a party that is representing forty percent and I don't know if anyone party in this country will ever be up there again because you have such a change in the political sands so the transfer friendliness of a candidate is key and it was even to my own delight that those transfers kicked in, I didn't see that happening on day one of the count but by day two all these transfers are coming from all over and I actually think it's a yearning in the electorate for fresh new people that have new ideas, new experiences, diversity, coming to the arena and that's where people gave me a chance. But remember though they wouldn't have remembered me unless I had knocked on their door so the hard work was very essential".
A member of public office for just over a year, Clare sees herself as part of a new wave of Fianna Fáil candidates.
She commented there's a new Fianna Fáil woman's network that's popping up, there's a realisation by Fianna Fáil that the mistakes that were made in the past they're very sorry, they've learned and they now want to embrace a new generation, young, women, diverse in terms of ethnic background, all of this is important because that's how you can better represent the society we're becoming in Ireland".
Now that a decision has been made, Clare admits she is looking forward to the race. I'm excited now, it's a momentum thing that has come back in, a drive. My husband, Tony he is the key to helping me make this decision". She is confident that she is going to succeed in winning a seat in the thirty second Dáil. "I'm going to bring a Fianna Fáil seat home".
Fellow Fianna Fáil General Election Candidate Michael McDonagh has welcomed the news of Ms. Colleran Molloy's addition to the ticket in Clare.
"I am delighted to hear that Councillor Clare Colleran-Molloy is to be added to the FF ticket in Clare," said the Miltown Malbay man.
"I always believed that a 3 candidate strategy was the best way to return two seats for FF in the county.  I welcome Councillor Colleran's addition and look forward to working closely with her over the coming weeks," he added.
Fianna Fáil General Election 2011 Candidates John Hillery and Timmy Dooley secured 12,814 First Preference votes last time around which begs the question whether the Party has sufficiently made up enough ground to realistically secure two seats next time around.
Timmy Dooley recently topped an online poll undertaken by The Clare Herald with Michael McDonagh and Claire Colleran-Molloy finishing in 5th and 10th place respectively.
Meanwhile, Fine Gael has yet to make a decision on whether to add a third candidate to their ticket in Clare. Joe Carey and Pat Breen have already been selected to contest the Election for the Party. Senators Tony Mulcahy and Martin Conway along with Councillor Mary Howard have each expressed their interest in contesting while a number of other Fine Gael members have been approached by the Party, among them Councillor Joe Cooney.
Labour last night selected sitting TD Michael McNamara as their candidate while Sinn Féin is backing Ballyvaughan native Noeleen Moran.
The other confirmed candidate is Ann Norton (Independent). Along with Clare Colleran-Molloy, Norton is expected to put a squeeze on the huge vote in Ennis and its environs meaning that calling the forthcoming Election will be very difficult.
Follow The Clare Herald's General Election coverage here.