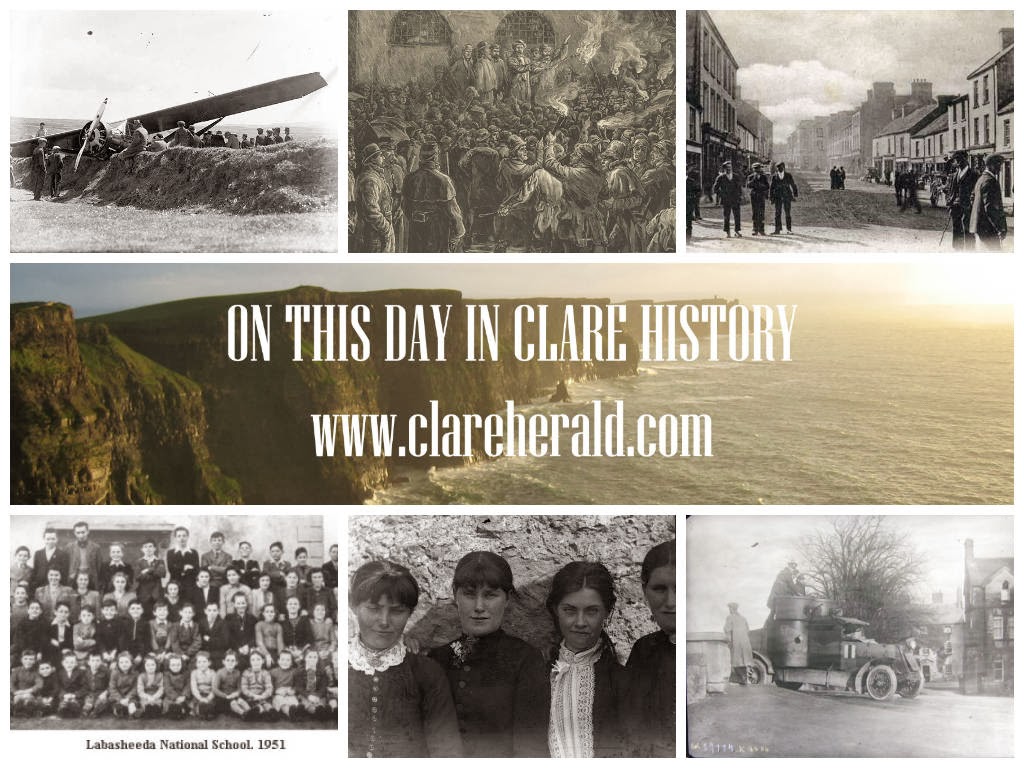 Events that took place in County Clare on this day down through history.

194 YEARS AGO
1821
– Major George Warburton, chief magistrate of police for County Clare, is called by government to temporarily assist quell the Rockite Uprising in Limerick.
173 YEARS AGO
1842
– A meeting on Ennistymon Workhouses reported: "Resolved that any pauper wantingly leaving the workhouse, will not be allowed to come in a second time and if he should remain out longer than the time allowed upon leave of absence, he will not be readmitted."
167 YEARS AGO
1848 – A blood pact between Dromoland native William Smith O'Brien and Thomas Francis Meagher was signed in Clonmel Gaol. O'Brien was elected MP for Ennis in 1828 as a Tory, but gradually drifted towards the anti-Union position, and led the 1848 Young Ireland rebellion for which he was imprisoned along with Meagher. Both were exiled to Tasmania, but eventually pardoned. Meagher went on to lead the Irish Brigade in the Union Army during the American Civil War.
167 YEARS AGO
1848 – Reports and Returns Relating to Evictions in the Kilrush Union (1847-1849) states: "THE number of houses now thrown down, and of families thereby rendered totally destitute, is daily increasing to a fearful extent.

145 YEARS AGO
1870 – The Clare Journal reports on the life of Killaloe native Chartres Brew in British Columbia. Brew was an Inspector of Police at Cahir, Co. Tipperary, before volunteering to serve in the Crimean War during which he obtained a commission. He later emigrated to Canada and was appointed Chief Inspector of Police for British Columbia, Canada, and afterwards Gold Commissioner at Caraboo. He was a Magistrate in the Colony and acted as Deputy Governor. While traveling out to British Columbia, he was a passenger on board the ship "Austria" from Southampton to New York. The ship burned at sea and he was one of the few survivors. As there was not enough room for him in the boat, he and another passenger took turns swimming with one hand on the stern. He died unmarried at Richfield, Caraboo District. In the Vancouver newspapers his death notice states the "Honourable Chartres Brew – He was engaged to Dilliana Molony when he was young, but it was broken off."
107 YEARS AGO
1908 – Commenting on Labasheeda N.S., J. McNeill states: "The dimensions of this school are 30 feet by 18 feet, giving accommodation for 54 pupils. Occasionally, there are over 70 in attendance. The room is far too small and a classroom is required."
17 YEARS AGO
1998 – An anonymous member of the Clare County Library returned a book to the Ennis Branch 54 years after it was first taken out on loan.  Sketching In Pen And Ink – penned by one Donal Maxwell and published by Pitman in 1932 – was returned having being borrowed on September 21, 1944. There was no postmark and no accompanying letter of explanation but inside the perfectly wrapped parcel was a perfectly preserved book.
12 YEARS AGO
2003 – An archaeological dig by TVAS Ireland along the route of the N18 Ennis Bypass and N85 Western Relief Road at Carrowdotia, Barefield, discovered an Early Christian "cashel".
3 YEARS AGO
2012 – An early morning flight from from Kerry to Dublin is forced to divert to Shannon Airport after developing engine problems soon after take-off.
2 YEARS AGO
2013 – Members of the Australia's International Rules side are warned about their future conduct after an incident in Dromoland Castle.