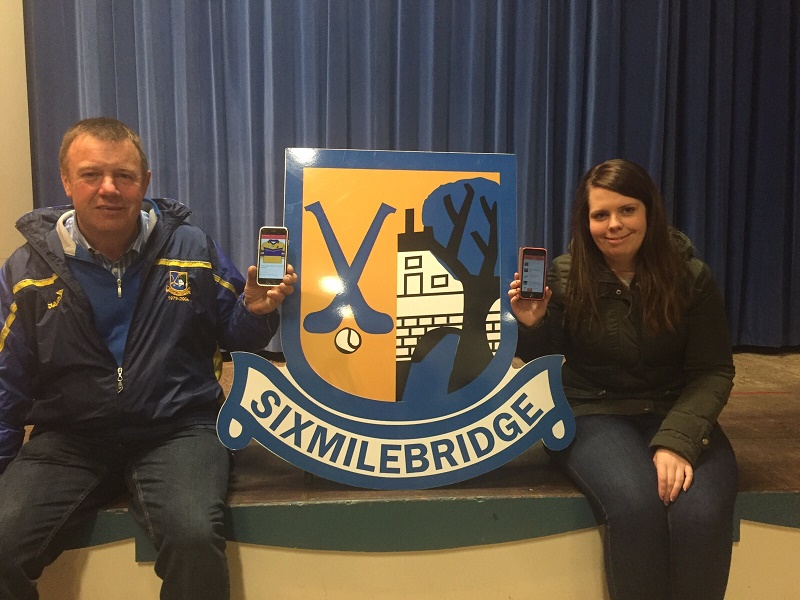 Sixmilebridge GAA has moved to engage further with its members and supporters by delivering to date club information courtesy of the new Clubify app.
The technology is delivered via a FREE Smart Phone application that will work across both Android and Apple devices. It provides a number of information feeds including News, Fixtures and Results.
The main difference for this product is that supporters can now receive information straight to their hand without having to lookup websites and other media for latest club information. For clubs with a large numbers of teams users can customize their notifications based on specific teams they wish to follow.
For example, they can subscribe notifications for Adult hurling teams only and not hear about underage team news, fixtures and results. For supporters who have relocated and are now part of a new club they can easily switch between club feeds provided both clubs are using the Clubify service.
From the club administration side of things the solution comes with an easy to use dashboard for managing the service and with a number of revenue generating options available including in-app club lotto purchasing, membership renewal and other fundraising options this really is a no risk no cost solution for all clubs irrespective of their size or sport.
Declan Murphy of Clubify explained how the idea came about when Aidan Quilligan and himself spotted a gap in the market whereby a lot of clubs were maintaining old websites which do not render for Smart Phone screens and preference for users was now via Apps which push the news to you rather than having to go looking for it. "Being big followers of sport and knowing how clubs work at a grass roots level we wanted a solution that would be free for Clubs and supporters but also provide an opportunity to generate revenue given that fundraising is so difficult nowadays".
Speaking at the launch he said "We are delighted to have Sixmilebridge GAA on board as our first club and wish them the very best of luck in the upcoming county final against Clonlara. The service is designed to support all types of local sports clubs. Having started with GAA clubs initially, we are now looking to introduce the platform to rugby and soccer clubs around the country".
Sixmilebridge GAA Club Chairman Paddy Meehan sees huge potential for his club by working with Clubify: "The weekly club lotto is an essential revenue stream supporting the day to day running of our club. We have an awful lot of very hard working people who go out and sell tickets every week in homes and businesses around the parish."
"I know very little about technology but I can see a great potential in this solution. We have a lot of members and supporters living over seas who regularly express an interest in trying to support what we're doing in Sixmilebridge. This will allow them to subscribe to our weekly lotto draw no matter where in the world they are. Also, for people living locally, it makes the lotto much more accessible and allows people to subscribe on an ongoing basis. We're excited to be the launch club for Clubify and look forward to introducing it to our members."