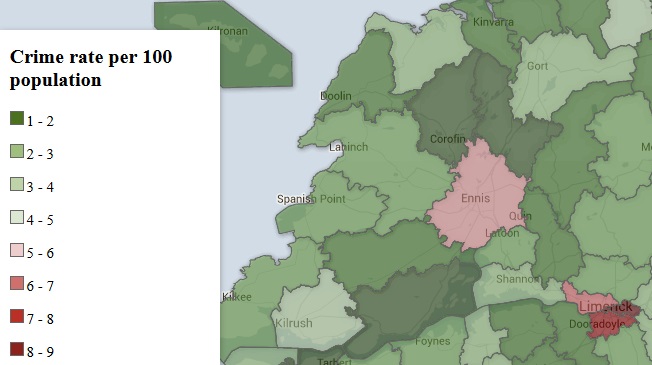 Ennis and its environs recorded Clare's highest crime rate per 100 population for the year ending 30 June, 2015.
Research on regional crime across Ireland by The Times shows that an average of 5-6 crimes were carried out per 100 population in the area during the period.
A total of 1,705 crimes were recorded at Ennis Garda Station, the majority (524) of which related to theft. Other crimes committed included Public Order (328), Drugs (219), Criminal Damage (187), Burglary (170) and Assaults/Harassments (113).
Parts of south Clare, including Kildysart, Labasheeda and Ballynacally, as well as North Clare, in locations such as Boston, Crusheen, Carron, Kilnaboy and Corofin, were at the lower end of the scale.
432 crimes were reported in Shannon, the majority of which related to theft.
An interactive map produced by the online newspaper contains a detailed breakdown of all crimes recorded in each of the 563 Garda stations in the country for the 12-month period. It shows that South Dublin, north Cork, Kerry and north Tipperary recorded a surge in crime in the past year, although overall rates remained largely static. An analysis of offences recorded by all garda stations in Ireland showed that Wexford, Cavan, Laois and areas along the Galway-Mayo border also experienced sharp rises in crime in the 12-month period to June 2015.
The Times Neighbourhood Crime Survey 2015, which is based on data compiled by the CSO and An Garda Siochana, may be viewed here.