Michael McNamara TD has slammed a pre-election briefing given to Oireachtas members by telecoms provider Eir, formerly Eircom.
"It is clear from the map provided and the rollout dates that Eir is continuing to cherry-pick profitable locations and neglecting the needs of many rural parts of Clare," said the Labour TD.
"This is why the National Broadband Plan is now so important and why it has been necessary to stand up to those providers who wish to concentrate exclusively on densely-populated areas. Under the Plan, those areas where the private providers do not provide broadband will be put out to tender and the provision of broadband will be paid for by the State. The public procurement process has commenced with the final tender stage likely in the middle of this year," explained McNamara.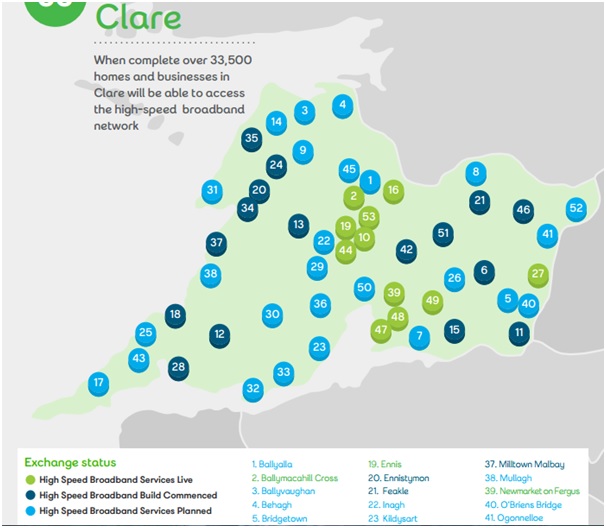 He claims that private telecommunications companies have sought to thwart the Government's plan in an attempt to protect their own market share, "Two months ago, Eir indicated that it planned to provide broadband to 300,000 homes which were included in the Government's broadband plan but failed to meet the Department of Communications' evaluation criteria, which assessed proposals on technical, financial and deployment grounds. Therefore, Minister Alex White pressed ahead with a National Broadband Plan to include 737,000 homes and businesses in rural Ireland, including areas where investment is not deemed commercially viable."
"High speed broadband is a necessity for small businesses and self-employed people in all parts of Clare. It is also fundamental to our families, to our schools, to our economic future. It is clear from Eir's recent broadband supply map that they only have live services in 11 areas in the County. Out of 53 communities in Clare, only 21% are benefitting from live broadband. Less densely populated areas are a no-man's land for broadband.
"They are saying that by the end of 2016, they will cover 70% of the homes and businesses in Ireland but the map and the rollout dates provided by Eir shows that there are large areas of the south, west, east and north of the county where no service has commenced yet. There are further areas where service is not even planned.
"In contrast, the public procurement process of the National Broadband Plan has already commenced, the final stage tender is due soon and we expect commencement later this year," he said.
Deputy McNamara has argued that privatisation has been a disastrous failure, leading to the neglect of less profitable rural communities.
He outlined the effects of lack of quality service on rural businesses including the self-employed and so-called cottage industries trying to compete in global markets.
"Besides the impact on rural employment, children should be able to partake of the best interactive technologies for their education."