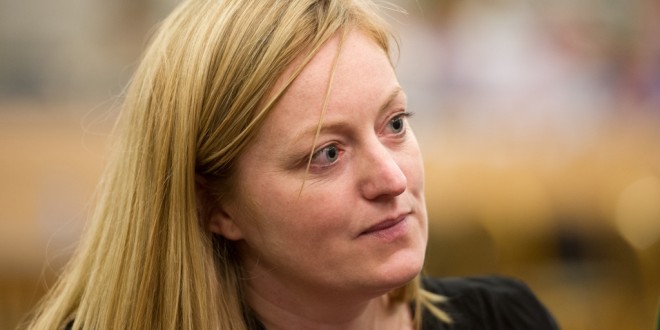 Sinn Féin General Election Candidate Noeleen Moran has said that the people of Clare cannot rely on the Labour Party to deliver on housing in the County.
Moran was responding to the housing proposals launched by Labour Party Minister Alan Kelly. She said; "Over their term in Government, the Labour Party has proven that they cannot be trusted to deliver on housing.
"Even though they have had ministerial responsibility for housing for two years now, the Labour Party and Alan Kelly have continued to tow the Fine Gael line. They have implemented Fine Gael's policy, and in doing so have that exacerbated the housing crisis. They have danced to Enda's tune and their actions have led to the ballooning of social housing waiting lists in Clare. They have caused rents to soar, brought about increased levels of homelessness and evictions, and put thousands of families in mortgage distress.
"When it comes to housing, the Labour party seem to want people to forget that they have been in government since 2011. They have turned the housing crisis into a national emergency, but it's only now, two weeks out from an election that Labour TDs like Michael McNamara seem to notice the problem at all.
"Today, they promised to provide €300m to develop an affordable rental housing sector. They have promised to invest €100m to support construction by local authorities. They have promised to spend €200m to support rents in 44,000 affordable housing units.
"But the Irish people have been subjected to 5 years of similar empty promises from Fine Gael and Labour. Labour have a track record in making promised during election campaigns, only to break them the minute they get into power. Labour cannot be trusted. Their TDs will say almost anything to save their seats. Voters won't be fooled by their empty promise ahead of this election.
The Ballyvaughan added. "There are 16,000 homeless children in the State today and officially 89,872 households on local authority waiting lists. In Clare the 2015 figures show that 222 people are homeless, and that 3,200 families are languishing on the housing list. The men's homeless shelter is consistently full, and women who find themselves on the street must go to Limerick in the hope of a bed for the night. This is Labour's shining legacy. This is what Michael McNamara and this Government have delivered for Clare.'
She concluded "In stark contrast, Sinn Féin has a fully costed and practical plan to tackle Ireland's housing crisis. We will bring the state ownership of housing stock to a minimum of 200,000 by 2030 – 70,000 built social housing units and 30,000 cost purchase and cost rental housing units. We will commit €5bn in capital spending in 2016-2021 and ensure the delivery of 36,500 social and affordable houses. Our commitments are more than just words; housing will be one of Sinn Féin's key priorities in Government. If we want real change in Ireland, and effective representation for Clare, we need to vote for it."