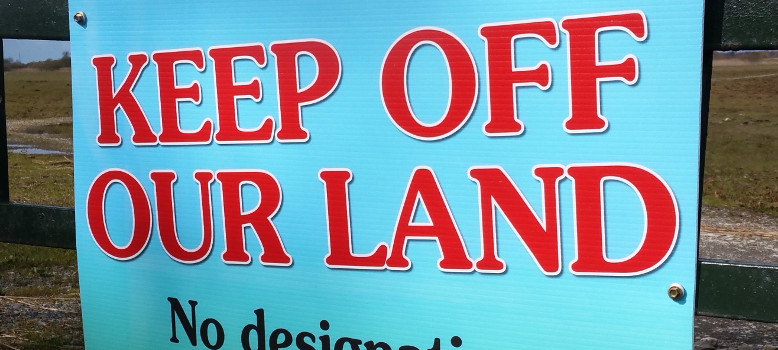 BirdWatch Ireland says it is "extremely surprised" to learn about the poster campaign launched by the Irish Farmers' Association to bar the wildlife organisation, as well as the National Parks and Wildlife Service, from accessing farmers' land.
BirdWatch Ireland said it "firmly believes that farmers are the custodians of some of Ireland's most important habitats and iconic wildlife. We actively work to advocate financial support for farmers who are in a position to help wildlife, and we firmly believe that much more needs to be done by the State and the Irish Government to benefit and support those farmers whose actions serve to protect and conserve wildlife and biodiversity."
"Assessing the health of our wildlife populations through survey work is vital, both to safeguard our natural heritage and to direct and maximise support to those farmers and landowners who should quite rightly receive support for their protection of wildlife,2 the organisation said.
Launching a poster campaign in Shannon Harbour, Co Offaly instructing National Parks & Wildlife and Birdwatch Ireland to keep off farmers' land, IFA National Chairman Jer Bergin has said the new Government must address long-standing issues surrounding land designation.
In a clear warning to the new Government, Jer Bergin said the imposition of environmental designations on farmers' land has resulted in significant restrictions on farming activities and other developments. "When designations were first imposed, commitments were given that compensation would be paid where farmers suffered losses. However, in recent years these commitments have not been honoured."
Jer Bergin said the new Government will have to honour the existing agreement for the implementation of SACs and other designations, including proper consultation, a workable and truly independent appeals system, and full compensation to take account of devaluation of land, where restrictions are imposed.
IFA SAC Project Team Chairman Tom Turley said the National Parks and Wildlife Service (NPWS) Farm Plan Scheme will have to be available to all farmers who have a designation imposed on their land and the existing agreement on SACs has to be honoured.