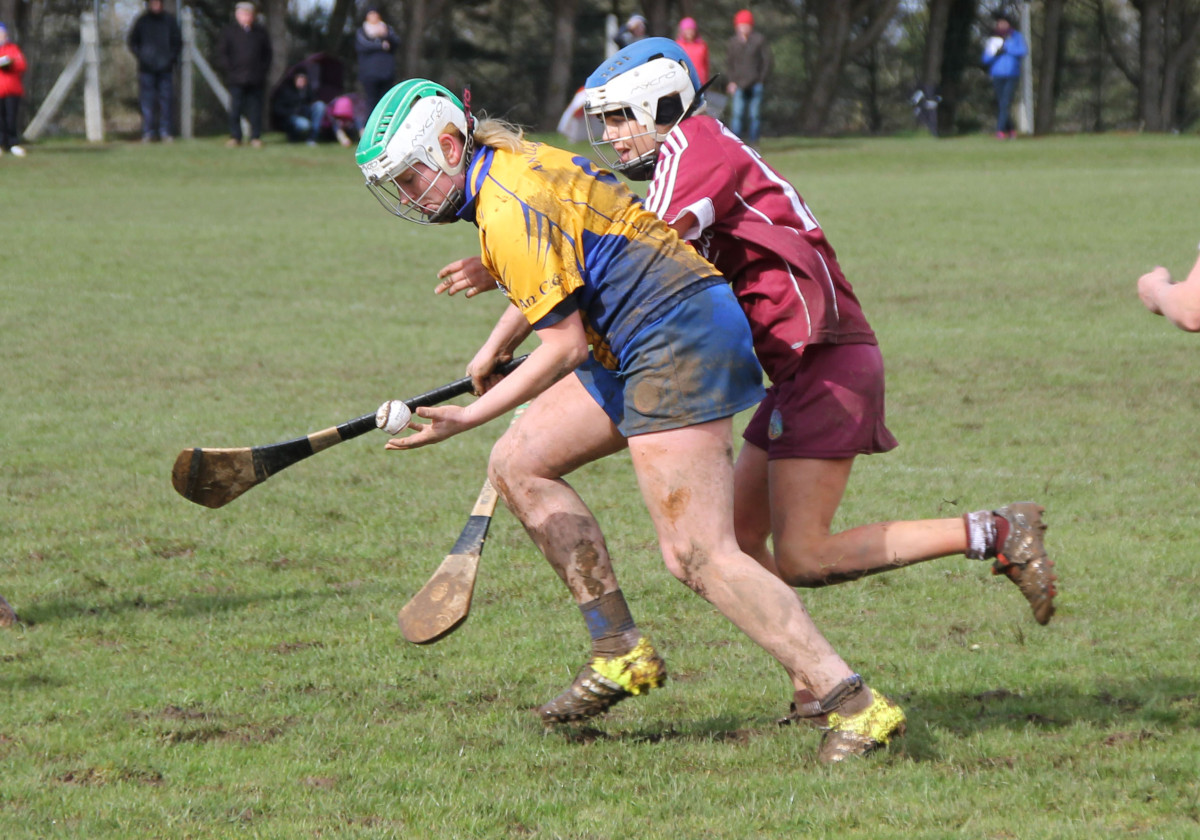 While they may have been the only Clare Senior side to be in the top tier of their respective League, a performance far from that of a top tier team saw the Banner fail to make the knockout stages of the League losing to Galway by fifteen points.
IDS Div 1 League
Galway 4-11
Clare 1-5
Venue: Clooney
Clare won the first two games of their campaign but defeat to Tipperary sparked a horror run of three defeats, climaxing in the 4-11 to 1-5 defeat at the hands of Galway. Following two nights of rain, the going underfoot was heavy and referee Karl O'Brien signalled at the outset that the game could fall foul to the conditions.
The Tribeswomen had the perfect opening to the game when Aoife O'Donoghue goaled in the 4th minute. Nimah Kilkenny added a point before Chloe Morey pointed from a free to open Clare's tally in the 11th minute. The wind carried Shauna Burkes puckout out over the sideline and Maire McGraths cut saw Orlaith Duggan retain possession and fire over for Clare's second point, their only point from play throughout the 60 minutes. An Aoife Callanan free kept 3 points between the sides.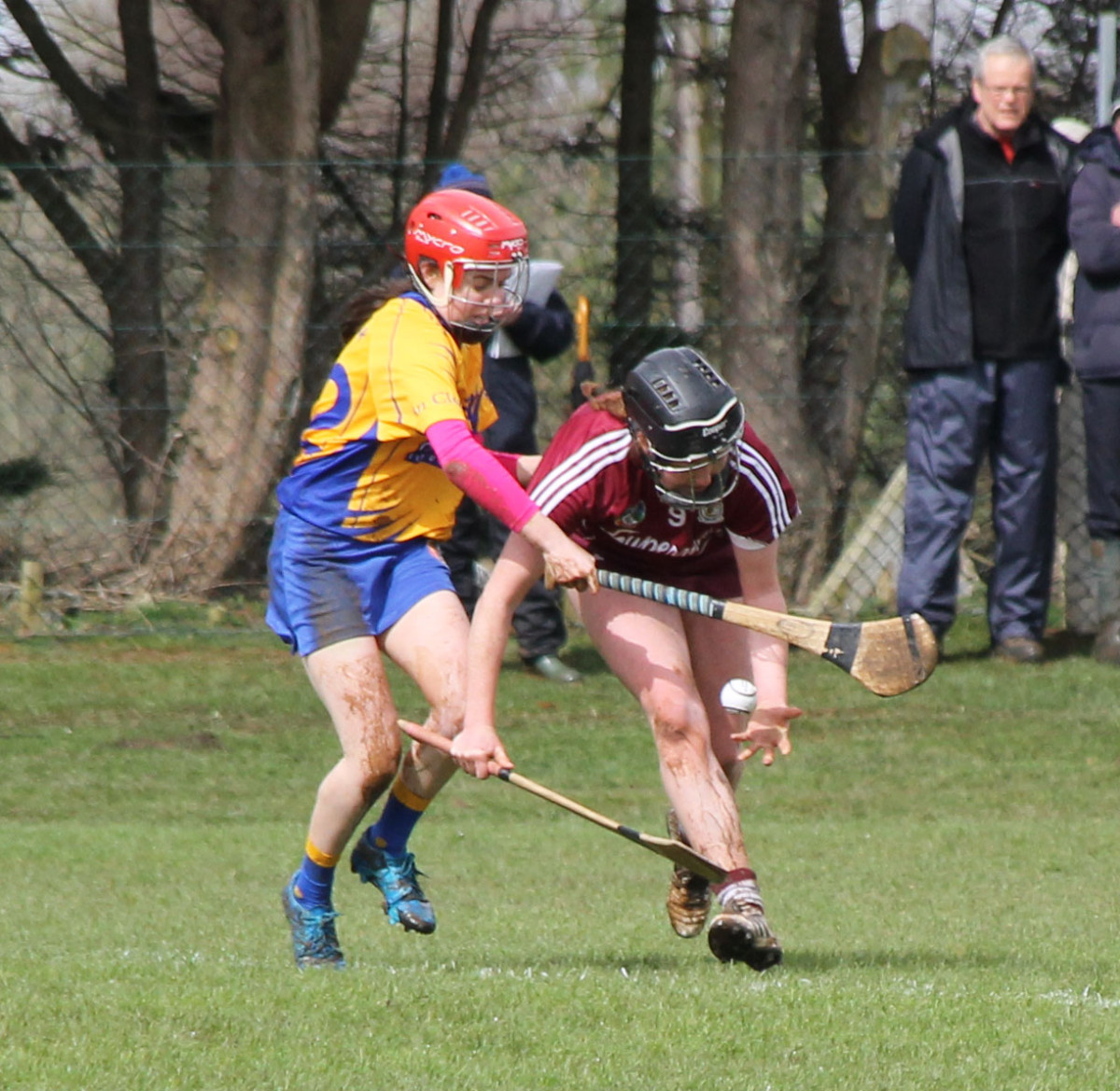 Two Chloe Morey frees narrowed the gap but Galway were intent on maintaining a perfect record in the group game stages and upfront green flags were pursued with determination. Ciara Murphy had Galways second green flag when she struck from 20 yards giving Rebecca Keating in the Clare goals no chance. Morey and Murphy traded points in the closing minutes to see the sides go in with Galway ahead by 4 points at the break, Clare 0-5 Galway 2-3.
Galway had the wind advantage for the second half, and Ollie Bergin's side took full advantage. Callanan converted from a free for the first score of the second half and the visitors next effort was carried wide of the posts. The next Galway attack saw McGrath intercept and cleared from danger.
Ailish O'Reilly was on the prowl for Galway's next green flag and though surrounded by Clare jerseys, O'Reilly used her boot to kick to the back of the Clare net. 5 unanswered points for the Tribeswomen, Callanan with 3 frees, O'Reilly and Niamh Kilkenny from play, effectively put this game beyond the reach of Clare.
Galway's fourth goal came with 6 minutes of time remaining, O'Reilly making the run supported by Shauna Healy who having received an inch perfect pass, finished with a handpass to the net. Callanan and O'Reilly both added points. Clare's last score of the game came in injury time, Slaine Carey having been fouled as she went forward and Morey dispatching the free to the back of the Galway net to see the final score Clare 1-5 Galway 4-11.
Galway take top spot in Group 1 with Tipperary taking second place, the Premier side defeating Dublin 2-12 to 1-6, while Wexford suffered a 2 point defeat to Offaly 1-12 to 0-13.
Clare Scorers: C.Morey 1-04, O.Duggan 0-01
Galway Scorers: A.O'Donoghue 1-00, N.Kilkenny 0-01, A.Callanan 0-06, C.Murphy 1-01, A.O'Reilly 1-02, N.McGrath 0-01, S.Healy 1-00.
Clare: Rebecca Keating Inagh Kilnamona; Aoife Griffin Newmarket on Fergus, Carol O'Leary Newmarket on Fergus, Emma O'Connell Ballyea; Aoibheann Malone Corofin, Maire McGrath Sixmilebridge, Rachel Kelly Sixmilebridge; Orlaith Duggan Clooney Quin, Zoe McInerney Wolfe Tones; Michelle Caulfield Truagh Clonlara, Chloe Morey Sixmilebridge, Grainne Nolan Eire Og; Amy Keating Inagh Kilnamona, Aoife Keane Inagh Kilnaomna, Doireann Murphy Clarecastle. Subs: Slaine Carey Sixmilebridge for Caulfield, Vera Loughnane Feakle for A Keating both 51 mins
Galway: Shauna Burke Cruaghwell; Siobhan Coen Ballindereen, Sarah Dervan Mullagh, Dervla Higgins Athenry; Siobhan Gardiner Ardrahan, Rebecca Hennelly Ardrahan, Emma Helebert Ballindereen; Shauna Healy Ardrahan, Clodagh McGrath Sarsfields; Laura Mitchell Killimordaly, Niamh Kilkenny Pearses, Aoife Donoghue Mullagh; Ciara Murphy Clarinbridge, Aoife Callanan Ardrahan, Ailish O'Reilly Oranmore. Subs: Lorraine Ryan Killimordaly for Gardiner 38 mins
Referee: Karl O'Brien, Dublin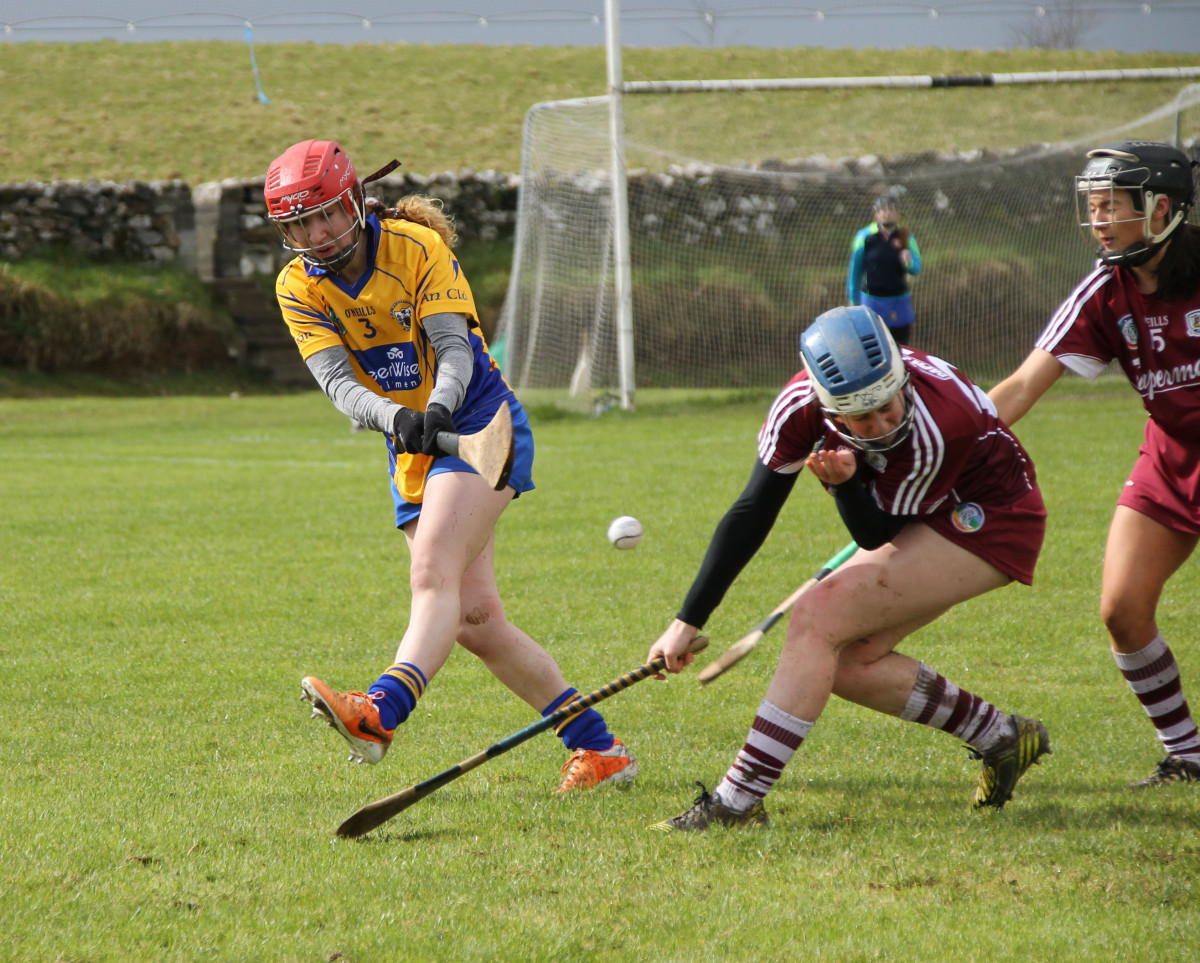 All Ireland Minor Championship
Clare 2-8
Dublin 2-4
Clare's last Group game in the All Ireland Minor Championship was played at St. David's, Artane on Saturday afternoon. The game started at a terrific pace with fast crisp hurling from both sides with the sliotar going rapidly from end to end.
After 10 minutes Clare led three points to no score, Amy Keating on target from play either side of a Regan Conway free. But in the space of two minutes Dublin were ahead following 2 quick goals. While taking on the Clare defence Julia Buckley and Louise O'Shea each showed their skill and pace while scoring two goals to suddenly give Dublin a three point lead. But Clare dug deep and brought the game back level with 8 minutes remaining, Sinead Conlon responding well with an accuarate strike between the posts. Keating followed up in similar fashion to narrow the deficit to a point and Conways free levelled matters.
The Banner were back in the driving seat following a long range strike from Laura Foley which travelled right through to the back of the Dublin net. On the stroke of half time Dublin were awarded a penalty and Alex Griffin tapped the sliotar over the bar to leave Clare 2 points ahead at the interval, 1-6 to 2-1.
Dublin played with a very strong wind in their favour in the second half and being just two points behind had high hopes. But it was Clare who dominated the opening exchanges and Regan Conway scored a beauty of a goal from the ground giving Dublin's keeper, Ciara Tierney no chance.
Clare quickly added 2 more points from Evelynn Duggan and Foley to give them a commanding seven point lead 2-8 to 2-01 with 40 minutes on the clock. Clare were not to score again however.
There was plenty of time for Dublin girls to get back into the game and battle they did for everything but could only manage to score three more points, in the face of a strong Clare defence. Clare hunted in packs and seemed to deal with the elements somewhat better winning on a final score line Dublin 2-04 Clare 2-08.
Dublin Scorers: L.O'Shea 1-00, J.Buckley 1-00, I.Costelloe 0-02, A.Griffin 0-01, G.O'Shea 0-01
Clare Scorers: R.Conway 1-02, L.Foley 1-01, A.Keating 0-03 E.Duggan 0-01, S.Conlon 0-01
Clare: Lauren Solon Whitegate; Katie O'Flanagan Newmarket on Fergus, Alannah Ryan Kilkishen, Ciara Doyle Bodyke; Amy Barrett Barrett Scariff Ogonnelloe, Emma Kennedy Sixmilebridge, Ciara Grogan Clooney Quin; Corina McMahon Corofin, Laura Foley Truagh Clonlara; Sinead Conlon Tulla, Roisin Begley Truagh Clonlara, Doireann Murphy Clarecastle; Regan Conway Feakle, Amy Keating Inagh Kilnamona, Sinead Power Inagh Kilnamona. Subs: Rachel Kelly Sixmilebridge for O'Flanagan H/T, Evelynn Duggan Feakle for Power H/T, Louise Egan Truagh Clonlara for McMahon 50 mins, Laura McGrath Feakle for Conlon 55 mins
Dublin: Ciara Tierney; Sinead Murphy, Ciara Griffin, Niamh Gleeson; Emma O'Byrne, Isabelle Costelloe, Karla Whelan; Amy Burke, Evelynn Twomey; Alex Griffin, Kerrie Finnegan, Louise O'Shea; Julia Buckley, Grace O'Shea, Ciara Glynn. Subs: Rosin McLaughlin for Burke H/T, Aoife McKearney for L O'Shea, Aoibhe Dillon for Buckley 51 mins
Referee: Eamon Cassidy, Derry
Munster U16A Championship Shield Final
Clare 2-7
Limerick 1-7
Clare secured their second Munster Championship title on Saturday afternoon, defeating Limerick in the U16A Shield Final. Played in wintry conditions in South Liberties.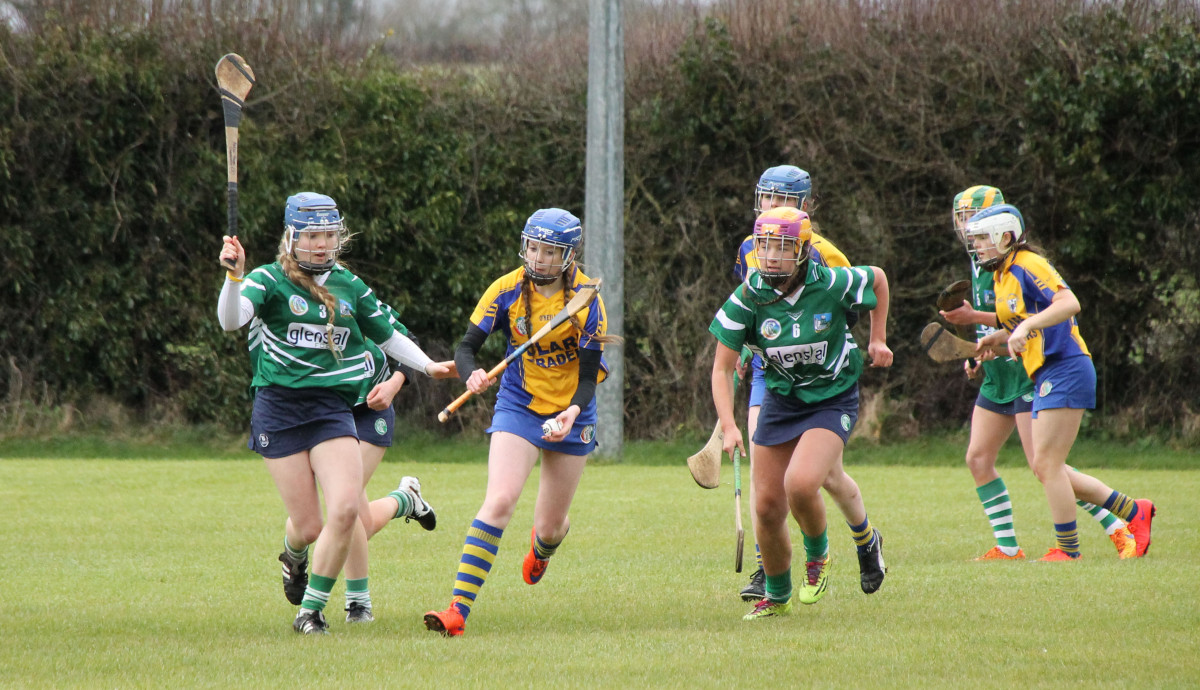 Clare got off to a slow start in this Munster decider with Limerick dominating in the opening quarter, Aoife Curtin opened the Shannonsiders tally in the second minute of play when she split the posts. Clare had the opportunity to equalise but the wind carried Bridin Dinans free just wide of the post.
Limerick were on the attack from the puckout and Loaise Ryan did well in the back line to prevent a green flag, winning the free in the process. Limerick again won the aerial battle to send play back in to the Clare danger area, with Clare goalie Shauna Canny this time coming off her line to clear to the wing. From here Limerick won the free and Curtin split the posts. Clare again conceded a free, and this time the Templegalantine player sent her shot high with the ball dipping just under the bar to give the Limerick outfit a 1-2 to 0-0 advantage with 10 minutes on the clock.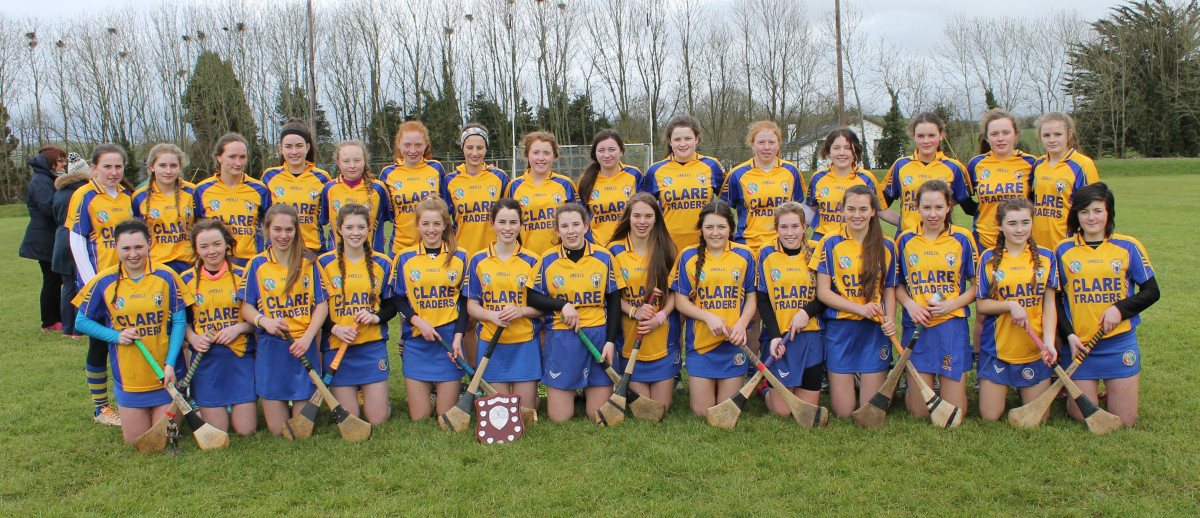 Clare upped the tempo from her however, and their next attack saw Ava Quigley fouled in possession with Dinan converting the free. Dinan added another free just before Muireann Scanlon landed a point from out on the wing.
Clare introduced Mary Enright at this point in the middle and with Enright winning possession and feeding to Robyn Conway, the Feakle youngster narrowed the deficit to a point with her shot. Limerick wasted their next two chances to extend their lead. Clare grabbed their first goal in the 27th minute, Quigley, Scalon and Enright all working well together to set up Roisin McMahon who made no mistake as she sent her shot past Leah O'Connell in the Limerick goals, giving Clare a 2 point advantage. Limerick rallied and a brace of points, Anna Rose Kennedy from play and a Curtin free saw the sides go in level at the break 1-4 apiece.
Curtin had the home side in front again with a converted free in the opening minute of the second half. Aoife Power levelled matters when she converted from placed ball in the 38th minute. Limerick conceded a free out on the wing in the 53rd minute and Dinan dispatched her shot long to the square, where Quigley got the last touch to finish to the net putting Clare ahead.
Clare were now dominating play, and when Limerick again conceded a free, Dinan played short to Lyndsey Hayes who picked out the oncoming Holly McGee with the corner back finishing over the bar. Clare won the puckout and Conway was on target to give the Banner side a 5 point lead with 8 minutes of time remaining. Limerick piled on the pressure, and the Clare back line of McGee, Hannah Horgan and player of the game Ryan coped well under the sustained pressure.
Limerick were denied a goal and Curtin converted the resulting '45 and she added a free in the 55th minute to narrow Clares lead to 3 points. With 2 minutes of time remaining Limerick launched forward and Canny again blocked the shot, Daly won the free out for Clare in the ensuing scramble.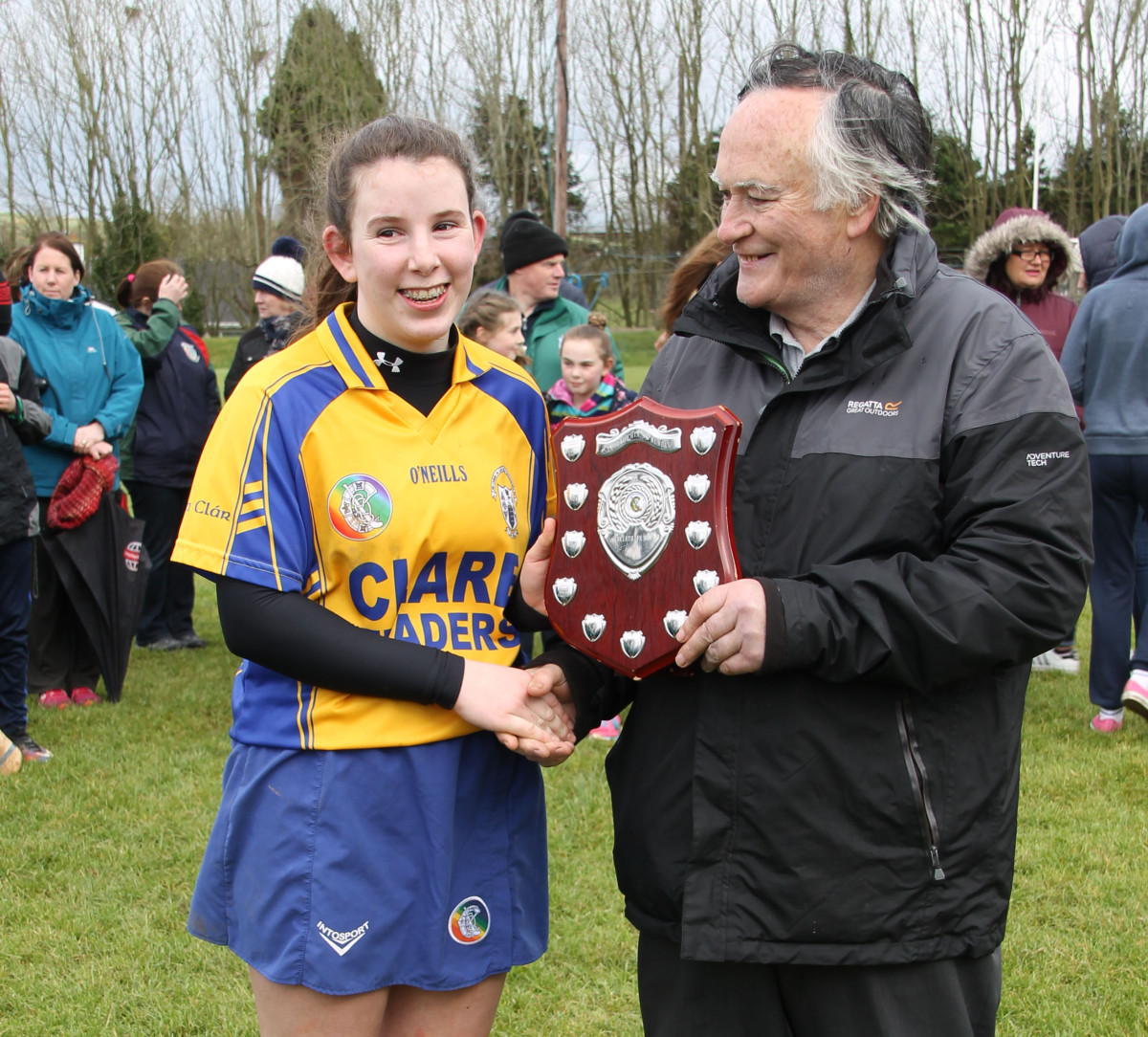 With time almost up, Limerick sub Katie Heelan gathered possession and fired for goal only for her shot to be blocked by Daly with the rebound going wide, leaving Clare deserving winners 2-7 to 1-7. Munster Council Chairman James Moynihan did the hounours presenting Laoise Ryan with the player of the game award before presenting Bridin Dinan with the U16A Shield.
Clare Scorers: H McGee 0-1, A Power 0-1, B Dinan 0-2F, R McMahon 1-0, R Conway 0-2, A Quigley 1-0 M Scanlon 0-1
Limerick Scorers: A Curtin 1-6 3F 1'45
Clare: Shauna Canny Killanena; Holly McGee Scariff Ogonnelloe, Laoise Ryan Inagh Kilnamona, Hannah Horgan Truagh Clonlara; Louise O'Callaghan Killanena, Roisin Minogue Bodyke, Aoife Power Scariff Ogonnelloe; Bridin Dinan Tulla, Catriona Callinan Kilmaley; Roisin McMahon Killanena, Robyn Conway Feakle, Elizabeth Russell Eire Og; Ava Quigley Bodyke, Lyndsey Hayes Wolfe Tones, Muireann Scanlon Sixmilebridge
Subs: Mary Enright Newmarket on Fergus for Callinan 23 mins, Susan Daly Scariff Ogonnelloe for Minogue 43 mins, Caoimhe Carmody Kilmaley for Scanlon 47 minds, Roisin Powell Truagh Clonlara for O'Callaghan 51 mins.
Limerick: Leah O'Connell Patrickswell; Larissa McCarthy Killeedy, Katie Hayes Cappamore, Eva Butler Bruff; Aisling Herbert Ahane, Kate Ambrose Newcastlewest, Noirin Lenihan Croagh/Kilfinny; Aoife Curtin Templeglantine, Roisin Ambrose Newcastlewest; Edel Cunningham Murroe Boher, Ciara Barry Patrickswell, Geri Mai O'Kelly Newcastlewest; Shauna Foley Kilmallock, Anna Rose Kennedy Galbally, Sophie Carroll Crecora
Subs: Katie Heelan Murroe Boher for Cunningham 23 mins, Katelyn Hayes Newcastlewest for Barry 39 mins, Orla Lenihan Granagh Ballingarry for Foley 49 mins
Referee: Pat Sheehy, Kerry
Fixtures
Tues 29th Mar
U14 Championship
U14B
Clooney GAA: Clooney Quin v Broadford, 5.30pm
Wed March 30th
U14 Championship
U14B
Newmarket on Fergus v Sixmilebridge
Clarecatsle v Eire Og
St Josephs v Kilkishen
U14C
Corofin GAA: Corofin v Wolfe Tones, 6.30pm Ref Martin Leahy
Parteen v Ruan
Whitegate v Cratloe
Banner v Ballyea
 
Friday 01st April
Div 3 & 4 League
Clooney GAA: Clooney Quin v Broadford
 
Sat 02nd/Sun 03rd April
Div 1 League
Scariff Ogonnelloe v Clooney Quin
Kilmaley v Newmarket on Fergus
Sixmilebridge v Truagh Clonlara
Kilkishen v Inagh Kilnamona
Div 2 League
Eire Og v Whitegate
St Josephs v Corofin
Clarecastle/Ballyea v Tulla/Bodyke
Div 3 & 4 League
Inagh Kilnamona v Clooney Quin
Broadford v Clarecastle/Ballyea
Kilkishen v Wolfe tones
St Josephs v Parteen
 
All results to be texted immediately after game to Fixtures 085 1995194 & Brid 086 3978996.