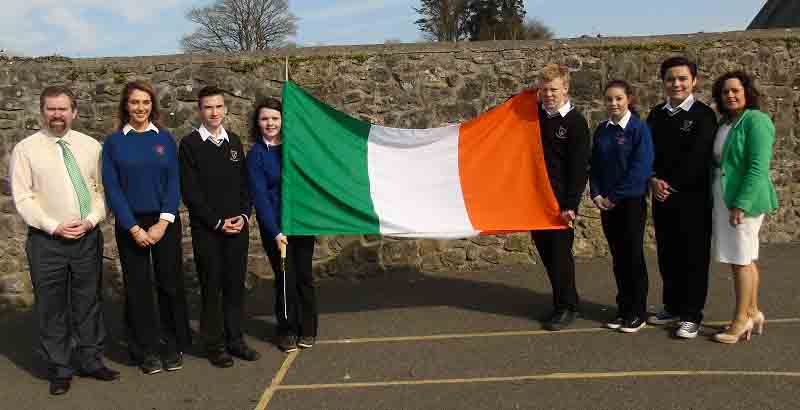 Ennis Community College and Gaelcholaiste an Chlair held their celebration of Proclamation Day on Tuesday last.
Students from the two colleges which share a campus on Harmony Row gathered at 3:15pm for a commemoration ceremony, which opened with a set of tunes from the college Céilí Band.
College principal, Mr John T Cooke, addressed the students, and spoke about the history of the National Flag and its part in the 1916 Rising, when the proclamation was first read outside the GPO in Dublin.
Students Síofra Ní Éilí Duggan, Alannah de Búrca, David Dinsky and Ronan Hayes then read the original proclamation before the assembled students.
Mr Cooke reminded those present that over 500 people died in the violence of Easter 1916 and its aftermath. The song 'Grace' was played, which is about Grace Gifford, wife of the poet Joseph Mary Plunkett who was executed for his part in the Rising, just a few hours after their wedding in Kilmainham Jail.
As with schools all over the country, the students of the Community College and the Gaelcholaiste wrote their own 2016 proclamation. This proclamation was drafted by the Student Councils of both colleges, and was read out loud as the Tricolour was paraded by students Nicole Ní Thaltaigh and Bernard Donnelly.
The students' 2016 proclamation paid tribute to the sacrifices made in 1916 and called to mind Ireland's unique and special heritage. It drew attention to the failures of the Republic and set out a list of demands on behalf of the current young generation, including: homes and food for all our people; the right to feel safe; a genuinely free education system and facilities to help in the development of young people; a caring society, free from bullying; support for families who need help; the right to work and to a fair wage; and the right to healthcare.
Lily Ní Chonchúir played the harp as the flag was raised, and Barra Ó hÉigní played a slow air on the uilleann pipes. Finally, all present joined in the singing of Amhrán na bhFiann, led by Saskia Langenkamp and Éadaoin Nic Chonmara.