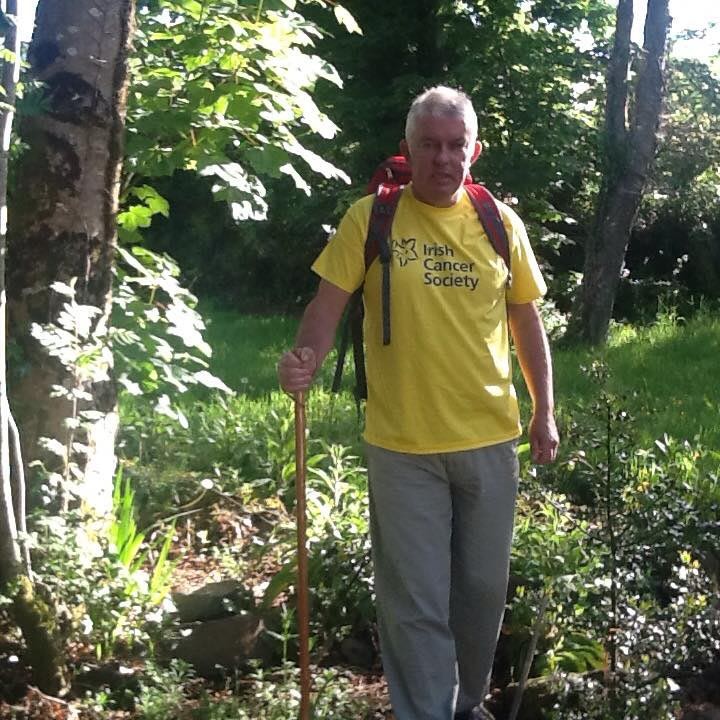 Dr. Marty Holland, a retired university lecturer from Mary Immaculate College, Limerick, is set to embark on a solo walk around the entire coastline of Ireland to raise money for the Irish Cancer Society.
The 65-year-old will be relying on the good will of members of the public to provide him with a place to rest as he plans to couch-surf his way around the country.
Marty who lives in Cratloe, Co Clare, will start the walk on Tuesday 24th May on the Clare – Galway border. His marathon trek will take him in an anti-clockwise direction along the Munster and Leinster coasts.
The father of three will walk until the end of September and then recommence his challenge in April 2017 when he will walk the Ulster and Connacht coasts.
The total walk will cover approximately 4,000km. Marty hopes to manage between 20 and 30km per day depending on the conditions. Coastal roads and established paths and walk ways will be the main routes, always sticking as close to the coast as is possible and safe.
Marty, who was inspired to take up the challenge to fundraise for the Irish Cancer Society after witnessing two close friends battle cancer in recent times, says, "The sense of powerlessness that I felt when my friends Michael and John were dying from cancer has motivated me to get out there and do something positive to help combat cancer."
The Irish Cancer Society is the leading independent voluntary funder of cancer research in Ireland, having invested €14m from 2010 to 2014. The society also provides a range of support services including: Night Nursing to care for seriously ill patients in their homes, a national Cancer Nurseline providing advice and support, and a Volunteer Driver Service to bring patients to their hospital appointments.
Like most people, down through the years Marty has seen a number of relations, friends and colleagues succumb to the disease but he is quick to point out that, increasingly, the picture is brighter for those who get cancer. "I see the benefits of on-going research in the growing number of those who have survived and recovered from cancer including my own sisters and a brother."
Apart from the obvious challenge of the kilometres to be walked, Marty identifies accommodation and transportation of his equipment as two key logistical issues. "I am confident that people will be generous in their support for this worthy cause by way of financial donations, there are few out there whose lives have not been touched by cancer, but, to keep costs down, I'll also be dependent on peoples' good will and generosity in offering me somewhere to put my head down for the night and in getting my rucksack transported from A to B."
Those wishing to offer support of any kind can contact Marty directly at his email address coastforcancer@gmail.com He would particularly welcome offers of accommodation and/or transportation of luggage from point to point along the route.
To map Marty's progress follow his blog https://totalcoastforcancer.wordpress.com or follow Twitter for updates @CoastForCancer