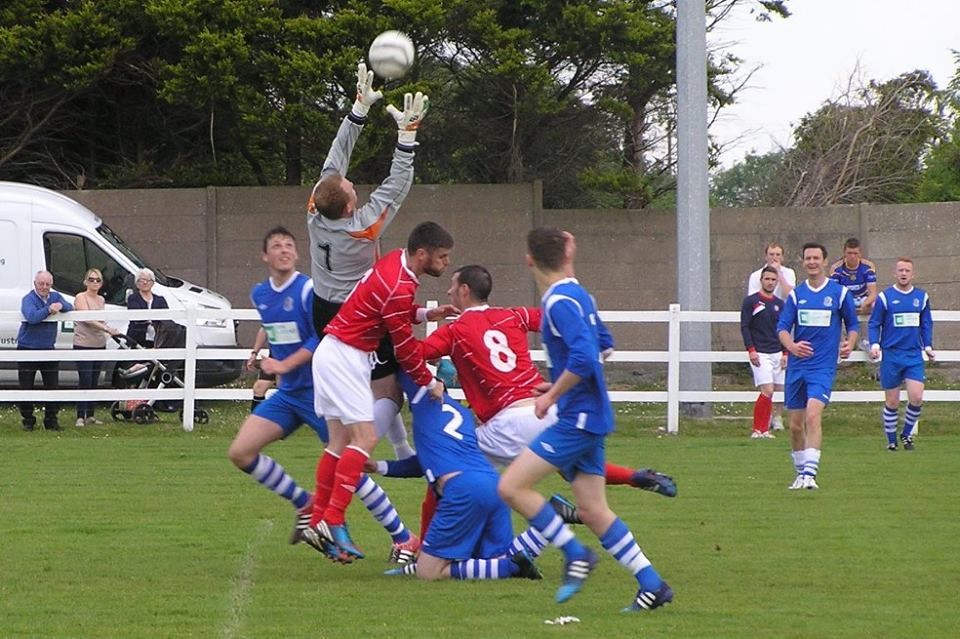 Newmarket Celtic scored five goals for the fifth game in succession as they brushed aside the challenge of Tulla Utd on Wednesday evening.
Newmarket Celtic 5
Tulla Utd 0
Venue: McDonough Memorial Park
Celtic now take top spot in the Maloney Garden Machinery Premier Division for the first time this season on the back of the result. Shannon Town in second place have two extra games to play to try and overtake the reigning champions.
Catching them is made all the more difficult given the fact that Newmarket have netted a total of twenty five goals in their last five outings. Tulla never really threatened on goal and while they held the hosts scoreless for the opening half hour once the first goal was leaked they weren't the same team that competed well prior to that.
Ronan McCormack broke the deadlock on thirty one minutes, Celtic regained possession following a Steve Carroll interception, the right back was efficient in his use of the ball and passed to David McCarthy who put McCormack through and he made no mistake. In the space of a minute they doubled their lead as Cathal Hayes got on the end of an Ian Collins cross to leave Tulla reeling
Celtic led 2-0 at the break but their lead could have been more. An early Eoin O'Brien header hit the net but the centre-half was deemed to be offside. Kevin Barron got down low to deny Eoin Hayes from the penalty spot to ensure it wasn't game over at half-time.
A superb pass from David McCarthy left Eoin Hayes one on one with Barron and he made no mistake this time to increase Newmarket's lead to three goals with sixty three minutes on the clock.
Four minutes later his brother Cathal picked up his second goal of the evening. Once more he linked up well with Ian Collins before striking past the Tulla netminder. All the while the East Clare club failed to register a shot on target.
With fifteen minutes to go Ronan McCormack made it five from five for Celtic. A free from Eoin Hayes was met by a volley from McCormack to seal the win that was never in doubt for Newmarket.
Minus the services of talisman Darragh Corry, the battle cry from the Tulla sideline of "no one said it was going to be easy" was certainly the case. They started well and got stuck into their opponents, their tenacity was so much that they were lucky not to be reduced to ten men. They dropped the heads with the concession of goals, Kevin Barron was kept busy between the posts and did well but couldn't cope with the constant attacks, Eoin Whelan, Declan O'Meara and Colin Nelson led the fight for the East Clare club.
Mike O'Malley has yet to have his full squad at his disposal but whatever eleven that he is putting out on the field are getting the job done. Scoring twenty five goals in five games is an achievement and opposing teams struggle with Celtic's one touch football when done correctly in the middle of the field. Paddy Purcell, David McCarthy, Eoin O'Brien and Cathal Hayes did best for Newmarket.
Newmarket Celtic: Rob Shier; Steve Carroll, Paddy Purcell, Eoin O'Brien, Darren Cullinan; Cathal Hayes, Seamie Lawlor, Eoin Hayes, Ian Collins; David McCarthy, Ronan McCormack. Subs: David O'Grady for O'Brien (76), Brian Monaghan for E Hayes (76), Colin Smyth for Lawlor (80), Jason O'Neill for Collins (80).
Tulla Utd: Kevin Barron; Declan O'Meara, Paudie Vaughan, Dean Murphy, Gearoid O'Doherty; Lago, Paul Dullaghan, Colin Nelson, Eoin Whelan; Tommy O'Brien, Hugh Medais. Subs: Tom Vaughan for O'Doherty (HT), Gabriel da Silva for Lago (HT), Luke Hayes Medais (57), Jordan Lorrigan for Nelson (69), Aaron Lane for Dullaghan (82)
Referee: Shane Hayes