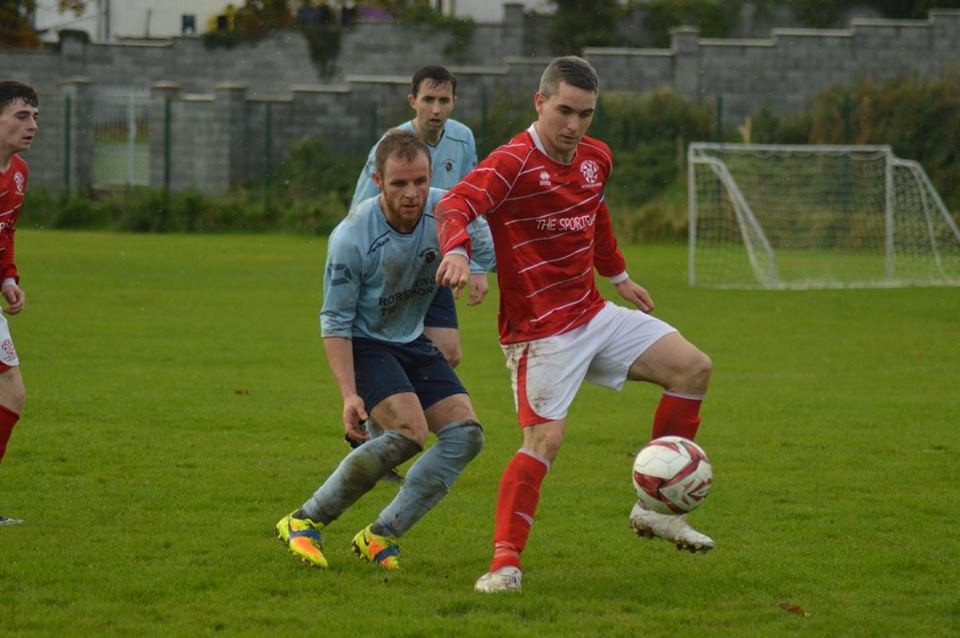 Newmarket Celtic progressed past the last 64 of the FAI Junior Cup winning on penalties while Shannon Hibs caused an upset in the Munster Junior Cup.
FAI Junior Cup Round 5
Newmarket Celtic 2-2 Aungier Celtic (AET) – Newmarket Celtic won 4-2 on penalties
Clare champions Newmarket Celtic put in another good performance in the FAI Junior Cup as they made it through to round 6 after a penalty shootout victory over Aungier Celtic from the Dublin AUL at McDonagh Park on Sunday.
Eoin Hayes went close for Newmarket on 25 minutes with a free kick that hit the crossbar. Newmarket went in front on 33 minutes after Hayes and David McCarthy linked up well before Hayes found Brian Monaghan who finished well. It got better for Newmarket right on half time when McCarthy scored to make it 2-0 to the home side at the break.
They lost Stephen Kelly to injury and he was replaced by Mark Donlon. Aungier pulled a goal back on 49 minutes when Michael Malone scored. Newmarket then lost Donlon to injury and he was replaced by Darren Cullinan. Aungier drew level on 79 minutes with a great finish from Malone and it remained 2-2 after 90 minutes and extra time so penalties were needed to decide the contest.
Eoin Hayes, David McCarthy, Paddy Purcell and Ronan McCormack scored for Newmarket. Aungier missed the target with two penalties as Newmarket held their nerve better to secure a deserved victory on the day.
Newmarket Celtic: Robert Shier, Seamie Lawlor, Eoin O'Brien, Stephen Kelly, Paddy Purcell, Ian Collins, Colin Ryan, Tino Nzvaura, Brian Monaghan, David McCarthy, Eoin Hayes. Subs: Mark Donlon for Kelly (inj), Darren Cullinan for Donlon (inj), Ronan McCormack for Monaghan
Munster Junior Cup Round 2
Shannon Hibs 1-0 Shannon Olympic A
Shannon Hibs started the game brighter and looked more up for it than the Olympic players. David O'Flaherty and Dean Power were kept busy at the back for Olympic while Jason Carmody did well to make three good saves as the sides remained deadlocked at the break 0-0.
Jack Arra replaced Sean Burke for Olympic and he was a threat throughout the second half. Hibs went in front on 70 minutes with a good finish from Jimmy Houlihan. Olympic pushed hard for an equalizer in the closing stages but Hibs defended well and earned a deserved place in round 3 at home to Ennis Town A.
Shannon Olympic: Jason Carmody, Dean Power, David O'Flaherty, Wayne Regan, BJ Cantillon, Derek Maxwell, Adrian Carew, Ryan Kelly, Sean Burke, Jason Regan, Ray Quigley. Subs: Wayne Ryan, Jack Arra, Rachid Amalla and Craig Murphy
Maloney Garden Machinery Premier Division
Avenue Utd 1-1 Bridge Celtic
Kaylan O'Loughlin put Avenue in front with twenty minutes left. Patrick Aherne switched from goals to an attacking position in the closing stages and the change paid off when Aherne scored a great goal to earn his side a deserved share of the points.
First Division League
Kilrush Rangers 7-1 Avenue Utd B
Kilrush Rangers were in great scoring form against Avenue Utd at Kilrush on Sunday. Jamie Gillagan scored a hat-trick. Seamus Boland scored two and Trevor Clancy and Tommy Lillis completed the scoring for the home side. Stephen Ward scored for Avenue.
Coole FC 4-1 Kilkishen Celtic
Coole had a good victory on Sunday against Kilkishen Celtic at Gort to keep the pressure on teams above them in the table in the battle for promotion to the Premier Division. Coole started well and were one up after 15 minutes good play from Jason Grealish setup Darragh Reilly to score.
Kilkishen were back on level terms 15 minutes later after a low foot shot found the bottom corner of the Coole net. There were more chances for both sides before the break but it was Coole who went in 2-1 in front after a free kick wasn't cleared and the ball fell to Sean Roche at the edge of the box and his first time strike was deflected into the corner of the net.
Coole who went 3-1 in front after a delightful Kyle McCarthy ball over the top found Dave Cahill and he took it down and finished first time with his left foot shot to the net. With Kilkishen pushing on to try and get back into the game Coole finished it off after McCarthy again broke free and he slotted it across the box for the in rushing Darragh Reilly to finish it off and wrap up the victory for the home side.
Coole FC: Arek Mamala, Jake Farrell, Fergus Tuohy, Sean Roche, Kieran Burke, John Cosgrove, Kyle McCarthy, James Cosgrove, Dave Cahill, Darragh Reilly, Jason Grealish. Subs: Darren Grealish, Rafa Mamala, Noele Glynn, Eric O'Sullivan
Selprint Second Division
Rineanna Rovers 2-1 Ennis Town B
Two goals from Darren Lindsay helped Rineanna Rovers to a good victory on the day.
Suttons Lighting Third Division
Shannon Olympic B 5-2 Shannon Town B
Shannon Olympic B look to have turned the corner and followed up last week's victory over Inch with an impressive performance and victory over previously unbeaten Shannon Town B at Olympic Park on Sunday.
Star performer for the home side on the day was Dylan Kerr who scored all five goals. Kerr put Olympic in front when they were awarded a penalty after Joe Brennan was fouled inside the box. Shannon Town equalized when a shot from Kev Cahill was deflected into his own net by Daniel Cregan but Olympic made it 2-1 when Kerr scored again and he then completed a first half hat-trick with another great finish.
Olympic were winning all the crucial battles as Shannon Town put them under a lot of pressure. Shane Russell was in excellent form in goals for Olympic and Daniel Cregan made up for his own goal with two vital goal line clearances.
The second half started with Shannon Town dominating but they conceded a fourth goal by that man Kerr again and the visitors cause was not helped by a red card for Kev Cahill. Olympic made it 5-1 when Andy Shanagher passed it to Kerr who rifled home another great finish. To their credit Shannon Town never gave up and pulled a goal back near the finish through Ryan Hodge.
Shannon Olympic: Shane Russell, Daniel Cregan, Conor Neville, Joe Brennan, Paul Cantillion, Adam Harrington, Ross O'Connor, Andy Shanagher, Eric Ogrin, David Cuddihy, Dylan Kerr. Subs: Stephen Moran, Aaron Connolly, Damien McGettigan
Shannon Town C 2-2 Moher Celtic B
Moher went in front when a cross from Steven Murray was deflected into the net by a defender. Oisin Leyden made it 2-0 for Moher before half time. Moher started the second half well but it was Shannon Town who pulled a goal back from James Ryan to put the game back in the melting pot. Charlie Linton scored a late goal to earn the home side a share of the points.