Update:
A second aircraft, a US military aerial refueller, also diverted to Shannon this afternoon after the crew declared a fuel emergency.
Earlier: A transatlantic jet has made an emergency landing at Shannon Airport this afternoon after a passenger fell ill.
Emirates flight EK-237 was travelling from Dubai in the United Arab Emirates to Boston in the US at the time.
The flight as about 350 kilometres south of Cork at around 12.45pm when the crew declared a medical emergency.
The Boeing 777-300(ER) jet, which was around 8 hours into its journey, landed safely at 1.26pm and was met by airport fire and rescue crews.
Two units of the local authority fire service from Shannon Town were also mobilised to the airport along with ambulances paramedics.
The aircraft taxied to the terminal where it was met by airport authorities and National Ambulance Service personnel. The passenger was removed to hospital for treatment.
The flight was able to continue its journey at 3.17pm once the passenger's baggage had been removed, in accordance with strict security procedures, and the crew received a new flight plan.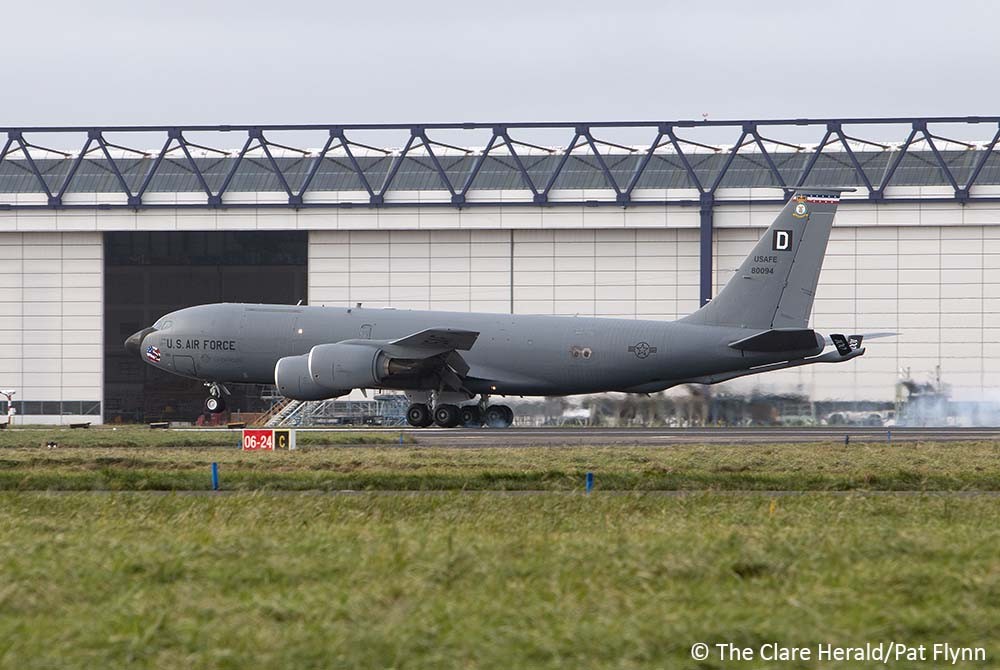 Meanwhile, a United States Air Force (USAF) military KC-135 refuelling aircraft diverted to Shannon after the crew reported they had a fuel issue.
The US Air Force KC-135, a military variation of the Boeing 707 jet, was returning to its base in the England at the time. ROMA-93 is attached to the 100th Air Refuelling Wing (ARW) based at RAF Mildenhall. It's understood that the crew diverted because they didn't have enough fuel to continue to their final destination.
An airport source confirmed that the diversion was 'fuel critical'. While the crew declared an emergency, a response from airport fire crews was not required.
The flight, with a crew of five on board, landed safely at 3.56pm.