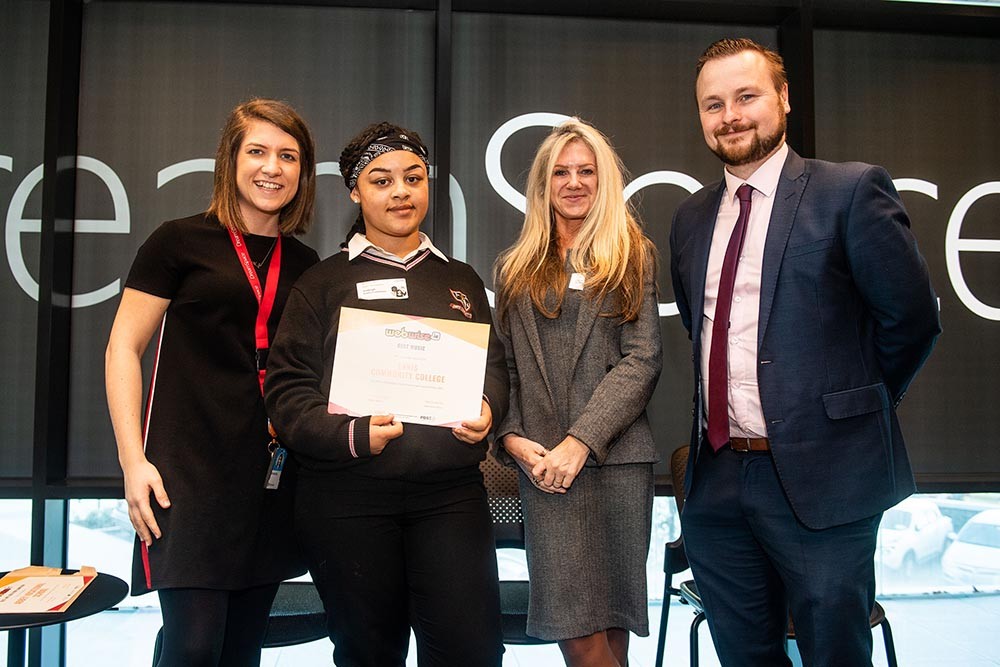 Students from Ennis Community College, Gaelcholáiste an Chláir and Ennis College of Further Education were among the winners announced by Webwise at the Safer Internet Day Awards 2019.
This was the competition's first awards ceremony, held at Microsoft's dedicated innovation and education hub, DreamSpace.
The trio of schools, Ennis Community College, Gaelcholáiste an Chláir and Ennis College of Further Education, won the award for Best Music for their joint submission: 'Satellite.' The students, staff and parents of the three Ennis schools created an original song Satellite, as well as performing in and producing a music video as part of their Safer Internet Day campaign. Ennis Community College were also commended in the Overall Campaign category.
Inspired by the work being done in schools around Ireland on internet safety, Webwise, the internet safety initiative of the Professional Development Services for Teachers, created the unique to celebrate achievements made by students, teachers and schools in raising awareness of online safety whilst also promoting healthy and creative uses of technology in their communities.
The competition continues to grow, with schools across Ireland submitting projects. Categories in this year's competition included best use of technology, best campaign, best use of social media and more. The winning schools and students received their awards at an exclusive award ceremony with surprise gig with popular Irish band; Chasing Abbey in Microsoft's dedication innovation and education hub, DreamSpace at the company's headquarters in Leopardstown.
Competition entries were peer-led, with young people tackling issues that are important to them. From this year's projects emerged themes such as device-free campaigns, misinformation, media literacy, respectful communication, image-sharing and managing online well-being, among others.
Safer Internet Day 2019 saw 145,000 students across more than 550 schools in Ireland participate. This a record number of young people joining in Safer Internet Day in Ireland and marks more than a 30% increase, almost 45,000 more students, involved this year. The winners announced today represent the best in class for online safety initiatives and campaigns. Almost two hundred students from fifteen second-level schools across Ireland were awarded for their Safer Internet Day campaigns and initiatives.
Best Music Award Winner: Ennis Community College, Gaelcholáiste an Chláir and Ennis College of Further Education. Project entitled: Satellite
Highly Commended for Overall Campaign: Ennis Community College, Co. Clare