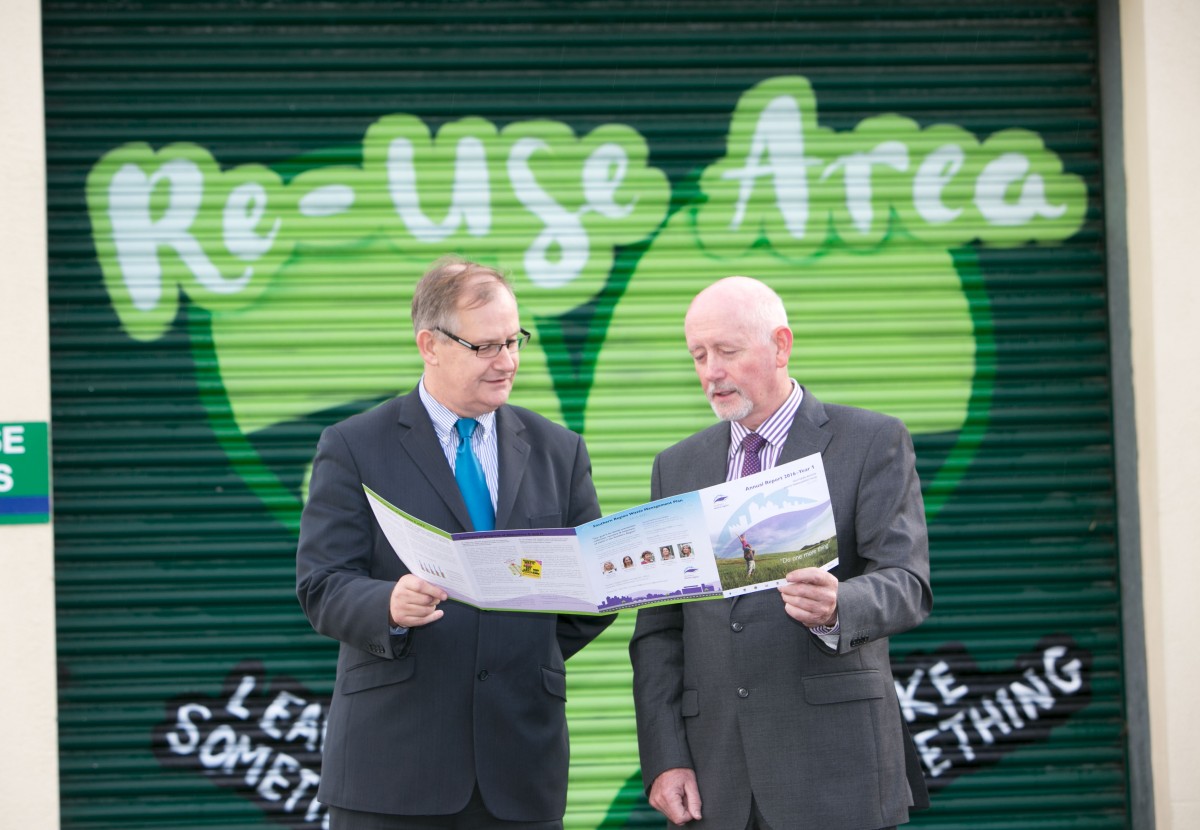 A positive progress report for Clare and the wider Southern region has been issued by the regional body that promotes best practice in waste management.
In its 2016 annual report, the Southern Region Waste Management Office said that very significant gains have been made but there's still much to be done to deliver on the objectives of the 2015-2021 plan, which is focused on the safe and sustainable prevention and management of waste.
The Southern Region Waste Management Office promotes higher order waste actions in the areas of prevention, reuse, resource-efficiency and recycling for nine local authorities including Clare. They are Carlow, Cork City, Cork County, Kerry, Kilkenny, Limerick City & County, Tipperary, Waterford City & County and Wexford. The report was launched by Conn Murray, Chief Executive of Limerick City and County Council and Seán Keating, Director of Services at Tipperary County Council.
Among the key performance indicators in the report, which includes a number of telling comparisons in waste management practices across the region between 2012 and 2014, is that the disposal rate of waste to landfill from households has dropped from 37% to 25% in that period.
Other positive results include that the recycling and recovery rate has improved from 63% in 2012 to 75% in 2014.
On the flip side, however, the report reveals that the annual amount of household waste produced per person has increased from 295kgs to 299kgs from 2012 to 2014. The report also revealed that the average amount of waste produced per household in 2014 was 807kg.
Other key findings include:
Household waste electrical and electronic equipment (WEEE) recovery in the region is now at almost twice the minimum EU target of 4kgs per inhabitant
67% of households have now signed up for a collection service
45% of households availing of a collection service have an organic bin
Commenting on the report, Philippa King, Regional Waste Coordinator said: "We are reducing the amount of waste per household going to landfill, our recycling and recovery rate is increasing and our WEEE recovery is well above the EU minimum target.
"We are, however, concerned that the actual amount of household waste per person is increasing and what we really need to do here is have a greater focus on prevention, reuse and recycling, essentially being more resource efficient. We have achieved a lot particularly over the last year but there is an opportunity for us to do more during the life span of this plan."
Limerick City and County Council Chief Executive Conn Murray remarked "This is the generation that is finally beginning to swing the pendulum back in the direction of sound waste management and environmental protection. That is something we can all be proud of but we have much work to do. The current and future focus is on waste prevention, reuse, maximising recycling and using waste as a fuel in replacement of fossil fuels: all elements of the circular economy strategy to boost competitiveness, foster sustainable economic growth and generate new jobs."
Sean Keating, Director of Services at Tipperary County Council stated "We have a responsibility to ensure that we continue to meet the waste management challenges and ensure that we proactively plan future waste infrastructure so that waste management has no negative environmental impacts as the population and economic activity grows. There is an onus on all of us to play our part and support the wide ranging initiatives of the Southern Region."