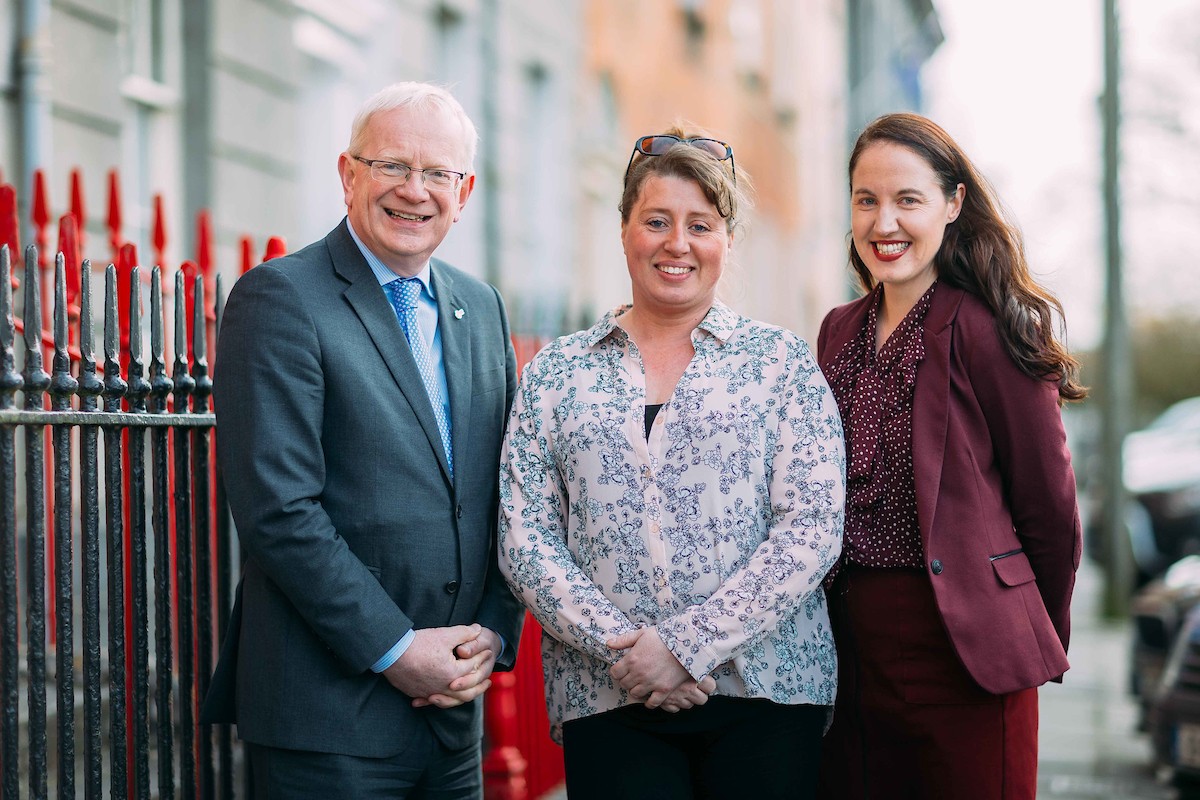 Ennis woman Bridget McDonagh has won the National Social Care Ireland Student Award 2019 for her ground breaking work with prisoners' families in Clare. 
The LIT student beat off strong competition from students from all over Ireland to be awarded the accolade on Wednesday night last, March 27, at the Social Care Ireland Annual Conference and Gala Dinner .
By receiving the award Ms McDonagh was recognised for her original and significant contribution to contemporary Irish professional social care practice.
While her award winning work was part of her studies at LIT Ennis Campus, its effects on the community went far beyond her course work and the award.
The third year Social Care Work BA student was nominated for the award after she secured funding for a newly developed organisation which supports the families and relatives of prisoners.
This newly funded project was specifically targeted at ethnic minority inclusion and developing supports and access for the travelling community affected by imprisonment.
Ms McDonagh, who is a member of the Travelling Community, played a pivotal role in advocating and championing inclusion for the traveller community through this particular initiative.
Speaking about her work Ms McDonagh said, "This is the first time that such an initiative was developed in County Clare and an application for funding prepared and forwarded to the HSE.
"This funding will provide initial support to traveller families in County Clare by engaging in one-to-one consultations and peer support meetings to build trust with the traveller families."
Bridget began her studies in LIT by completing the level 6 Special Purpose Award in 'Health Advocacy and Community Development' a joint initiative between LIT, Ennis CDP and the HSE.
On receipt of her Certificate, the ambitious and talented mother of four then began studying for her degree in Social Care Work. Now in her third year, her undergraduate work continues to impress both on and off campus.
Applied Social Sciences Lecturer Aoife Prendergast nominated Ms McDonagh for the Social Care Ireland Student Award 2019.
Ms Prendergast said she was proud to nominate the Enniswoman for the award.
"Bridget demonstrated advocacy, a strong pursuit of social justice, fairness and equality in her professional social care practice placement. Additionally, she has demonstrated a strong fundamental understanding and appreciation for genuine and core social care practice principles of empathy, advocacy and integrity in action. She ensured that the voice of the marginalised travelling community in County Clare was heard and amplified in the funding application. It is a testament to Bridget's skill, competency and knowledge that this project was a success and generated exceptional feedback from staff members in LIT Ennis and wider stakeholders," said the Applied Social Sciences Lecturer.
Head of Department Applied Social Science, Cathy Jones congratulated Bridget on her award.
Ms Jones said, "Bridget's fantastic achievement clearly highlights her commitment to social care practice and it underscores the high quality and calibre of education delivered at LIT – Ennis Campus. Her award will provide her with an enhanced platform to advance her professional practice skills and advocacy in her future professional career as a social care worker."
The aim of the Social Care Ireland Student Award is to recognise and reward the outstanding contribution and excellent performance of Social Care students nationally. One award is presented every year for excellence and/or outstanding demonstration of developing professional practice skills, reflective practice and innovation and imagination.