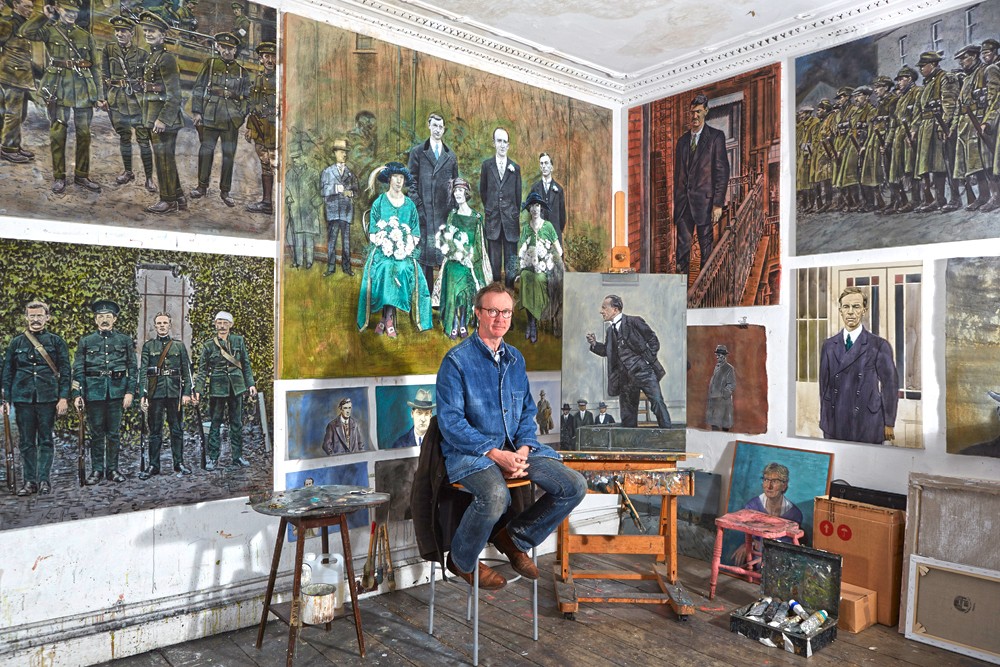 Ennis artist Mick O'Dea will compete for the biggest prize in Irish contemporary art at Vue 2016 at the Royal Hibernian Association gallery from November 3-6.
The €5,000 Vue Contemporary Art Prize presented by Savills will be awarded to the artist who has produced an outstanding body of work in the last year or made some other substantial contribution to the visual arts in Ireland.
19 of Ireland's leading contemporary art galleries have each nominated an artist as a contender for the prize and RHA director Dr Patrick Murphy, who has an extensive track record as a curator of contemporary Irish art, will adjudicate.
O'Dea has been nominated by the Kevin Kavanagh gallery in Dublin where he completed The Split, a series of paintings exploring the tangled history of the War of Independence.
"The Split is the third in a trilogy of exhibitions by O'Dea, following Black and Tan in 2010 and Trouble in 2012," said Benjamin Stafford from the Kevin Kavanagh gallery.
"This series of portrait paintings is based on images culled from found and researched photographs.
"O'Dea was stimulated by his childhood experience of the 50th anniversary of the Rising in 1966 to have a life long interest in Irish history which spurred him on as an adult artist to reimagine and recreate events from that era."
Last year's prize was awarded to abstract artist Richard Gorman who collaborated with Stoney Road Press for his series 'Kan' – three monumental (150 x 110cm) carborundum prints on handmade Indian paper.
"This is only the second year the Savills Art Prize has been presented at Vue and we hope the award will become as important to Irish art as the Turner Prize is in the UK," said Vue 2016 organiser Louis O'Sullivan.
"Savills is the perfect partner to present the Prize as most art is found in homes and businesses, and not just museums.
"Vue 2016 is a great opportunity for collectors and investors to experience some of the best contemporary art currently being created in Ireland, and to get some expert advice and guidance from leading galleries."
Opening hours for Vue 2016 are 6-8pm on Thursday, November 3, 11am-8pm on Friday, November 4, 11am-7pm on Saturday, November 5, and 12-6pm on Sunday, November 6.