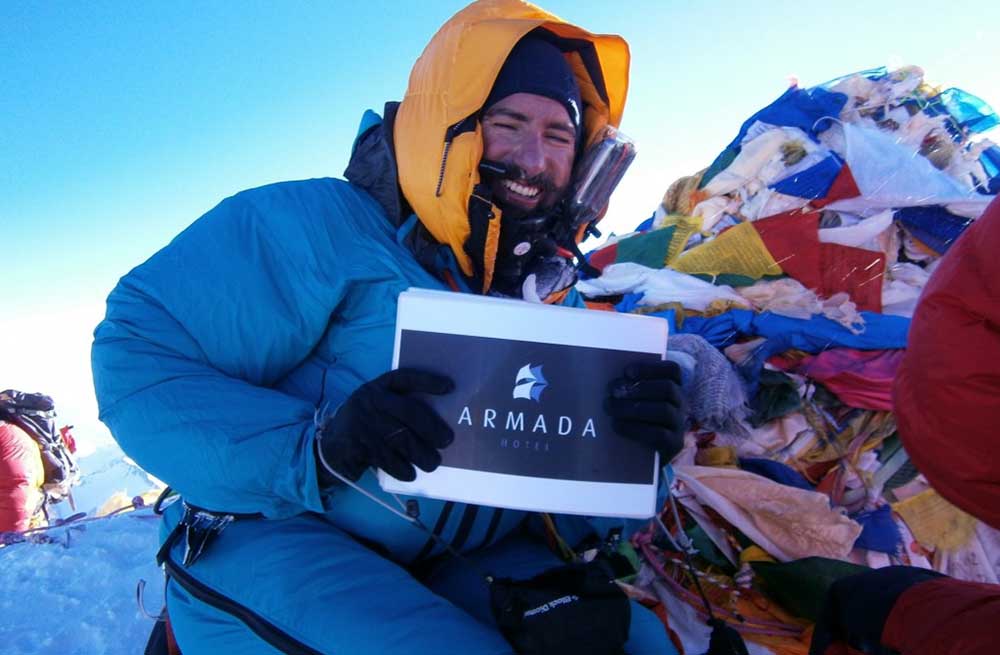 The world's most prolific climbers are currently in Ireland speaking about their death defying experiences in the Himalayas.
Nepalese heroes Mingma Sherpa and Pasang Sherpa have travelled here to speak about their efforts to rebuild the renowned Rolwaling Village since the devastating earthquake struck on April 25, 2015.
They will give a talk at the Armada Hotel in Spanish Point this evening at 7.00pm. The event is free of charge.
The community have been working tirelessly to rebuild their village and their livelihoods ever since. They are hoping to promote Tourism in Nepal via Ascent Himalayas, Nepal Tourism Board and the Nepal Ireland Society.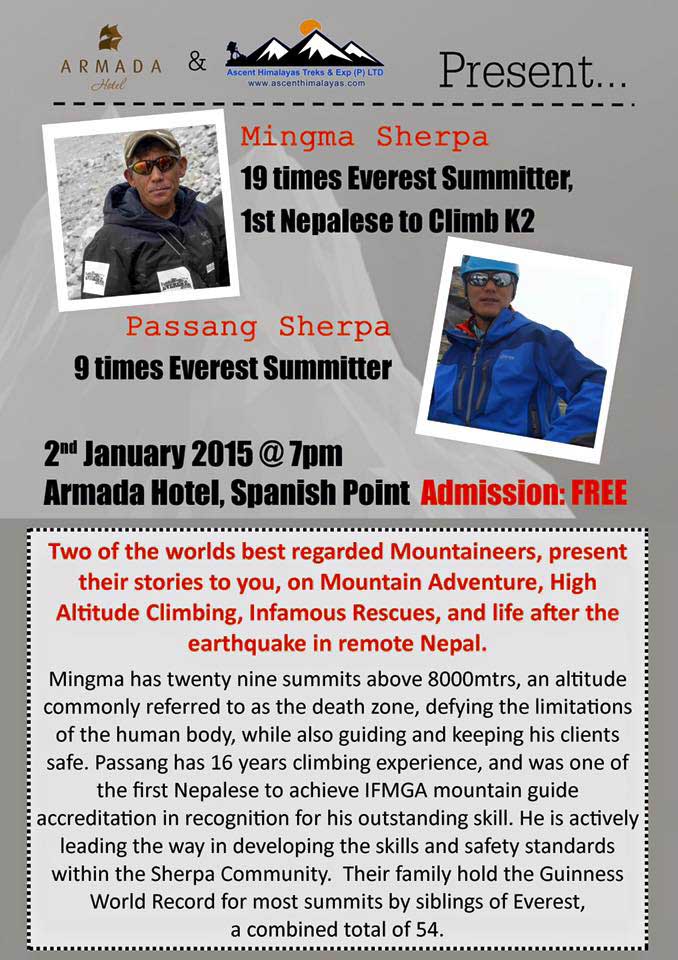 Tourism is the key back bone of Nepal's economy and is a much needed source of foreign currencies especially in the aftermath of the unprecedented natural disaster that crumbled country's economy and shattered the livelihoods of those living in the mountains.
Everyone is cordially invited to join them speak about their adventures and experiences and ask them questions about the challenges in climbing the highest and the most dangerous mountains in the world.
In 2012, Mingma set up his own company called Ascent Himalayas (The Sherpa's Company). Climbing is currently changing dramatically in Nepal, with many Sherpas now setting up their own companies instead of working for Western based ones. The increase in training to International Climbing Standards for the Sherpas is also helping to progress this. 
Mingma Sherpa is one of the most successful Sherpas ever, having summitted Mount Everest 19 times (and counting)!
Born in a family of mountaineers in the famous Rolwaling valley, near the Everest Region, Mingma is one of the most famous sherpas of Nepal due to his incredible track record in climbing the highest summits of the Himalayas.
Over the past 25 years, Mingma has summitted Mt Everest 19 times and he is one of the first Nepalese to climb K2, the world's second highest and arguably most dangerous mountain. Mingma is also in the Guinness Book of World Records with the highest number of climbs of Mt Everest between brothers (56 successful climbs between the seven brothers).
Mingma is an incredibly accomplished mountaineer with 29 successful summits of 8000m peaks. He has also been directly involved in many rescues, including the 1996 Everest Disaster (featured in the recent movie Everest), the devastating Avalanche which resulted in 16 deaths in the Khumbu Icefall in 2014 and more recently, the rescue of those injured in the earthquake of 25th April 2015.
Pasang Tenzing Sherpa is one of the six brothers so Mingma Sherpa.
An accomplished mountaineer with 9 Everest Summits to his credit and 16 years high altitude climbing experience, Pasang was one of the first Nepalese to become an IFMGA mountain guide and Mountaineering Instructor.
He has been heavily involved in running professional training courses for the Sherpas, which brings them up to the highest standard of International Mountain Guiding. Pasang is training chief in Nepal Mountaineering Association. President of Mount Everest Summiteers club.