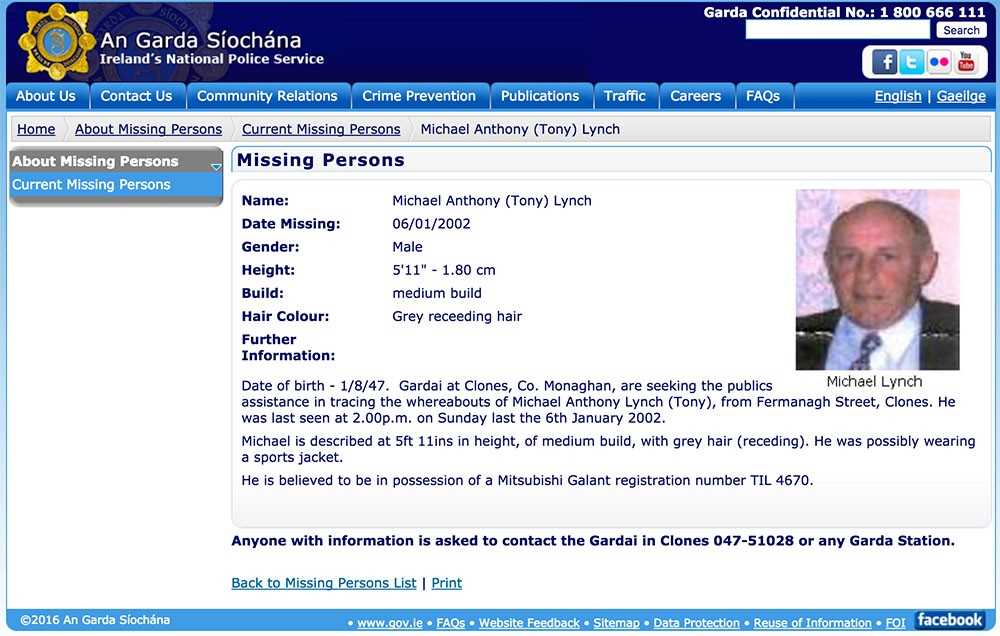 Gardaí in Clare are investigating a possible sighting of a man missing from Co Monaghan for over 14 years.
Michael Anthony 'Tony' Lynch, from Clones Co Monaghan was last seen at 2pm on January 6th 2002.
Gardaí in Clare have received a report of a possible sighting of Mr Lynch last month.
On April 15th last, a young man travelling from Cork to Ballyvaughan in Clare picked up a hitchhiker in Mallow.
When the driver reached Ennis, he dropped the man off on the Limerick Road close to the West County Hotel. The man is understood to set off on foot in the direction of Clarecastle.
Later the motorist became concerned that the man might need some assistance.
After checking the missing person's section of the Garda website, the young driver found details of missing man Michael Lynch and contacted An Garda.
The driver described the man as as being about 70-years-old, 5 foot 10 inches in height, of medium build, with a moustache and bald. He was carrying a green gear bag in his shoulder.
The original description of Mr Lynch was that he was 5 foot 11, of medium build, with grey receding hair.
Gardaí from Monaghan have travelled to Clare and spoke to the young driver while the missing man's family have also been contacted.
Gardaí have asked that anyone who might anything about the missing man to contact them.
Sergeant Joe Downey of Ennis station said: "If anyone knows anything about this man or has any information, we would ask them to contact us in Ennis and we will follow up any calls."
Gardaí in Ennis can be contacted on 065 68 48100.