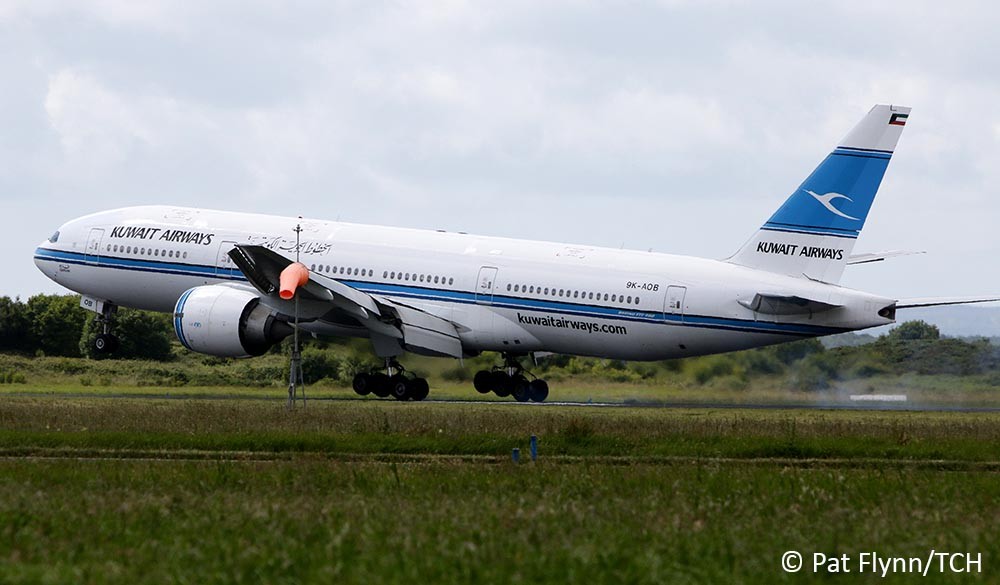 Shannon Airport has welcomed a new airline today following confirmation that Kuwait Airways will make a transit stop there three times a week.
From today Kuwait Airways flight KU-117 will make a transit stop at the mid-west airport on Friday, Sunday and Wednesday afternoons, before continuing to New York. The almost 13-hour flight has up to now flown directly, without a stop, between Kuwait City and New York.
The service will be operated by a Boeing 777-200 jet and the first flight touched down at Shannon today at 3.40pm today. The airline previously made fuel stops at Shannon in 2007.
The 'change to service' is part of security procedures agreed between the Kuwaiti and US authorities. The return leg of the service will not stop at Shannon. The stopover will allow for passenger and baggage screening although this is not expected to happen immediately.
The flight will be on the ground for no more than two and half hours and passengers will, in time, be screened by the US's Department of Homeland Security's Customs and Border Protection (CBP) unit.
The airline says it hopes its passengers will be able to avail fo the pre-clearance facility at Shannon at the earliest opportunity.
According to the Kuwaiti News Agency (KUNA): "Kuwait Airways has declared the weekly flight to John F Kennedy in New York would include a stopover at the Irish Shannon Airport, on Friday, as part of extraordinary security precautions."
"The flight program has been changed as part of coordination between the Kuwait and American authorities, aimed at securing maximum security and safety for passengers. The stopover at the Irish airport would not exceed two and a half hours, it assured concerned passengers," according to KUNA.
Philip Saunders, Chief Commercial Officer with Kuwait Airways said: "We are delighted to be working with Shannon Airport on this initiative. The entire airport community have responded quickly and pro-actively to our requirements allowing this change in the service to be implemented seamlessly.
We are looking forward to being able to offer the time-saving US Pre-clearance service at the earliest opportunity and to a successful partnership with Shannon Airport," he added.
While the new Kuwait Airways service will provide a welcome boost to airport passenger numbers the airline will not pick up any passengers at Shannon.
It's also expected that the current three-day arrangement will be further extended at a later day, possibly to a daily service.
Shannon Group Chief Commercial Officer Andrew Murphy said however: "Securing this transit operation opens up the possibility of further developments with the airline. We will be working closely with them to explore further opportunities."