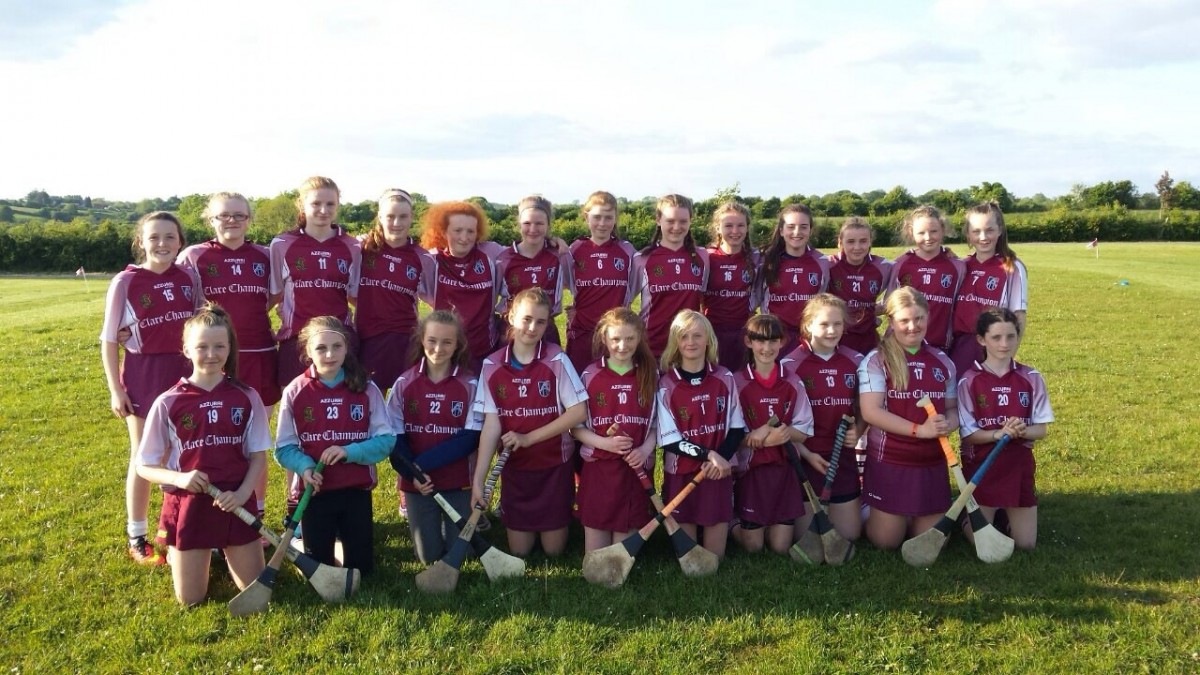 The John West Féile na nGael National tournaments will be held in Tipperary/Waterford on the weekend of 17th – 19th June 2016, Brid MacNamara looks at the St Josephs Doora/Barefield camogie side who will compete in the Regional Féile.
Club Name: St. Joseph's Doora Barefield
Club formed in what year: Club was reformed in 1982 having lapsed in the 70's!
Number of underage members: 195 members
Féile team captain: Emma Towey
Féile team mentors: Mark Reidy & Órla Ní Dhálaigh
Féile venue: GAA Games Development Centre, Sports HQ, Abbotstown, Dublin
Are the players looking forward to Féile? Panel are eagerly looking forward to this event. Having topped the table in championship this year we were unfortunate to lose semi final by a mere point, giving the girls the hunger required to justify the good year we've had to date and prove their ability one more time!
How have the team been preparing? Preparation is in the form of training twice a week, concentrating on early scores to correspond with the short games in Féile. Free taking and side line cuts are very important with accuracy crucial, every score counts at this level.
Any previous experience of Féile? This is the very first time St. Joseph's Doora Barefield have qualified for Féile giving the club, girls and parents involved a huge sense of pride. In 2010 however, our U14 girls did participate in the competition as it was hosted on home turf that year.
What has been local reaction to the team going to Féile? Local support has been immense! Local businesses have got behind the panel in the form of sponsorship. Parents and club mentors, as well as the panel of girls themselves, have been busy fundraising and are enjoying the buildup to the event as well as the well wishes bestowed upon them everywhere they go. It creates a wonderful atmosphere within the club and hopefully a goal for next year's U14 girls to achieve again.
How de ye hope to get on in Féile? Taking one game at a time is really how one has to approach Féile. That is how we faced our championship also this year, and we got on great despite our defeat in the semi final. We don't think too far ahead to avoid disappointment but this panel of girls are outstanding and coming out of our group will be our main aim on the day.
Do ye think the Regional Blitzes are good for the development of Féile? Féile is THE most prestigious event in any club's lifetime. Despite us being runners up in our county, our panel feel as though we won gold. Féile is Féile, and to participate at any stage, be it National or Regional is an honour that this panel is bestowing on their club, their county, their parents but mostly upon themselves as individuals, an achievement I hope they can look back on with great pride when they are adults.
Does attending Féile help raise your Club profile locally? St. Joseph's Camogie Club has gone from strength to strength since qualifying for Regional Féile. Everybody we meet is wishing the girls good luck because they have seen our success either on Facebook or on the club GAA website. The club is very proud of these girls and it sets the mark for 2017 to be even more successful at Féile level.
St Josephs Doora Barefield Feile Panel 2016
Aoibhinn Feighery, Naoise Slattery, Múirne Ní Chonaill, Úna Ní Choileáin, Alannah Meaney, Sinēad Clancy, Emma Towey, Saidhbh O'Brien, Emer Hanrahan, Āine Barry, Ellen Doyle, Róisín Dillon, Róisín Cahill, Anna Cosgrove, Ava Lenihan, Niamh Meaney, Emma O'Dwyer, Caoilfhionn Ní Chonaill, Kate Montwill, Grace Kennedy, Sinēad O'Connor, Shauna Moloney.