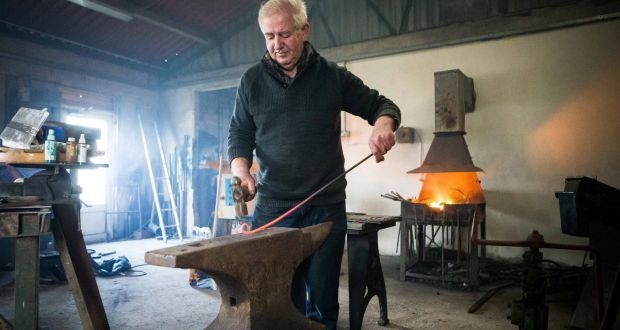 Clare's 1916 memorial 'The Centurial Sphere' will be unveiled this Sunday in Ennis at a special ceremony.
Speaking to The Clare Herald, the man behind the piece of work, Paddy Murray conveyed his honour with being commissioned for this very special project. "I felt of course very happy to be chosen, first of all I couldn't believe because I knew it was an important event and since then the last three months have been a bit of a rollercoaster and this whole process has taken on a life of its own and probably taken over my life and my family's life aswell".
This is his most significant undertaking as milestones like this are very important and regularly referenced. Paddy admits that when he first visited the site he was forced to rethink everything. "When I was going over for the site visit I think it was in February I had a totally different idea, I had actually seen it on one of the local newspapers the ad for it and I thought I definitely had a good idea and then when I saw the site it was so small it was just a triangle in old terms fifteen feet by fifteen feet by seventeen feet right angle triangle and I came home and I remember driving home and I said oh my god I've to start all over again will I just forget about it".
Thankfully there was light at the end of the tunnel and surprisingly it came when he was assisting his daughter, a first year secondary school student with a maths challenge. Murray recalls "That night actually my daughter, she was asking me one of her challenges was to describe a circle in a scalene triangle so I was helping her doing it and I said by god that's what I was doing today the scalene triangle, we were describing the circle anyway and I said there might be something here and then I came up with the idea of the ball and the sphere and it went from there. So I said ok we'll make a ball, what could we put in it, so I said what is Clare known for and of course the answer to that is quiet obvious and that's what I did".
Often with planned designs there is an intended message that spectators will pick up on. In this instance the Kilkee blacksmith was personally taken aback by the County's contribution to Irish society but his hope is that 'The Centurial Sphere' captures Clare's rich and decorated heritage.
"I think the lesson I have learned throughout the whole process is how much Clare has contributed in terms of poetry and song and music to the country and the wider world. You look at songs like From Clare to Here, Lisdoonvarna, Spancilhill, songs of poetry you know they're sung the world over wherever Irish people particularly Clare people gather and I think we here in Clare as I said in my submission, it's probably the most peripheral county in the country and I was amazed when I delved into as to our rich heritage and why not capture that in images and put it in the centre of our main turret area in this County".
Paddy is very happy with the finished product and is looking forward to its unveiling this Sunday. A minor disappointment of his is that there wasn't enough room to include more songs and poems on the sphere. "Well we included between fifteen poems and songs, we had only so much space, the sphere is 1.55 metres in diameter. What I didn't realise was the amount of goodwill there has been towards this project.
"I run a business here a lot of people have come in and they've been surprised at this development and the numbers that have come back and said oh my god 'you have to put in this poem or I've a song here' one's I never heard of before beautiful songs that are in danger of being lost and while we may choose the more popular songs and poetry from the County every parish has its own songs and it's a pity to let them die away. There were any number of them and certainly in my taking anyway they capture a time they capture a social history and it'd be a pity to consign them to history, they should be recorded somewhere".
Seamus Heaney's poem 'The Forge' focuses on a blacksmith who 'Set there immoveable: an altar Where he expends himself in shape and music', for Paddy Murray it is the music and poetry of Clare that helps to capture his prized piece of work.
The unveiling takes place on Sunday at the Club Bridge, Ennis at 12pm. Clare County Council and the County Clare 1916 Steering Committee will host the ceremony which is the centerpiece of the Clare 1916 Commemoration Programme.