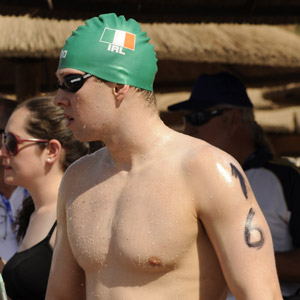 Shannon's Chris Bryan will have his only opportunity to qualify for the Olympic Games this Sunday as he takes to the water in Portugal for the Marathon Swimming Olympic Qualification event.
There are 71 male athletes from 43 countries entered into the 10 kilometre event at Sado Bay, Setubal amongst them is the twenty six year old swimmer from the Banner County.
Twelve swimmers have already qualified for marathon swimming at the Games through placings at the World Championships in Kazan in 2015. There are a further 14 places available this weekend with only 1 swimmer per country eligible to secure a place at the Rio Games. The top 9 swimmers (1 from each country) will qualify directly with a further five places distributed across the continents.
"It's an exciting time and of course a nerve racking one" Bryan told The Clare Herald from Portugal this week "Open water racing can be so unpredictable, but I like to focus on what I know and what I know is simple; I've the work done and I have the beating of anyone, so now it's time to go and make my statement."
Bryan's race takes place at 4pm on Sunday and the 10K swim can normally take from between 1 hour 45 minutes to two hours depending on water and weather conditions. The course of 1.66 kilometres will be completed 6 times by the swimmers.
The PhD student in sports psychology previously stated that he doesn't just want to compete in the Olympics, he wants to win a medal in an interview with Kieran Shannon.
For Chris, qualifying for the Rio would be testament to all the people that devoted time to him during his career. "This is beyond myself – it's the pride, it's the effort that people have put in to me, that I've put in myself, working towards this goal. I've always been a bit of an underdog. I have that going against the odds mentality – that honest hard working Irish mentality of core work".
Irish Olympic qualifiers in the pool Fiona Doyle, Nicholas Quinn and Shane Ryan are also in action this weekend. The trio, who are currently at a training camp in Barcelona, will compete at the Mare Nostrum Meet in Barcelona, where a number of countries are continuing their preparations for Rio.