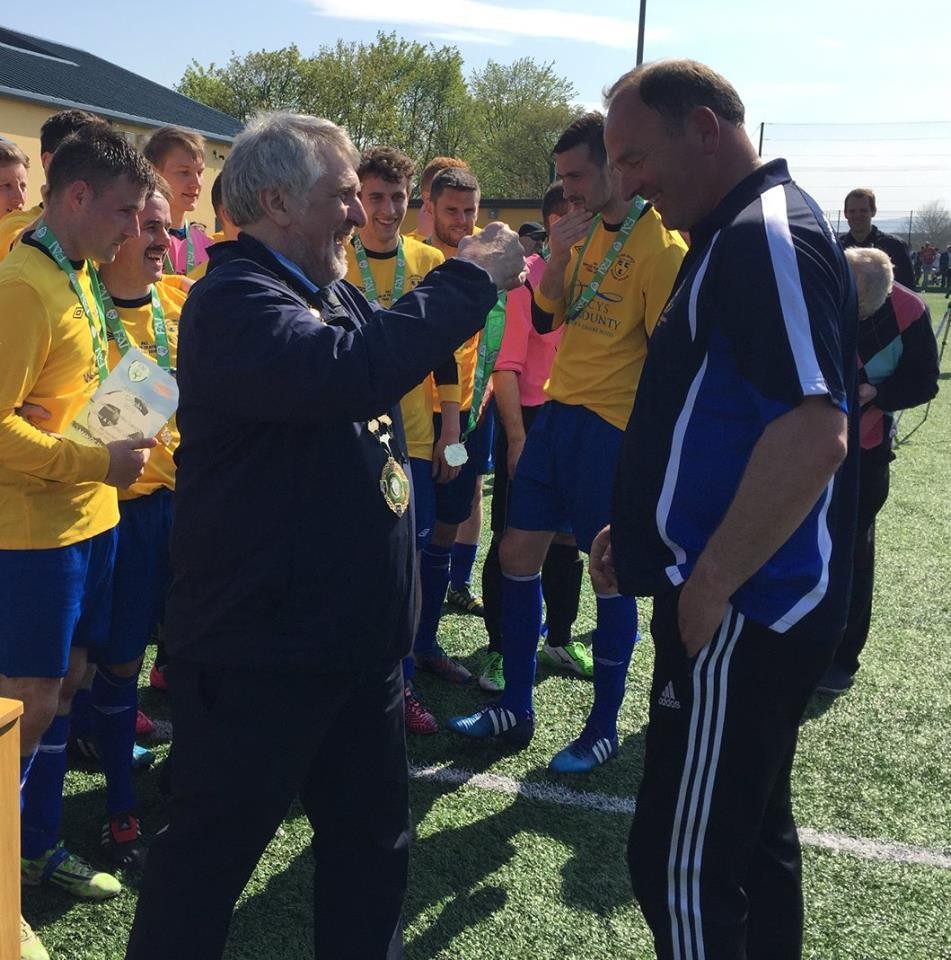 Winning national titles are to be savoured and applauded, in 2016 Clare's Oscar Traynor side did just that.
We caught up with one of the main men behind their success, manager Donie Garrihy for his most in-depth interview since claiming the national title in May of this year. The Doolin man spoke to The Clare Herald's Páraic McMahon about their journey, the difficulties that await them in trying to retain the title, his management style, the importance of having a strong management, learning from past managers, the future of soccer in the County and how he can relate to Colm Collins.
Páraic McMahon (PMcM): We're here at the Clare District Soccer League AGM looking back on a great year for the league.
Donie Garrihy (DG): "Definitely, not to be forgotten. Thanks to The Clare Herald online, always there when we were preparing for games and putting in the results and match facts after the game. We had a tough campaign, at the start of the season we had to rebuild, some of the players went away to Limerick, the far away hills are greener and we had to bring in new players but we did a lot of preparation work down in Limerick in UL with three or four friendlies against top opposition and we gave new players who hadn't played inter-county football experience of playing against very fast footballers and believe it or not we actually won our four games of preparation. We put in a good foundation and put a platform for playing Galway, Roscommon and Mayo in our group and our position in the group reflected the preparation we put in.
"We had brilliant players absolutely brilliant players in Paddy Purcell, Darren Murphy to name but some, Eoin Hayes an international footballer now, Stephen Kelly an international footballer after our Oscar Traynor campaign, we lost our regular goalkeeper after two good games and maybe it helped it in winning our Oscar Traynor title because we got the best goalkeeper playing Junior Football in Ireland in Barry Ryan who had played seven hundred matches of League of Ireland football, it was like he could turn up in a suit of clothes with a pair of gloves and this is how it's done. Barry just gave confidence to our defenders, if there was any confidence missing with Paddy Purcell who also played five hundred League of Ireland matches over a ten or twelve year period well that gap was filled with Barry, them two guys are two rocks in any team. Then we had Darryl Eade who won an Oscar Traynor title twelve years after he won the first one, Darryl hadn't played for four or five years he wasn't a first teamer but he was a first teamer with the Clare team this year, Darryl played six matches and being brilliant is an understatement, a real man I'll remember him for that and a superbly fit person".
PMcM: There was so many years under Liam Murphy coming so close but do you think now that they've won one and you referenced Dublin winning six in a row Leinster titles during the meeting, do you think there's a possibility of Clare doing a two or three in a row?
DG: "It's difficult, the horse is bolted now, they all know who we are and what type of players we have, it's difficult. Our target was always to have our team in the best possible condition and that could actually mean not training because such a heavy load in club football in this County but like I've said it before and I'll say it again battle-hardened players and guys that you can trust you don't have to worry about them training and coaching, drills and strategies because if you've confidence in them and they've confidence in you, they will perform on the day as they did and I never had to worry about them.
"I can actually relate there a small bit to Colm Collins and the Clare football team, if you see his demeanour after games and before games and during matches, if you look at him and study him, I don't study him but he's not stressed he has good players, damn good players and talented players and I think that reflects on his team on the pitch that Colm's not stressed, give them the freedom they play and they're doing good, I don't think I was ever stressed".
PMcM: For a number of years you were involved but you weren't pulling the strings, was that a bit education?
DG: "Páraic I was more stressed outside the wire than inside it definitely, some guys always said to me 'we could hear you outside the stadium or outside the ground roaring on your team', yeah I was more stressed outside, I wanted them to win so much, for Crusher, Mick (Shiels) and Colm Ryan to win so much it would actually be dangerous for me personally. People used to say 'relax for God's sake' but when I got involved then you have to be a different person on the technical area, you have to be bombproof, you have to be bulletproof, you have to be able to take the stuff that comes from the other technical area, from behind you in the crowd but I haven't been involved in football now I was involved in football in the 2000s, the 90s, the 80s, the 70s and I had Denis Hynes whose a UEFA licensed coach and I had David Russell whose probably, maybe I'm not sure maybe the most decorated footballer in Clare, maybe. He's probably won more cups and leagues than anybody else so David would have that experience aswell with me, it was a no-brainer I asked David and he was like 'yeah of course I will'.
"So it's a combination of things, I'm fifty one in November, Denis is shoving up thirty five thirty six whatever and David would be forty, forty one so there's a good few years there where it taught me not to be excited on the sideline, we're not playing Barcelona you know what I mean. Having Denis was definitely a big coup and having him also as a neighbour, he's only down in Ennistymon I'm in Doolin, I've known Denis since he kicked a football, I was his manager, his coach, he then became my coach when I was playing with Moher Celtic and then it started all over again, I became a manager and he would come in and help me with a club so having a European licensed coach living close by is a big thing, if you had Mick McCarthy or someone who was your neighbour wouldn't you learn so much off them".
PMcM: The players then obviously have more trust with Denis' CV?
DG: "That's right, that's exactly it. The players actually said it to me, this was their first time working with Denis as a coach, he's unbelievable. We'd be quiet about the way we do our work aswell. I probably have spoken more to you than I spoke the whole season in all the games to the players. I will say very little to them, if you're twenty minutes in a team-talk in a dressing room, alarm bells will start going off with the players".
PMcM: Players can only focus for so long aswell.
DG: "That's right, if you haven't got your homework done there's no point to overload them for twenty minutes inside in the dressing room. Guys this is the opposition, this is what's done, this is their weaknesses so we work on that and we chip away at that".
PMcM: You referenced there during the meeting the future of Clare soccer, going forward are you confident?
DG: "Oh yeah. Well our showing in the Clare Youths with Davy Hogan, Gerry Kelly, they're bright sparks in football and to see them involved is good and then Colm Ryan he wears his heart on his sleeve, lives in Shannon there but then I came to a meeting last Monday night and they had Declan Farmer brought in and I said that's forward planning, that's fantastic because there was a big group that Declan was over for the last twelve months in Clare so it will be a continuation with Declan on to Davy, exciting now exciting, at least we're not working somebody for one or two games and then he's going off playing hurling or rugby, 'oh we lost his number'.
PMcM: There's a plan in place
DG: "There's a plan in place Páraic and if I wasn't positive and I wasn't honest I wouldn't talk above there, if I had a doubt I wouldn't talk, I wouldn't do it".