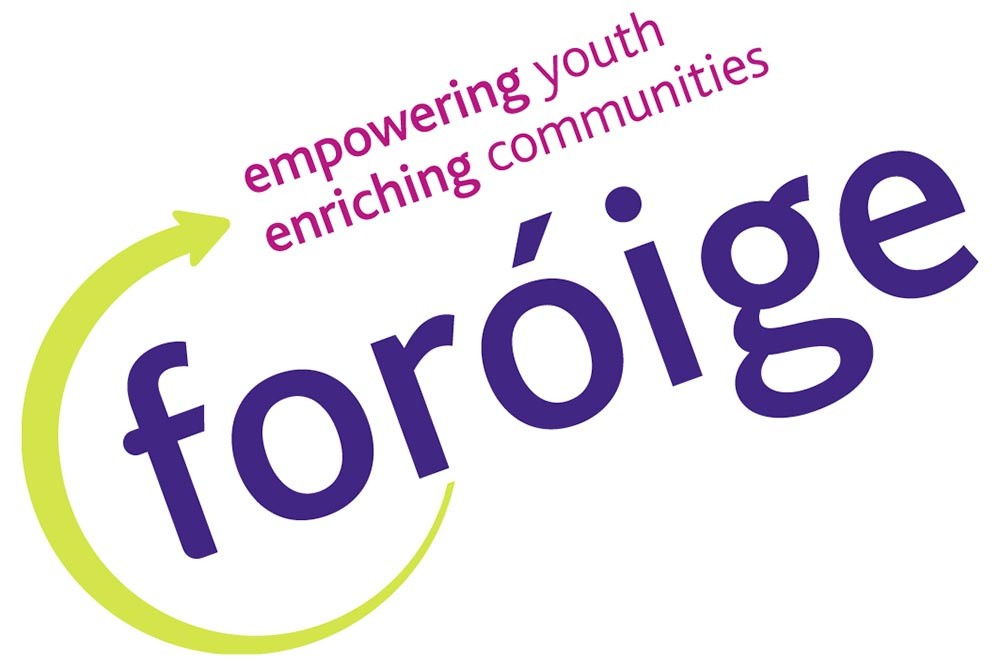 A number of Clare groups have excelled in the Foróige Youth Citizenship Awards.
The Foróige Youth Citizenship Awards in partnership with Aldi took place last Saturday 2nd July 2016 in the Citywest Hotel and Conference Centre, Dublin. Scariff Foróige Club, Co. Clare won a Silver Star Award for their project 'A project focused on developing more meaningful relationships between the generations', and My Time Foróige Juniors, Co. Clare won a Bronze Star Award for their project 'A fundraising event for Temple Street Hospital'.
The awards celebrated the work of young people in the community over the past year with over 2,000 young people in attendance as well as hundreds of volunteers. 160 community enhancement projects were exhibited at the event with all 26 Counties represented.
Seán Campbell, CEO of Foróige said: "Community wellbeing was the clear winner when it came to driving forces behind this year's projects, with the vast majority of projects built on a pride and passion in community that bodes well for the future. It is so inspiring to see what young people can achieve when they work together and put their minds to something. We are extremely proud to be working in partnership with Aldi for the second year running on the Foróige Youth Citizenship Awards and the numbers of young people and communities involved have been going from strength to strength."
Finbar McCarthy, Group Buying Director at Aldi Ireland said: "Foróige's underlying aim of building self-esteem and confidence in young people through challenging experiences is something that we at Aldi strongly believe in, and with our 126 stores nationwide we will continue to look at ways we can support this very worthwhile organisation at a national and regional level."
The event was opened by Minister for Children and Youth Affairs Dr Katherine Zappone TD, MC'd by 2FM's Eoghan McDermott, and also featured talks from disability rights campaigner Joanne O'Riordan, and social media expert Darragh Doyle.
It celebrated the inspirational contribution that these young people have made to their communities with music from Keywest, giant indoor rock climbing and abseiling, a snowboarding simulator, recording studio, miniature golf and a variety of other activities. The young people in attendance also got to learn about the amazing work of their peers taking place throughout the country.
 The projects from Clare were:
Leah Mc Inerney, Scarriff Foróige Club, Co Clare – A project raising awareness for scoliosis
Leah decided to raise awareness of Scoliosis, having been diagnosed with it herself. She wanted to highlight the negative impact of waiting times on those with scoliosis. She gave a speech about her condition in school explaining symptoms and faced her fear of public speaking.
Scariff Foróige Club, Co. Clare – A project promoting positive mental health 
Scariff Foróige Youth Club wanted to provide information and support to young people affected by mental health issues for their Youth Citizenship Project. They designed an online survey on mental health and targeted it at young people aged 12-25. The group then wrote, filmed and directed an information video on mental health, having borrowed equipment and enlisting volunteers. The video is currently in the editing phase. 
One member of the group said "I learned that there are always people there to help in the community. I find it easier to talk about my mental health now, and whether it is a good day or a bad day. I now have the confidence to rely on other people".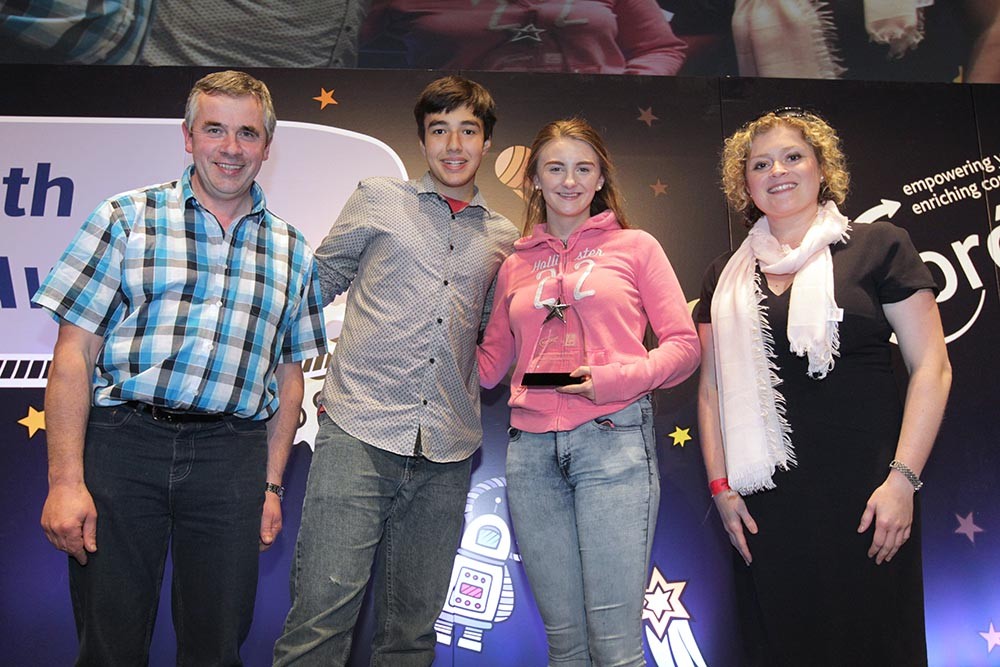 Legends Foróige Club, Co. Clare – A project focused on developing more meaningful relationships between the generations.
After discussions in the group, the Foróige Legends realised that they wanted to develop closer and more meaningful relationships with older members of their community. The club planned an Afternoon Tea to provide an opportunity for the young people to meet, learn from and connect with the older generation.
During the project, each young person was responsible for organising a particular aspect of the event, and they requested contributions from local shops and family members. The event was a huge success and the group are continuing to develop stronger relationships with the elderly in their community.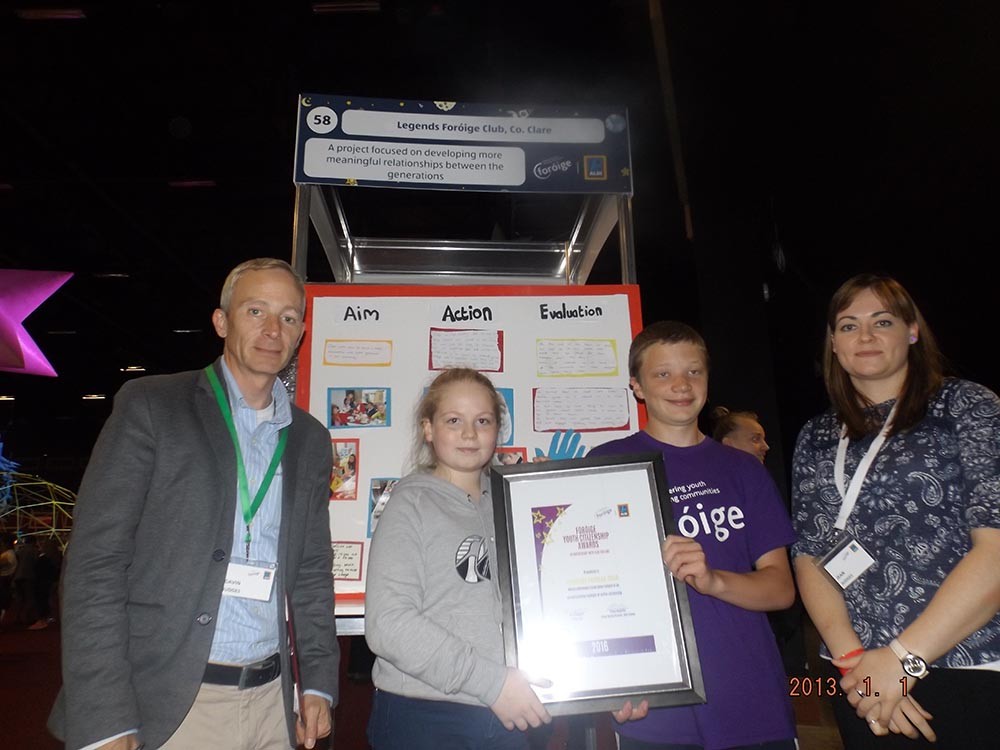 My Time Foróige Juniors, Scariff , Co.Clare – A fundraising event for Temple Street Hospital
After brainstorming ideas, these young people decided they wanted to help sick children in Temple Street Hospital. They did some research online and found out that the hospital was raising money for a new renal and neurology outpatients unit through the Great Irish Bake and applied for a fundraising pack.
They made their own posters, contacted local radio, got permission to use the Market House for the cake sale, gathered donations, baked cakes and buns, held a raffle and arranged time off school to host the event. The group raised a fantastic €588.80.
They said: "We found out that although we are children we can also help children".