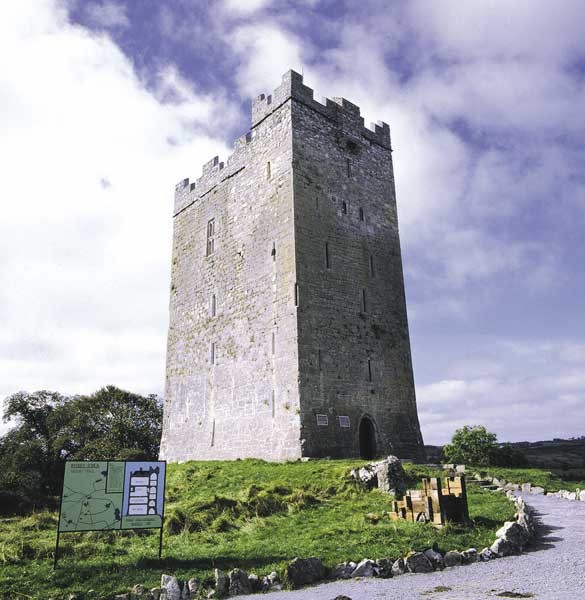 Clare Architectural Conservation Officer Risteard Ua Cróinín will lead a free Heritage Week outing to Dysert O'Dea Castle and Archaeological Trail on Tuesday (23 August) from 7.30 p.m. to 9.00 p.m.
The 6km walking trail around Dysert O'Dea Castle is one of the lesser known heritage gems in Clare with 24 special and varied monuments in the area, including St. Tola's High Cross, Romanesque Church, Bronze-age Fulacht Fia, Lime Kiln, Wedge Tomb and local Ring Forts.
In 1318, the Norman Knight Richard de Clare invaded the territory of the O'Dea's. Conor O'Dea led him into an ambush with the help of his allies O'Hehir, O'Connor and O'Brien. The Irish gained a decisive victory at the Battlefield of Dysert O'Dea which kept County Clare free of English domination for two centuries. The Castle of Dysert O'Dea was built in approximately 1480 by Diarmuid O'Dea, Chief of Cineal Fearmaic. It passed in and out of O'Dea hands numerous times during the next two centuries.
"Dysert O'Dea Castle has a colourful history and the restoration of the Castle is a testament to the dedication of the Dysert Development Association and a labour of love," said Risteard Ua Cróinín.
He added, "Next week's talk will discuss the details of the castle's restoration and weather permitting, participants will be brought on a tour of the more important monuments on the Archaeological Trail."
'100 years of Heritage' is the main theme of Heritage Week 2016 with a record 94 events taking place around County Clare from August 20-28.
The 14th annual celebration of County Clare's built, natural and cultural heritage is being coordinated locally by Clare County Council and The Heritage Council, with support from Fáilte Ireland and the Department of Arts, Heritage, Regional, Rural and Gaeltacht. Heritage Week also is part of European Heritage Days, a joint initiative of the Council of Europe and the European Union.