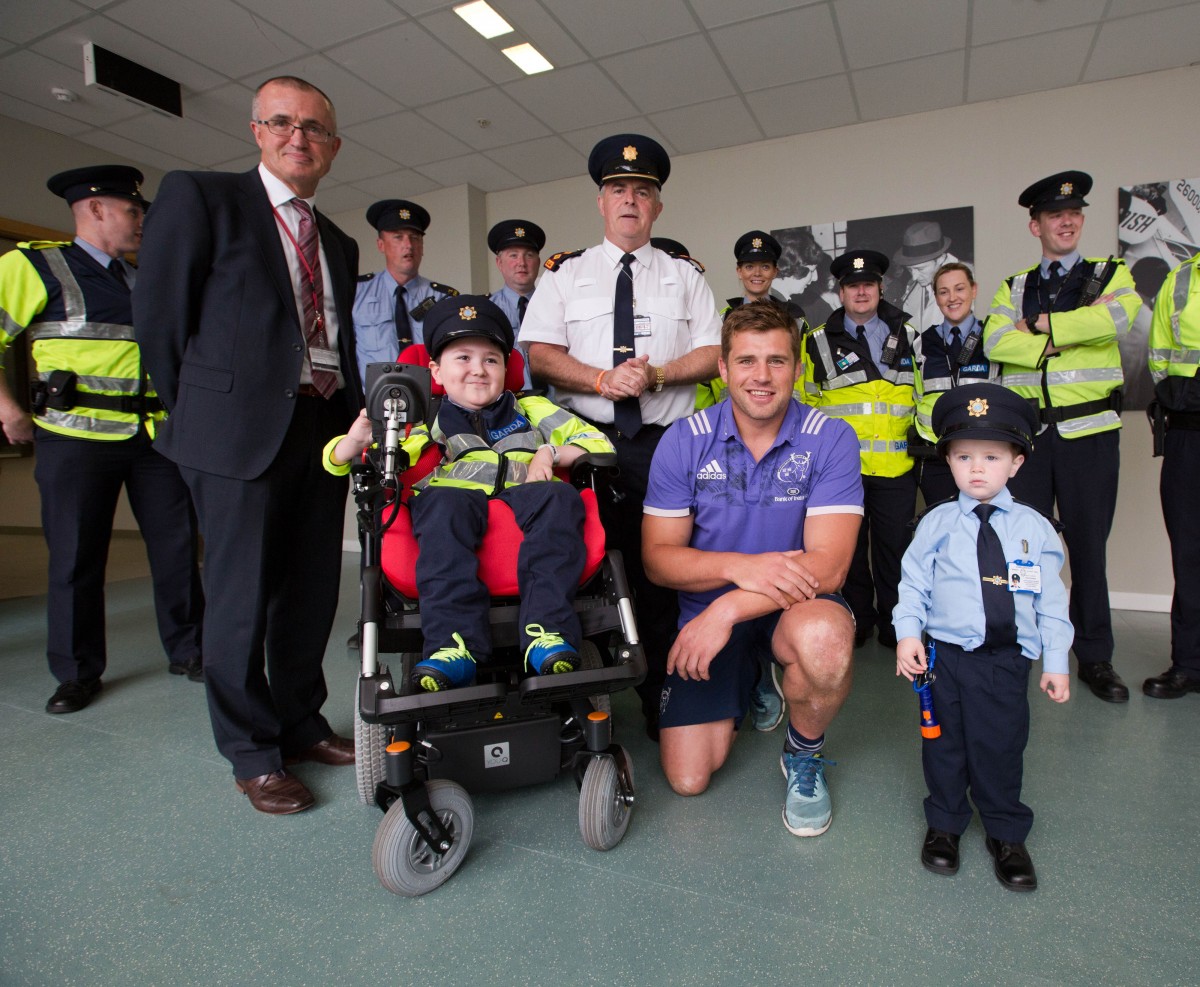 Two of Ireland's top Gardaí got the surprise of their very young lives when they inspected Shannon Airport's VIP room today (Tuesday).
Garda Ceejay McArdle and Garda Jordan Perez, a duo with their own heroic stories, got an insight into how it's possible to meet just about anyone – including their hero, Munster and Ireland rugby legend CJ Stander at the airport.
Ceejay, from Castleblaney, Co. Monaghan and Jordan, from nearby Sixmilebridge, were deployed to Shannon to assist in security checks for the day but the duo Ceejay aged just four and Jordan aged eight got the surprise of their lives when they checked the VIP room and found they had to run the rule over none other than the South African born Irish international.
The special security officers were detailed to the airport as part of an ongoing community initiative by the Garda Relations Bureau (GRB).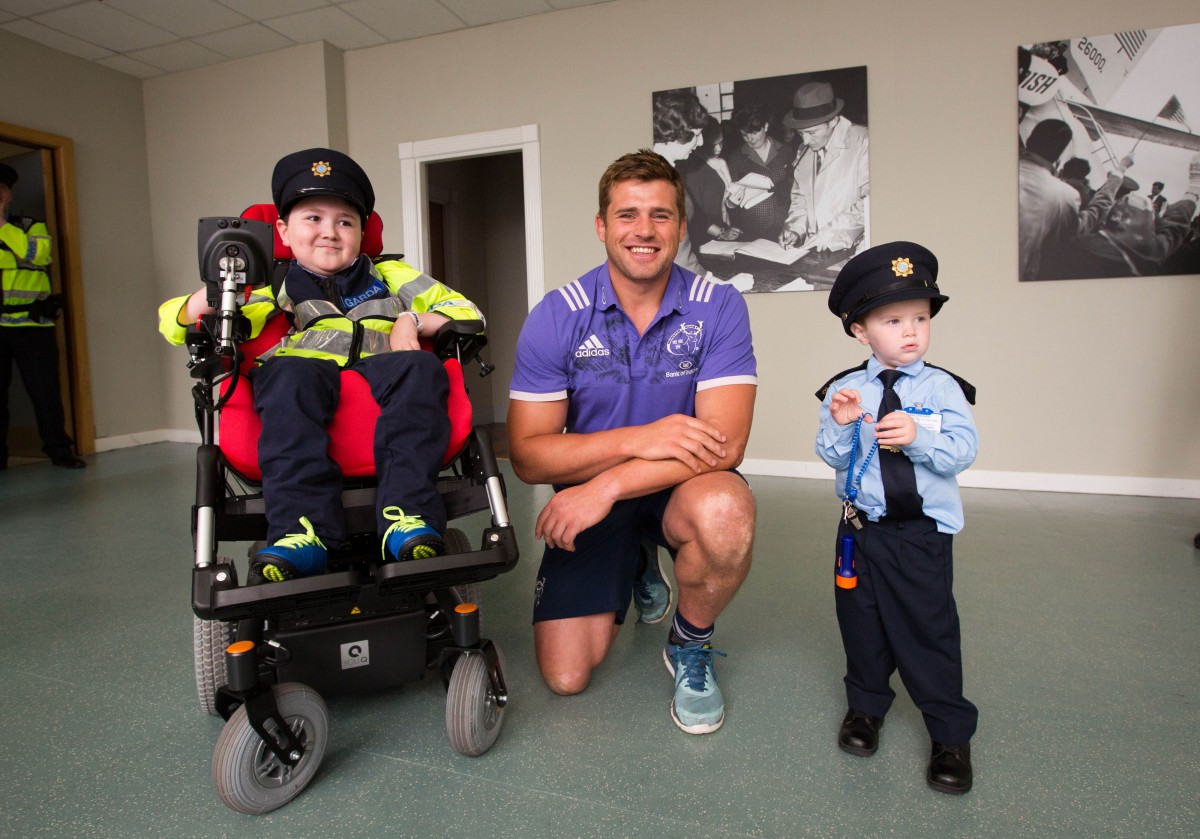 Ceejay, who is undergoing intense treatment for leukaemia, last year became An Garda Síochána' s youngest ever member and this weekend Jordan, who is wheelchair bound with muscular dystrophy, joined him on the very special beat courtesy of Chief Supt John Kerin and Supt Brendan McDonagh.
Niall Maloney, Airport Operations Director, Shannon Airport said "This was a very special moment for Ceejay, for Jordan but also for Shannon Airport. Shannon has an international reputation for the very special community atmosphere it fosters and this is further evidence of it.
"The guys were already having a great time following a visit to our fire station but things got a whole lot better for them when they entered the VIP lounge to carry out their inspection. The last thing they would have expected was to be inspecting CJ Stander.
"He's a super guy and was delighted to give his time for what was a great moment and one that put a smile on all our faces."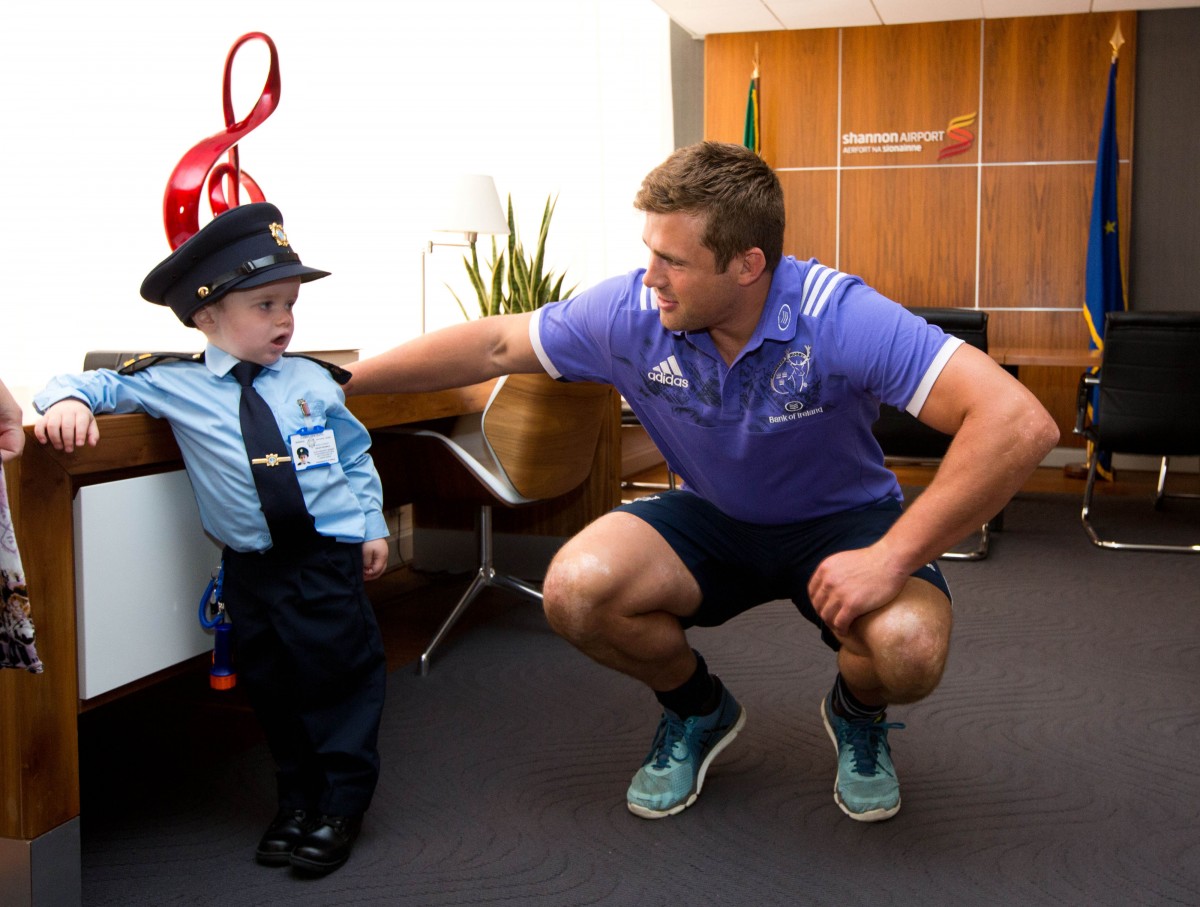 CJ Stander stated that it was one of his most enjoyable visits to the airport. "I've been through Shannon many times. But this is one of the days I have enjoyed the most as these are two fantastic and brave young boys.
"They put a smile on my face certainly and I was delighted to meet them. You could meet just about anyone out here but I'm not sure I could have met any better than Ceejay and Jordan," he said.
Ceejay and Jordon had the added joy of flying into Shannon by the Department of Marine's Search and Rescue helicopter (Rescue 115) and the chopper was given a special water cannon salute provided by the Airport Police Fire Service. The boys then got a special tour of the airport's fire station.
After their tour of duty, the duo and their families were hosted for lunch by the Oakwood Arms Hotel in Shannon and were then taken on a tour of Shannon Garda Station where they resumed their duties and later even carried out a checkpoint, handing out High Visibility Safety goods to motorists as part of a road safety promotion.
They also got to attend Atlantic AirVenture Aviation Museum and Centre where they got tour compliments of management. The boys and their families also received complimentary VIP passes to Bunratty Castle and Folk Park so they could continue to enjoy royal treatment. The McArdle's stay in the area was compliments of Bunratty Castle Hotel and Bunratty Manor Hotel.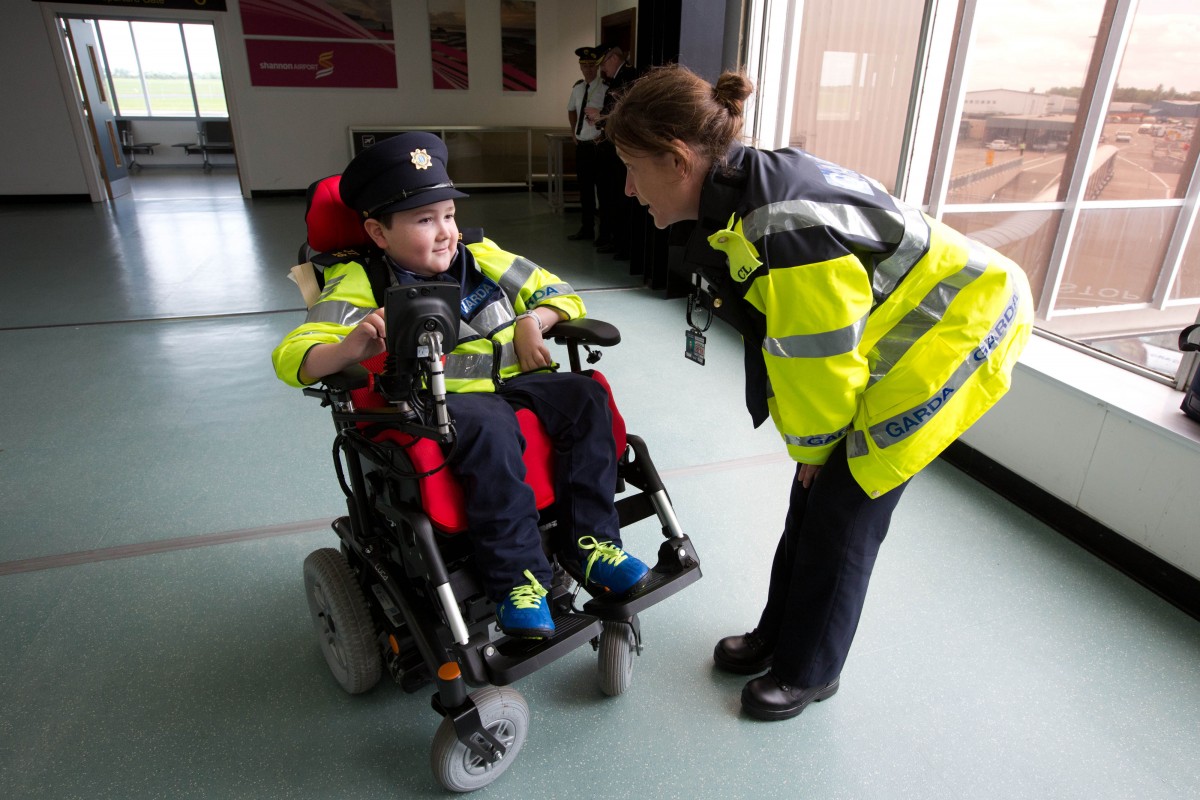 Garda Sgt Ann-Marie Starr led arrangements for the special day and was very impressed with the two recruits. "We've a lot of great members of the force but it's fair to say that Ceejay and Jordan are right up there with the best. They are definitely heroes and an inspiration to all of us and I think we got more out of the day than they did. They are two very special boys and we are delighted to have been able to put this event together with Shannon Airport."
All photos by Sean Curtin (True Media).