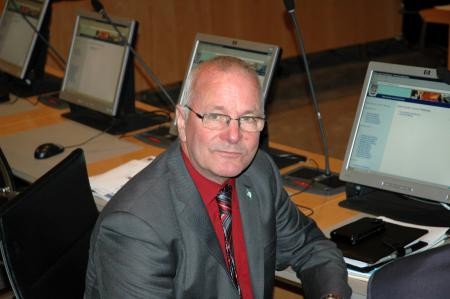 Sinn Féin Cllr Mike McKee has responded to claims from Irish4Israel which labelled him a 'hypocrite'.
At the beginning of August McKee spoke to The Clare Herald when he criticised Clare County Council for failing to notify all elected members of the local authority of the visit of Israeli Ambassador to Ireland, Ze'ev Boker to the Council HQ.
Almost three weeks later, Irish4Israel a group that was founded in 2010 to provide grassroot support for Israel in Ireland, hit out at the Shannon Cllr. A spokesperson for the group was highly critical of McKee's comments and highlighted meetings between Sinn Féin representatives and members from Israeli political parties.
McKee today (Friday) responded to the claims of hypocrisy. "It didn't annoy me it encouraged me to do more, I'm not sure where the hypocrisy comes in, all I did was seek to find out why other County Councillors weren't notified of the visit of the Israeli Ambassador to afford us the opportunity at the very least hand them a letter of protest for the people who elected us and that's what we're there for at the end of the day. I'm not sure where the hypocritical comment came from and why he thinks there's double-standards on my part, there certainly isn't I'll stick by my guns one hundred percent when it comes to backing the Palestinian cause".
Cllr McKee told The Clare Herald "From my point of view it shows I have irked and angered them and I have no apologies to make for doing that whatsoever. The Irish4Israel organisation to me is a an ultra right wing grouping, they have their own agenda in promoting the Israelis throughout the world and they obviously are very knowledgeable to things in Israel but what they tend to overlook is what Israel is doing to Palestinian people on both the West Bank and the Gaza strip which is absolutely disgraceful and disgusting and for anyone to try and defend a state that is trying to do that well that speaks volumes".
Irish4Israel contacted all elected members of Clare County Council with a letter hitting out at the only elected Sinn Féin representative in the County. McKee denied that he was seeking publicity when questioning the visit of Ze'ev Boker. "I responded to the email that this gentleman sent to the rest of the County Council claiming that I went out to seek publicity which I never did in the first place. This gentleman seems to think that I did which is certainly not the case whatsoever".
He believes the stunt from the group has backfired. "What this guy has done has actually backfired because it's giving me more publicity and this is a thing he claimed I was trying to do myself and what he's done he's opened it up to the whole of Clare County Council and it lets me come in if I so decide to put a motion forward at the next County Council meeting in support of the Palestinian people because he has brought it to the attention of all Clare County Council, it's gone actually beyond that it's gone national at this stage, I'm getting messages from people who would be pro-Palestinian and pro-Israeli so you don't know which side of the fence people are sitting on at this stage so what he has done he has given me ample publicity if I want to take it".