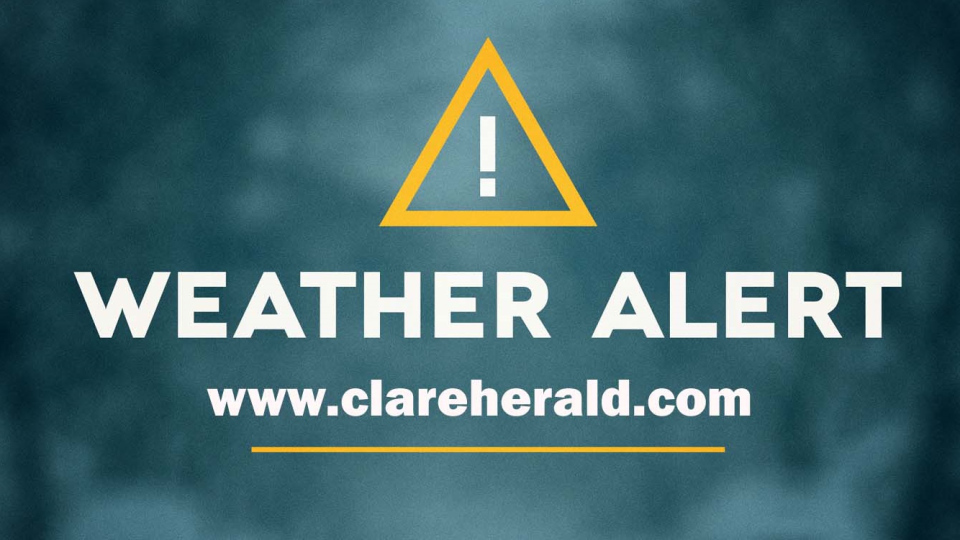 A yellow weather warning has been issued for Co Clare this weekend.
Met Éireann has released a wind and rainfall warning for the County along with a weather advisory. West to Southwest winds up to 90 km/hr in exposed areas are expected on Friday. Winds will veer from West to Northwest overnight.
Spot flooding is forecasted in coastal areas over the weekend. Showers or longer spells of rain are predicted with some thundery downpours likely to give some spot flooding especially in coastal areas. Rainfall totals of 30 to 50 mm are expected.
A deep Atlantic depression is approaching from the southwest and will track east over Ireland on Friday night and early Saturday. It is expected to generate some unseasonably strong southwesterly winds on its southern flank with the strongest winds affecting southwestern and southern coastal counties later Friday and early Saturday, some squalls of 80 or 90km/h are possible in coastal areas. Rough seas are anticipated with some heavy thundery rain or showers at times also.
Clare County Council is advising the public to exercise caution if visiting exposed coastal areas over the weekend due to high spring tides, aggressive sea conditions and strong winds.